A couple of weeks ago I ran a video showing how to make guacamole. I just found these pictures that I forgot I took, and thought I should take the opportunity to list the ingredients for the recipe.

Ingredients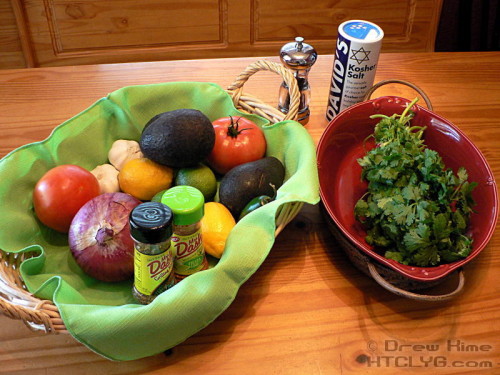 4-6 Haas avocados
1 tomato
½ red onion
1 head garlic
juice of 2 limes
1-3 jalapeño peppers
1 bunch cilantro (to taste)
salt, cumin, pepper
This is a very imprecise recipe, because everyone likes it different. You might like it chunky or smooth, spicy or mild, lots of cilantro or none — nobody likes "a little cilantro", it's all or nothing.
For the seasoning, the only things I'd say are required are salt and cumin. No salt and it will be bland, no matter what else you put in. And cumin, in my opinion (which you're free to share), is the spice that makes something taste Mexican. Chili without cumin is just sloppy joes. Guac without cumin is avocado puree.
Directions
Peel and pit the avocados. (Click here for a quick video showing how to peel and pit an avocado.) Chop roughly into large chunks. Stir in the juice of one of the limes once you've started cutting. It will keep the avocado from turning brown while you prep everything else.
Peel, smash and mince the garlic and add to the avocado. Dice the onions pretty fine. Dice the tomato, making sure to remove the excess juice. You don't want it to make your guac soupy. Toss in the tomato and onion.
Add at least a teaspoon each of salt and cumin, and whatever other seasonings you like. Lori uses Mrs. Dash Fiesta Lime Seasoning Blend
and Mrs. Dash Steak Grilling Blend
.
I generally don't like spice blends, because lots of them are mostly salt, and it's hard to control the amount of flavor and the amount of salt at the same time. These were good, though. The Fiesta Lime has no salt, so you can add it without adding salt. And the Steak Grilling Blend has a really nice combination of peppers and other spices, more variety than I'd typically do on my own. I tend to do very simple seasonings, so maybe I should look into more blends. (I can always make my own.)
At this point most guacamole recipes tell you to mash everything together until it's nice and smooth. As Lori discovered one day when she was in a hurry, leaving it chunky is a great change of pace. In fact, everyone who has tried it says that the chunky guac is better than smooth.
One last thing about this recipe: I said at the beginning that it was very imprecise, right? That means you have to taste it as you go. Adjust the seasoning to what you like. Pay attention, and learn which flavors you like and which ones you don't.
Some people love cilantro, others think it tastes like soap. Some people like their guac very spicy, some like it mild. If you don't like lime, feel free to use lemon instead. (Lori uses both for a little more flavor.) Play around with it. Make one batch smooth and one chunky and see which you like better.
Start with this recipe, but work on it until it's just right for you.
And that's it.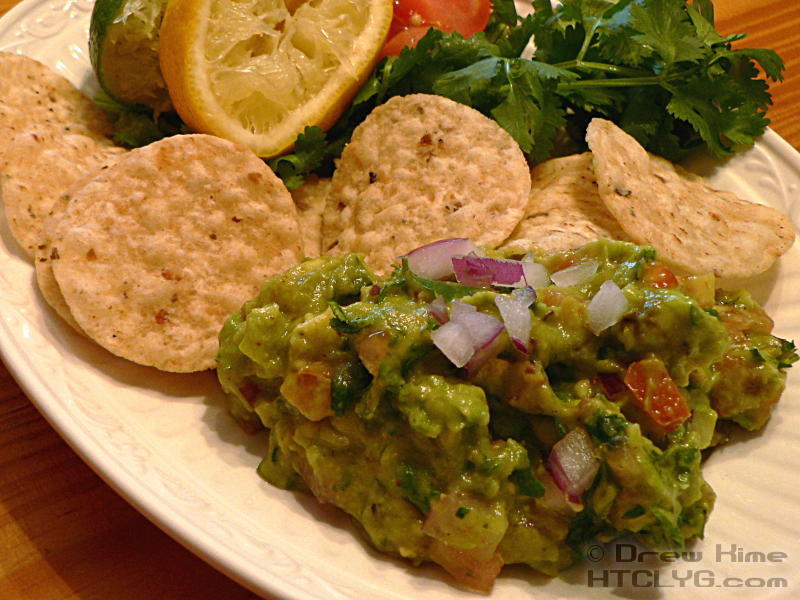 Ingredients
4-6 Haas avocados
1 tomato
½ red onion
1 head garlic
juice of 2 limes
1-3 jalapeño peppers
1 bunch cilantro (to taste)
salt, cumin, pepper
Instructions
Peel and pit the avocados. Add the juice of one lime once you've started cutting the avocados to keep them from turning brown.
Dice the tomato and onion fine. Remove the seeds and juice from the tomato before adding to the avocado so it doesn't get soupy. Peel, smash and mince the garlic. Toss veggies and garlic together with diced avocado.
Add salt, cumin and other seasonings, and the juice of the other lime. Toss together gently, so you don't mash the avocado, and check the seasoning.
Recipes copyright Drew Kime