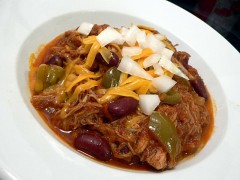 Writers are taught that there are only seven basic plots, and every story is just a variation on one of those. Recipes work the same way. You've got savory, sweet, salty, sour, bitter, crunchy, creamy, chewy … umm … oh, colorful … and … that's about all I've got. And with food you have to combine several of the basic components to make a good dish. No one wants to eat a bowl of salt, after all.
So if you've ever got too much of something and you're looking for a way to use it, just ask yourself, "What else is similar to this, and what do I make with that?" Match savory for savory, salty for salty, and you can swap out ingredients all kinds of ways
This week I was making pulled pork, and as much as we like it my family can't go through seven pounds of it without getting burned out. I've done pulled pork nachos before, and that's where inspiration struck: Instead of just replacing the chili with pulled pork, I'll make the chili with the pork!
[Read more...]