Welcome to the Kitchen
Check out some recent entries from the blog below, explore the archives, or enjoy the greatest hits in the column to the right.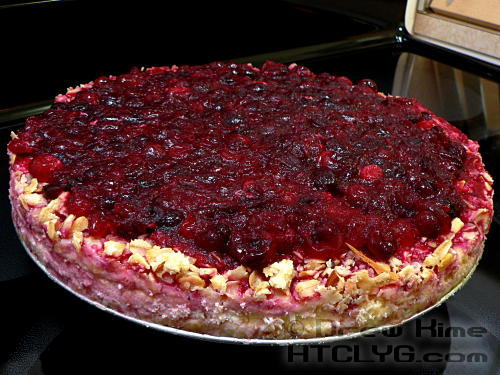 I've always loved Thanksgiving, and always hated pumpkin pie. I think most people don't really like pumpkin pie all that much. If they did, why would they only eat it once a year?
So every year I like to try a new pie. I've done tarte Tatin, sorghum pecan pie, chocolate banana pie with snickerdoodle crust, and frozen chocolate truffle pie.
This year I wanted to incorporate a traditional Thanksgiving food, but in a new way. I knew I wanted to do something with fresh-made cranberry sauce, and first thought of making it just like a cherry pie.
Boring.
Wait, brainstorm … Cheesecake! Read More »
---
How To Make Slow-Roasted Chicken

Have I mentioned lately how much I love our Dutch oven? (Even though Le Creuset insists on calling it a French oven.) You can throw just about any big hunk of meat in there and a few hours later you've got an amazing dinner. The funny thing is, the more we use it the more [...]
---
How To Make Polvorones de Canele (Cinnamon Cookies)

The more home-made food we eat, the more we think modern recipes are way too sweet. Everything you buy at the grocery store is loaded with corn syrup — even the kielbasi. (I'm not kidding, check the ingredients.) That's why our perfect brownie recipe is more chocolaty and less sweet. It's why we love the [...]
---
The Difference Between Bread Flour, Cake Flour, and All-Purpose Flour

I used to think recipes calling for bread flour were being pretentious, like the recipes that specify Kosher salt, or fresh-ground black pepper. Then I started using Kosher salt and fresh-ground black pepper and realized, "Hey, you know what? Some of this stuff makes a difference." So I read up on what makes the different [...]
---
How To Make Sautéed Cabbage

When I was making Colcannon for St. Paddy's Day, I very nearly stopped with the sautéed cabbage. It was that good. It took me a couple of weeks to get back to it but I finally did, and it was just as good on its own as I thought it would be. Ingredients ½ head [...]
All-time Favorites
---
Maybe you're interested in buying
the book
. (You must have excellent taste.)
Cooking used to be all about making food that tasted good. But somewhere along the way, we seem to have decided the diet-of-the-week was more important.
How to Cook Like Your Grandmother
is a return to recipes and techniques that are based on what tastes good, not on junk science and fad diets. You won't find the words lite, low, lean, free or skim anywhere.This is all real food, cooked the way Grandma would have done it.