I cook from scratch because the food is better that way. But when someone comes up with a product that's as good as I would make, but more convenient? Sounds like a winner. So when the fine folks at Rinaldo's Organic asked if I wanted to try their Garlic Gold nuggets, I couldn't wait to give them a try.
The Garlic Gold nuggets all start as the same thing: toasted garlic bits. Then they get mixed with Parmesan cheese, sea salt, an Italian herb blend, or left plain. And they're all 100% organic, too, so they're using better ingredients than I would usually buy. (Okay, I grow my own herbs, but no garlic … yet.)
There's also the garlic-infused extra-virgin olive oil, the lemon vinaigrette (made with the garlic olive oil, of course), and the original product, the garlic nuggets packed in extra-virgin olive oil.
When the package arrived, I just happened to have some of the fixins left from making some pizza, so I decided on calzones and garlic bread sticks. Big mistake.

Calzones
Let's start with the usual ingredient picture. There's the dough, sauce, sausage, cheese shaved prosciutto, and a bunch of garlic nuggets to top it with.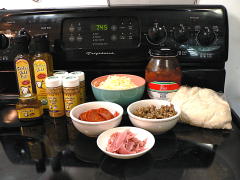 Sounds good, right? Well … let's skip through this quickly.
First calzone
First I divided the dough into three pieces. The first one rolled out pretty well.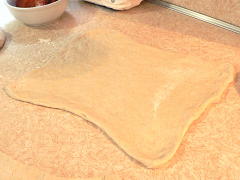 Sauce, prosciutto, cheese and fold it over.
Poke some vent holes and brush it with butter, so the garlic nuggets will stick.
I've already made my first two mistakes. Can you guess what they are?
Garlic bread sticks
The second piece of dough didn't roll out too well. I had to over-work it to reshape it into the rectangle I wanted, so it was too thin. (See? There was the first mistake.)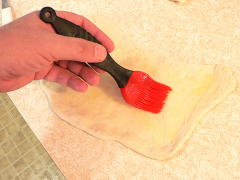 I forged on, topping one side with garlic and sea salt and the other side with garlic and Parmesan. (Foreshadowing: This is the second mistake.)
The calzone and bread sticks went in the oven and …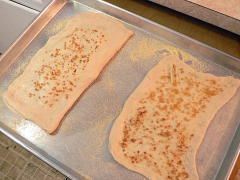 … promptly burned.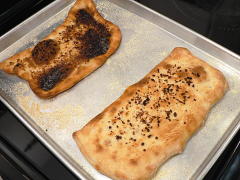 First lesson
Dough can only be worked and reshaped a little bit after it's already risen. Try to reshape it drastically and you need to let it rise again. The garlic bread sticks didn't rise at all in the oven, and where it was super thin it just turned to charcoal.
Second lesson — and start of the Garlic Gold Nuggets review
Don't try to cook Garlic Gold Nuggets. Add them after the food is cooked. They're already toasted, so if you cook them again they'll burn.
When I made the second calzone, I gave the dough time to rise again after reshaping it. But I had already topped it with the garlic before the first batch came out of the oven, or I would have waited.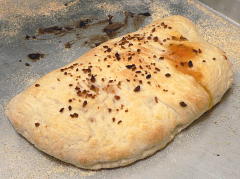 The prosciutto calzone still looks pretty good though, doesn't it?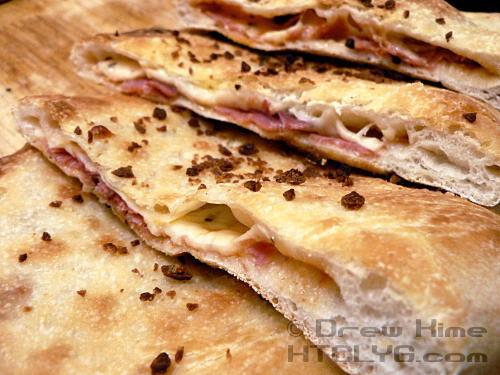 How you should use Golden Garlic Nuggets
Forget cooking with them. Sprinkle them on after the food is cooked. Like this pan-fried chicken in butter.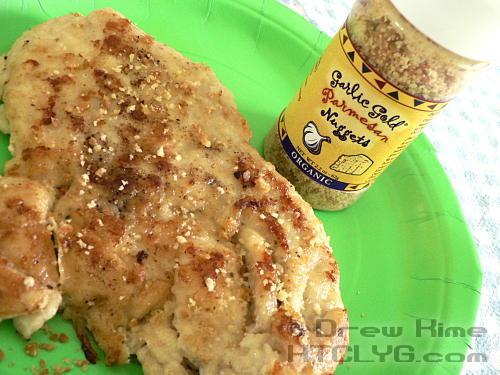 Good lord this was good. Every time I reached for the shaker to get some more it was gone — one of the kids had taken it again. They were shaking little piles of the garlic and Parmesan nuggets out on their plates and dipping everything in it.
Then there was the salad.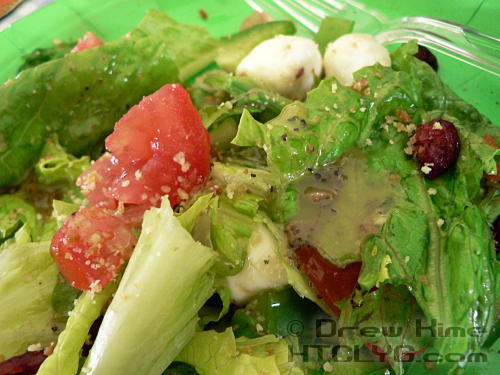 We used the Meyer lemon vinaigrette, and the plain garlic nuggets. Jenn's father wasn't thrilled with the dressing; it was a bit too lemony for him. Jenn and I both loved it. But I can easily see how some people would prefer to add in a little sugar or honey. It is very tart.
Which is exactly why I think it's going to make a grate marinade. I haven't decided what I'm going to use it out yet, but probably a pork loin, which will go on the rotisserie.
The nuggets, true to the claim on the label, make a great substitute for bacon bits — or rather "bacon-flavored bits" — if you want a little crunch but not the artificial junk they put in them.
Rinaldo's included several recipes — including quesadillas, stuffed mushrooms, and pan-seared scallops — that show off the nuggets. I'm just hoping I can try some of them before the kids wipe out my supply.
You can buy the Garlic Gold Nuggets 4-pack Sampler or the Garlic Gold, Garlic Gold Oil and Meyer Lemon Vinaigrette Bundle in my store.