I've been described as something of a "skin freak" when it comes to chicken and turkey. So it always catches me by surprise when someone says that they prefer skinless chicken breasts. Not as a dietary issue — which is misguided anyway — but they actually don't like the skin. Baffling.
That doesn't mean I can't still do a fabulous skinless chicken breast. Oh, sure, it's cooked in butter. But as long as it's skinless, people seem to be happy. I can work with that.

Ingredients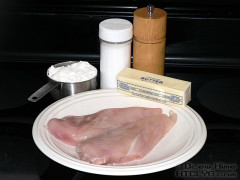 2 chicken breasts — boneless, skinless
2 tablespoons butter
1/2 cup flour
kosher salt
coarse ground black pepper
Directions
The first two steps will improve any chicken dish you make: start with the chicken at room temperature, and pound it thin. The longer it takes to get the center cooked, the more likely it is the outside will be tough and dry.
Pounding it doesn't take any special tools, either. Start by laying out a long piece of plastic wrap on your counter. Sprinkle it with a little water so the chicken slides around instead of tearing. Start with one breast, and fold the plastic over so the chicken is covered.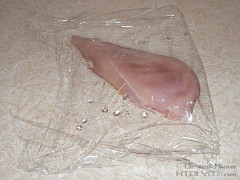 Using a heavy-bottomed skillet — like the one you're about to cook the chicken in — pound the breast until it is as flat as you can make it. Start from the thickest part and work your way out.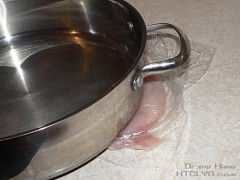 Compare the size of the pounded breasts with what they looked like in the ingredients picture above.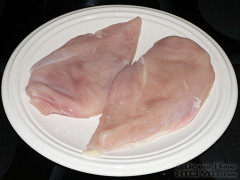 Coat the breasts on both sides with a generous helping of salt …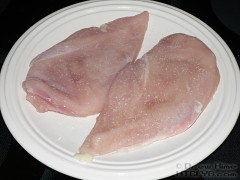 and pepper.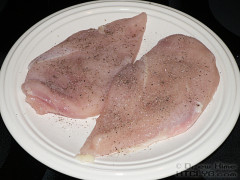 Put the flour in a dish or shallow bowl, one that is large enough to lay a breast out flat in it. Place this dish, and the one with the breasts, on the stovetop next to the frying pan. Divide the butter into a couple of small pieces and melt it over low heat.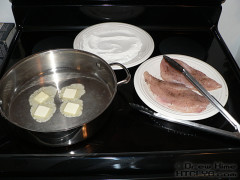 Once the butter is melted, dredge the breasts one at a time in the flour …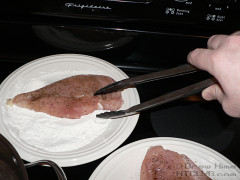 on both sides …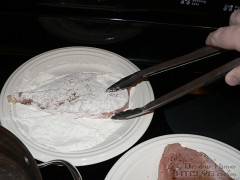 and shake off the excess.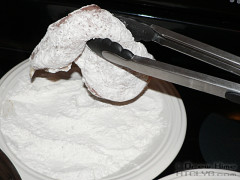 Lay the breasts in the butter, with a little space between them.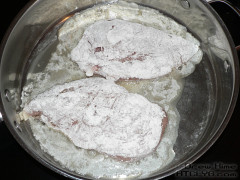 Keep an eye on the pan to make sure the butter doesn't start smoking. (It's okay for the flour and butter to turn brown.) If it smokes, remove the pan from the heat until the smoke stops, turn the heat down, and keep going.
Cook on the first side until the thinnest edge starts turning white on top …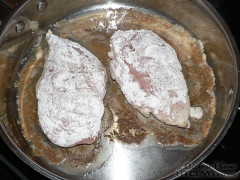 then flip them over. Make sure there is still a little butter underneath when you flip them. If there's not, add a little bit before putting them back down.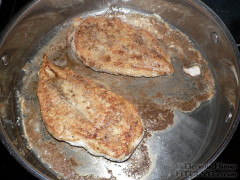 Cook on the second side until there is no more pink showing around the edge.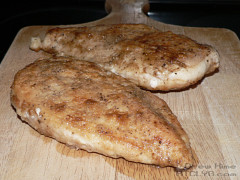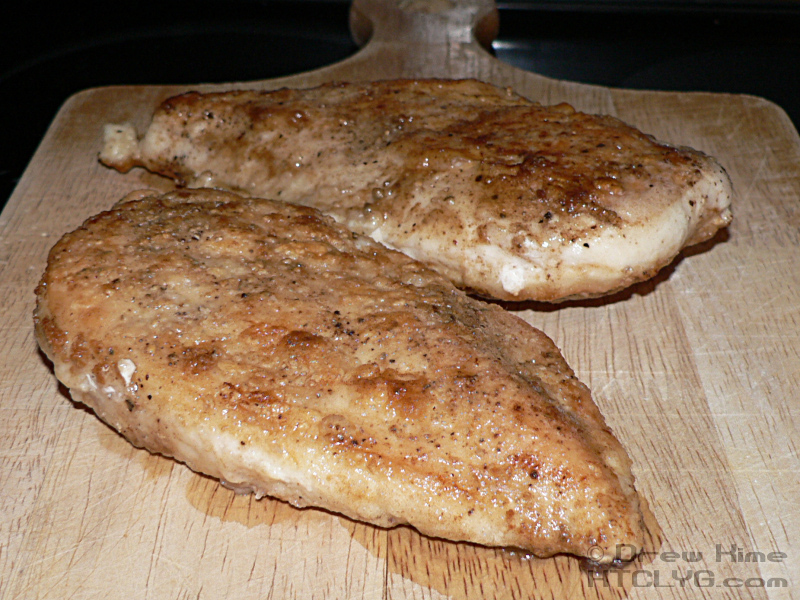 Let the breasts rest for at least five minutes before cutting.