This wasn't supposed to be a full-length post. I was just going to re-do Mom Gorman's Hot Rolls that Barb did back in October, but using whole wheat instead of white flour. But apparently I've got a bad case of what a former editor called "shutter diarrhea". I just kept shooting pictures.
Along the way, and in a bit of research afterwards, I learned quite a bit about baking with whole wheat. And now I have something to try for next time.

Ingredients
Barb didn't mention when she listed the ingredients that it was a double recipe. If you look at the size of the pan she used it should have been obvious. I'm apparently not a master of the obvious. It's a good thing I had two 9″ pans instead of just the one. I'm listing the single recipe amounts here.
1 cup milk
½ cup butter (Barb called for Crisco)
1 teaspoon salt
1/3 cup sugar + 2 teaspoons
¼ cup warm water (115°F)
1 package yeast (2½ teaspoons)
1 egg, beaten
"Enough" flour to make dough
(about 3 to 4 cups — depends on humidity)
Directions
Go back to Barb's post for all the details. I'm just going to have a few shots here.
Remember when I said that Barb's was a double recipe? This is what 8 cups of flour looks like.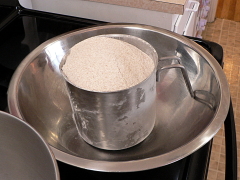 That's my largest mixing bowl. Trust me, that's a lot of flour.
When the yeast blooms it can grow a lot. Make sure you have it in a big-enough bowl.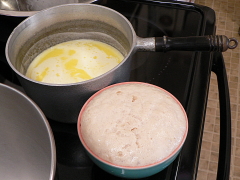 As soon as I added the butter and the yeast to the flour, I could see the bowl on my mixer was very full.
Even on low, the flour kept trying to fly out of the bowl.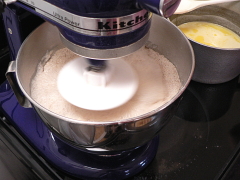 Here's how full two 9-inch pie plates were using the amounts listed in Barb's version. The most important part of this step, other than greasing the pans well, is getting all the balls of dough close to the same size. You can see that my wife and I were doing different sizes, but within each pan they matched.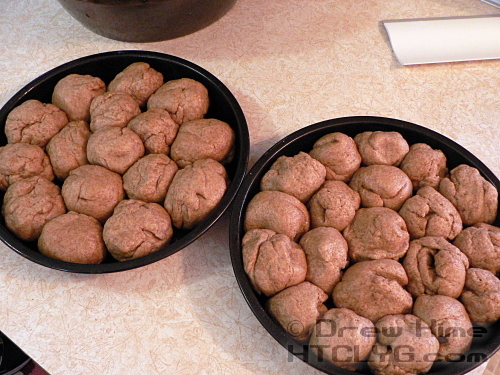 The butter on top of the rolls makes a huge difference on white bread. On these, I don't think it made much of a difference.
The wheat bread came out much denser than a white bread made the same way, and it had a distinctive nutty flavor. I could really see this working well in a nut bread, like banana or zucchini bread with nuts.
Next time I do the wheat rolls, I want them to be a bit lighter. And I found a great explanation of how to make wheat bread lighter in texture. The short version is to mix the bloomed yeast with half the flour, then let it soak for several hours before adding the rest of the flour and kneading. Follow that link for the explanation of why this works.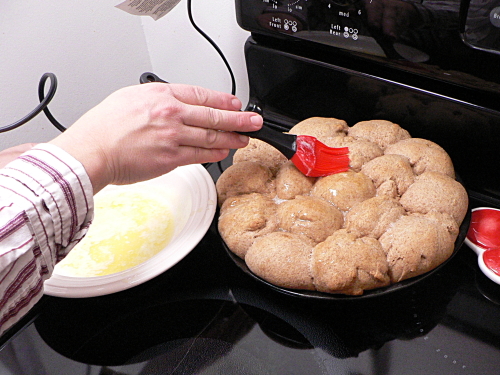 Ingredients
1 cup milk
½ cup butter
1 teaspoon salt
1/3 cup sugar + 2 teaspoons
¼ cup warm water (115°F)
1 package yeast (2½ teaspoons)
1 egg, beaten
"Enough" flour to make dough
(about 3 to 4 cups -- depends on humidity)
Instructions
Heat the milk to lukewarm and melt the Butter. Add the salt and the first measure of sugar and stir to dissolve. Set aside to cool.
In a small bowl, combine the lukewarm water, yeast and second measure of sugar. Stir well and let sit until the yeast starts bubbling.
Put half the flour in a large bowl and make a well in the center. Mix the egg into the yeast and pour into the bowl. Mix everything together on low speed, adding the milk as you go. Let this mixture -- called a "sponge" -- rest for at least two hours. This will soften the wheat bran, which will allow the bread to rise more. Add the rest of the flour and mix until smooth and satiny.
Place in a greased bowl, cover, and leave somewhere warm to rise until doubled in volume. Punch down, knead well and form into rolls or loaves. Place in well greased pans. Cover with plastic and allow to rise until doubled in volume.
In a 350°F oven, bake until tops are light brown and, when pecked with a finger, sounds hollow -- set timer for 18 minutes to start checking for rolls in 9-inch pans.
Recipes copyright Drew Kime