Let's all say "Hi" to Barbara Nell Gorman-Cool, here with the first guest post on How To Cook Like Your Grandmother.
Hi, Barbara!
Barbara saw my attempts at bread, and offered up her favorite. I'll let Barbara take it from here.
===
My mother has always made the best yeast bread of anyone I know! If only she wouldn't over bake it! I found the following hand-written recipe for the ingredients but have modified the directions to suite myself.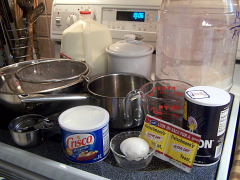 2 cups milk
1 cup Crisco
2 teaspoons salt
2/3 cup sugar + 1 tablespoon
1/2 cup warm water (115°F)
2 packages yeast
1 egg, beaten
"Enough" flour to make dough
(about 7-1/2 to 8 cups — depends on humidity!)
Do Not Exceed 8 Cups!
Start with 6 cups and add as needed. Weather dependent!
In a saucepan, heat the milk to lukewarm and melt the shortening. Add the sugar and salt and stir to dissolve. Set aside to cool.
Into the 1/2 cup lukewarm water, add the yeast and 1 tablespoon sugar. Stir well and let sit to "work."

(Use the measuring cup used for the milk without washing it.)

In a large bowl, sift the flour. Make a well in the center.*
Add the egg to the yeast and stir. Pour the yeast and the stirred egg into the well.
Stir and begin to incorporate the flour.
Begin adding the milk mixture as you stir the flour in.
When the flour is worked in, turn out onto a lightly floured surface and knead the dough until it is smooth and softly elastic.

(I use the Kitchen Aide w/dough hook.)

****
Wipe out the large bowl and add a tablespoon of oil and rub all around. Return the dough to the bowl and roll it around until its surface is lightly oiled. (May add more oil if necessary.)

(Or just spray everything with Pam.)

Cover the bowl with a towel and sit in a warm area to allow the dough to rise until doubled in size.

(I prefer to cover with plastic wrap.)

Punch down the dough; knead well and form into rolls or loaves. Place in well greased pans,

spray tops with Pam, cover loosely and leave to rise

.
In a 350°F oven, bake until tops are light brown and, when pecked with a finger, sounds hollow — set timer for

18 minutes

to start checking for rolls in 9-inch pans.
* Using the KitchenAid mixer with dough hook works great!
** Time Required: 4 to 4-1/2 hours start to finish
*** Rainy day makes softer and more dough!
**** Do not over work the dough!
Software & Hardware:

Always get the ingredients out first so that halfway into your bread, you don't discover something missing!

Measure milk in a 2-cup measure, pour into pan along with 2 teaspoons salt, 2/3 cup sugar and 1 cup Crisco (may use lard). Set pan on medium low burner to dissolve sugar and melt shortening.

Without rinsing measuring cup,* measure 1/2 cup water and bring to 110°F to 115°F. Add the 2 yeast packages and 1 tablespoon sugar, stir well and set aside to "bloom."

*Yeast is awakened in the warm water and the sugar and residual milk feed it, giving a better rise.

Count out roughly 8 cups flour, sifting after each measure, into a large bowl; i.e., don't sift then measure, you won't have enough flour.
Start out with the paddle attachment to your stand mixer and 6 cups flour in your mixing bowl. Add the slightly beaten egg and the bloomed yeast to the flour and begin mixing on low speed. Slowly add the milk and shortening mixture down the side.
Add more flour until your dough is no longer gooey. Switch to the dough hook and run the mixer on medium to medium high for 5 minutes.
When the dough stays with the hook in a ball form, it is ready to remove to your work surface.
The dough will be smooth and elastic. Knead for another minute or so by hand. Spray a large bowl with cooking spray. Place the dough in the bowl and spray the dough.
Cover with plastic wrap, set in a warm location (like under the stove lights) and allow to double in size, about 1 hour.
Punch dough down, knead the air out and pinch off balls of dough to form rolls. Place in sprayed cake pan, spray tops, cover and let raise again.
Put in 350°F oven for 20 minutes. When they come out of the oven, remove from pans, place upright on wire rack and generously brush the tops with melted butter.

Yum!
This recipe is great for cinnamon rolls and forming into different shapes such as loaves, clover rolls, etc.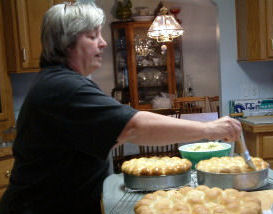 B. Cool
===
That's it from Barbara. Show her some love in the comments.
---
If you've ever looked in the column on the far right, you might have noticed the Foodie Blogroll. That's a group run by Jenn, the Leftover Queen, with one membership rule: You have to write a food blog. Lots of great people there.
So anyway, apparently I've been hanging out with them for more than six months, because I just got an award for it.
Cool.