This post was supposed to be called How To Make Sausage, but I'm not really happy with it yet. It's good, but it's not right. If I had spent a half-hour working on this I wouldn't have been so disappointed. But I didn't spend a half-hour. I spent … more.
So if you've made sausage before and want to see a newbie mess it up, read on.
(PS: My wife is making me point out that she liked it. She just needed to add salt. Apparently I didn't follow my own advice.)

Ingredients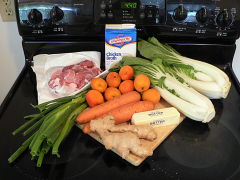 Pork Rolls
2lb pork (various bits the butcher had in the back after trimming chops and bacon and such)
1 inch ginger root
1 large carrot
leaves from 2 heads bok choy
salt and pepper
Apricot Ginger Sauce
7-8 apricots
1 inch ginger root
3-4 tablespoons butter
3 tablespoons brown sugar
2-3 scallions
Directions
The Prep
Oh my God, the prep. This is what took so much time that, by the time I was done, I had such unreasonable expectations. Anything that requires this much work better be amazing.
So start by cutting the roots off the scallions and slicing them on an extreme bias (angle) until well into the green part. The white has better texture, the green looks nicer.
Then peel the carrot — or carrots if you can't find a monster like this — and cut into pieces about the length of your index finger.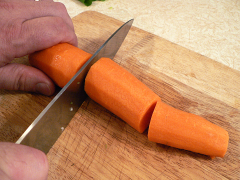 And chop/slice it into long skinny pieces, AKA matchsticks.
Cut the root end off the bok choy, separate all the stalks, and rinse well in cold water.
Slice the main leaf off carefully. You want to get as much of the leaf in one large piece as possible, but with small enough veins that it will roll up without cracking and falling apart.
Slice/chop the bok choy stems the same way as the carrot until you have an equal amount of each.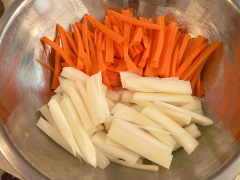 The Grind
The directions for my grinder said it's best to grind meat that is nearly frozen. Guess when I read the directions?
No, not after it didn't work. But I waited until I had finished prepping everything and it was time to start grinding. So of course I'd had the meat out for more than a half hour so it could come up to room temperature before I cooked it. Oops.
So after putting the meat back in the freezer for a half-hour (which barely made a difference) I ran it through the grinder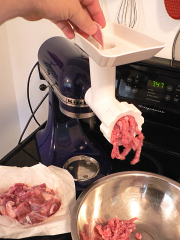 Next I put the carrot and bok choy pieces through, along with half the ginger.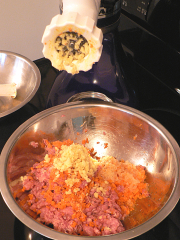 Then mixed it all together.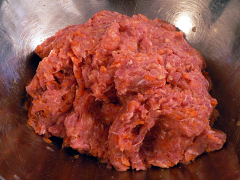 The Roll
Lay a bok choy leaf flat with the cut end away from you. Cross the cut ends over each other, and put a handful of the filling on the edge.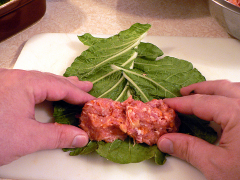 Roll the leaf up, tucking the edges in as you go.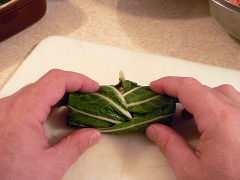 The Oriental Golumpki
The first way I prepared them was like Polish stuffed cabbage. I filled a small casserole dish with pork rolls …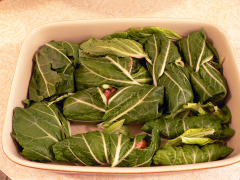 … then filled it halfway with chicken broth.Cover tightly with aluminum foil and cook at 350° for 45 minutes.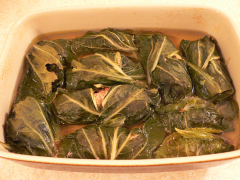 These came out exactly like I remember several grandmothers making at various family gatherings growing up. High in nostalgia value, not so much in flavor.
The Sauce
For the second preparation I was going to need a dipping sauce. Split the apricots in half, pop out the pit, cut out the stem, and cut the halves in half again.
Run the apricots through the food chopper — can you tell I was having fun with my new toy? — and put them in a saucepan over medium heat with the melted butter. Add the remaining ginger and the brown sugar and simmer until it starts to bubble then remove from heat.
I left the sauce chunky. Next time I would puree it when it was done cooking.
The Fried Dumpling
Melt a couple of tablespoons of bacon fat over high heat in a wok or frying pan. Add two or three dumplings at a time, working in batches so the pan isn't crowded.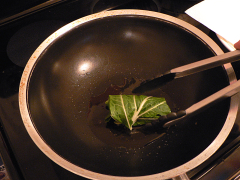 Cover with a lid so the top of the dumpling steams while the bottom fries.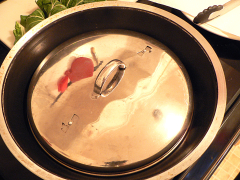 Turn the dumplings over several times, making sure they are fried on all sides, then remove to a plate covered with a paper towel to absorb excess grease. Once the last batch is done, transfer them to serving plates.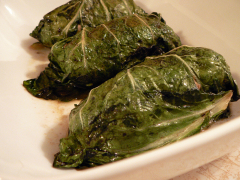 They're done when an instant-read thermometer shows 160°, or the filling doesn't have any pink left when you cut it open.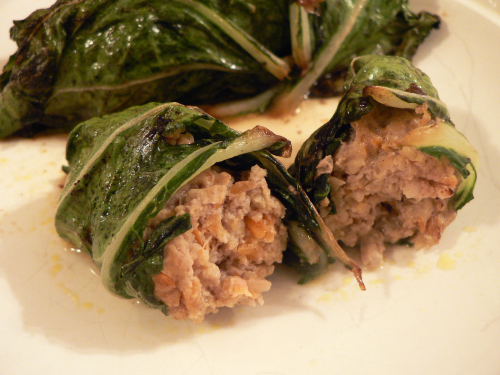 Serve with the apricot dipping sauce garnished with scallions.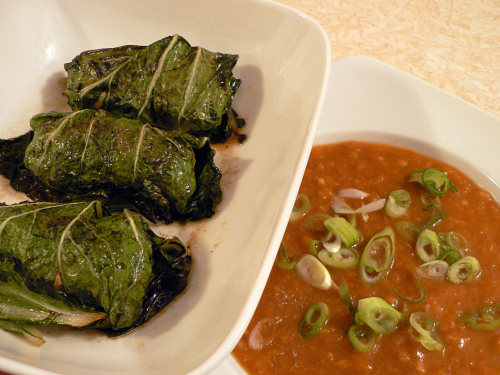 The Meatball
Since I ran out of bok choy leaves, I decided to just make meatballs out of the remaining pork and fry them up in the wok.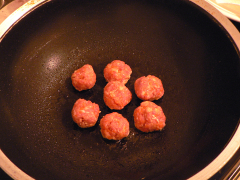 These turned out to be the tastiest version, since the pork got nice and browned from the frying. They were good with scallions and salt …
… or topped with the apricot sauce. (And salt.)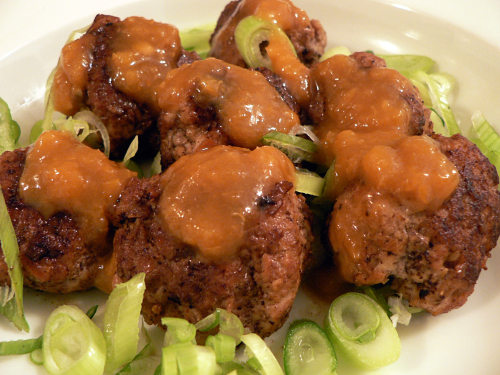 And that, finally, is it.
---
If I had thought about it a bit, I would have realized sausage needs to be seasoned more than what I did. I ended up with something that would probably be familiar to lots of people whose mothers and grandmothers never had anything but salt in their spice rack. Of course, that's not the kind of grandmother I'm trying to cook like.
So this was a valuable learning experience for me. I still had fun playing with the meat grinder, and will be using it again soon.
Come back tomorrow for the dessert my wife made that was way better than anything I made here.