Part of cooking from scratch is knowing just how "from scratch" it needs to be to feel good about what you're making. The other part is knowing where to buy the parts you're not going to make for yourself. This time it was getting a pizza crust from Alesci's and doing the sauce from scratch.

Ingredients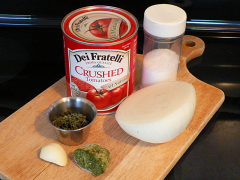 28 ounces (one large can) crushed tomatoes
1 cup diced onion
2 tablespoons basil pesto
2 tablespoons dried oregano (3 tablespoons fresh)
1 clove garlic (two if they're small)
2 teaspoons kosher salt
Directions
Start out by dicing the onion …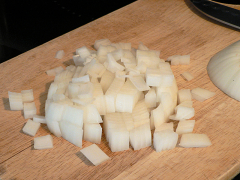 … and mincing the garlic.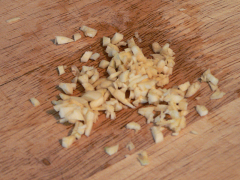 Heat some fat in a pan over medium heat — butter, olive oil, or like I did, rendered bacon fat.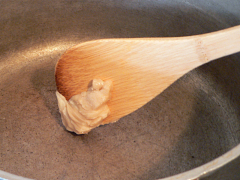 Sauté the onion until it just starts to turn clear …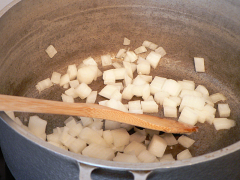 … then add the garlic and keep stirring until the garlic starts to get darker, but not brown.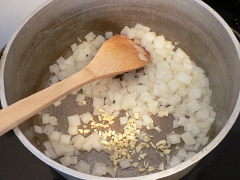 Add the tomatoes …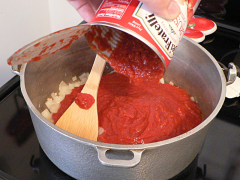 … and the pesto and oregano.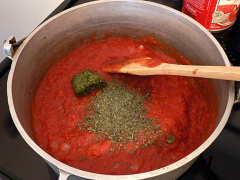 Simmer over medium heat for about 15 minutes, stirring frequently, until the sauce is warmed through.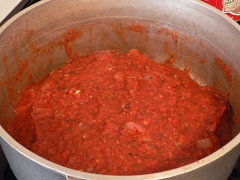 Remove the pan from heat and blend with an immersion blender (AKA stick blender) until the sauce is smooth.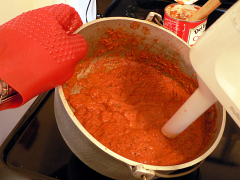 If you used a large pot, like I did, you'll need to tip it up to keep the end of the blender submerged. Otherwise you'll spray tomato sauce all over the stove … the wall next to the stove … the front of your shirt … If you've read any of my other posts there's a good chance you've seen the phrase, "Don't ask how I know this."
Once it's smooth, put one large ladle full on the crust …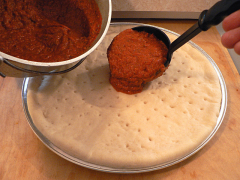 … and have your daughters spread it around.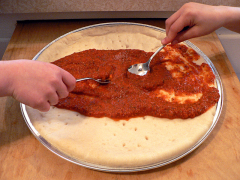 Wait, hold on, back up. Doesn't that title up top say "How To Make Pizza Sauce From Scratch"? And I don't see any "pizza crust" in the ingredients list. What's up with that?
Yeah, well, a picture of a bowl of tomato sauce would be pretty boring. So I helped the girls make the pizza and included the rest of the steps here. (If you came here via the "gluten free" tag, this is where it stops being gluten free. You're on your own for gluten-free pizza crust.)
So … have the girls spread about a half-pound of shredded mozzarella and provolone cheese (Alesci's sells a 50/50 mix).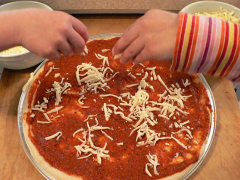 Make sure the cheese goes right up to the edge, but not over. You don't want it melting and dripping over into the inside of the oven.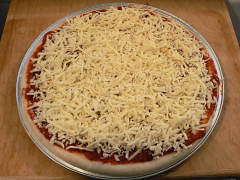 Have the girls add whatever toppings they want. In this case, pepperoni on half, the other half plain cheese.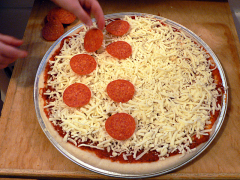 Think about how you're going to cut it — six cut, eight cut, etc. — and make sure the toppings are evenly distributed.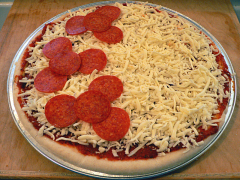 Bake at 450° for 15-20 minutes, until the cheese is bubbling and starting to get just a little brown around the edges.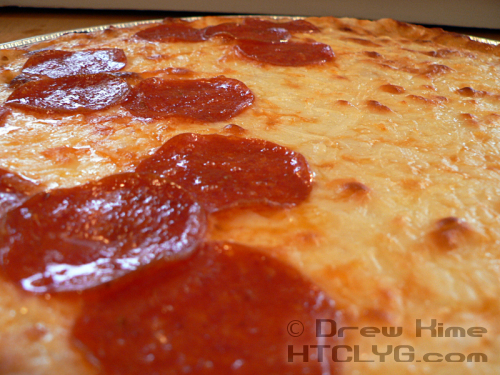 And that's it.