I seem to be a steak snob. The last time I made steak fajitas I finally got them "right". They had to have the cilantro and lime juice. That what I had been missing, that really made them taste like they do at all the Mexican restaurants.
Well, I forgot to get the lime. And I thought I had cilantro, but I didn't. So these chicken fajitas didn't get either. And you know what? I didn't miss it at all. Does that say more about the fajitas, or about me?

Ingredients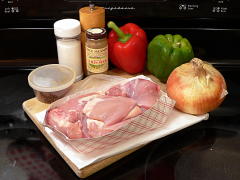 2 pounds chicken thighs, with some skin and fat
1 teaspoon kosher salt
1 teaspoon coarse ground black pepper
1 teaspoon cumin
1 teaspoon Ancho chile powder
1 large onion
1 large red pepper
1 large green pepper
Not pictured
flour tortillas
shredded cheese
salsa
Directions
Always prep your veggies before your meat to avoid cross-contamination. Especially when preparing chicken. Slice the onion and pepper and set them aside.
Slice the thighs across the grain into quarter-inch strips.
NOTE: Don't make these with boneless, skinless chicken breasts. Please. The thighs have so much more flavor. And get them with a little skin and fat still on them, and you won't even need any oil in the pan.
Add the salt, pepper, cumin and Ancho.
Toss the chicken and let it rest for a few minutes for the salt to draw out a little moisture and hydrate the spices. (This is a good time to wash the cutting board and knife.) Then toss all the chicken into a skillet over medium heat.
Toss the chicken, or turn it over with tongs, and break it up to make sure everything gets well browned. Stir occasionally as you cook it for about 10 minutes, then remove to a bowl and set aside. Leave all the drippings in the pan.
Add the peppers and onion to the hot pan. Add a little more salt and pepper and toss to coat with chicken fat. Cover and cook, stirring every couple of minutes, until the peppers are tender but not mushy, about six to eight minutes.
When the peppers are done, add the chicken back in. Toss everything together until the chicken is heated through again.
Put a layer of chicken, onion and peppers on a warm flour tortilla. Top with shredded cheese — Monterrey jack is "traditional", but I like sharp cheddar — and fresh salsa.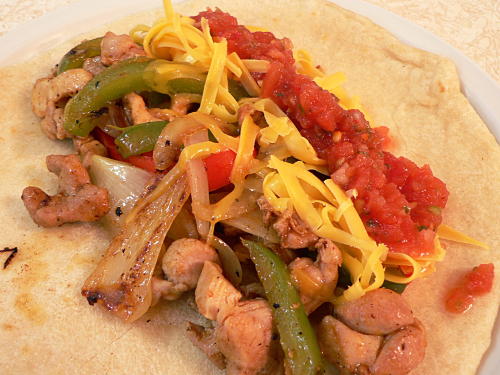 Fold it up and dig in.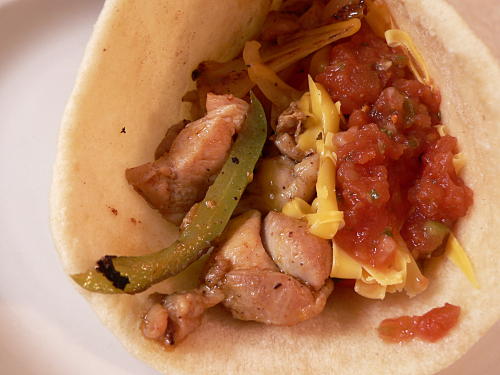 And that's it.