Teaching your teenager to cook is pretty easy … as long as they like something that actually has to be cooked. If you've got a kid who only eats Pizza Rolls and mac and "cheese" from a box you're going to have a hard time convincing them it's worth the effort. (And shame on you for not teaching them any better.)
When I told the oldest she was going to learn to cook, there was no doubt the first thing she was going to want to do was steak.

She would have been good with just the steak, but I made her do mashed potatoes and Brussels sprouts, too. Start by peeling and cutting the potatoes into one-inch squares.
Put in a pot of boiling, salted water. (How much salt? Couple teaspoons.)
Season the steak with salt and pepper.
How much salt and pepper? Jeez, all about precision, aren't you? This I honestly couldn't tell you. Just season it like you were about to eat it, but do it before cooking.
We're going with a chuck steak, and doing it under the broiler. It's a little more forgiving than trying to do in a cast iron skillet.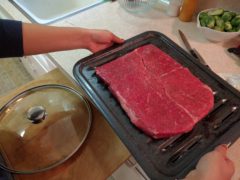 That goes under the broiler on "Lo" – because that's how they spell it, that's why.
While the steak and potatoes are cooking, chop the Brussels sprouts in half. Chop up some bacon and fry over high heat until the bacon starts to curl.
Toss the sprouts in, turn down low, and cover. (A clear lid is good if you have it, so you can keep an eye on how they're doing.)
When the potatoes are soft-ish – when you stick a toothpick in, it comes right back out instead of getting stuck – drain the potatoes and transfer to a heavy bowl.
Add plenty of butter – at least two tablespoons per medium potato – and mash. I like the Pampered Chef Mix and Chop for this.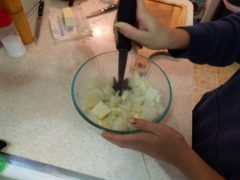 I like to get my steaks pretty thin. That way, when it looks done it is done. When the first side looks good, flip it over.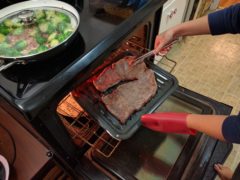 When the sprouts are browning on the edges, they're done.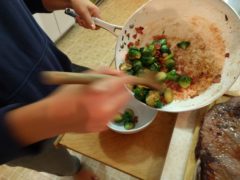 Blow on them before tasting. They're hot.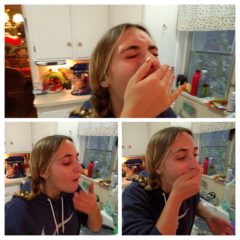 Is it the prettiest steak ever made? Nope. But it beats the hell out of Hot Pockets.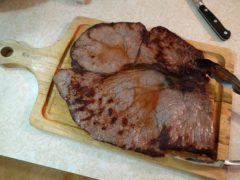 Cut into reasonable-sized servings.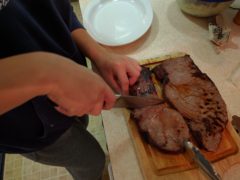 Serve with extra butter for the potatoes. (And steak sauce, which we forgot until she was halfway done eating the steak.)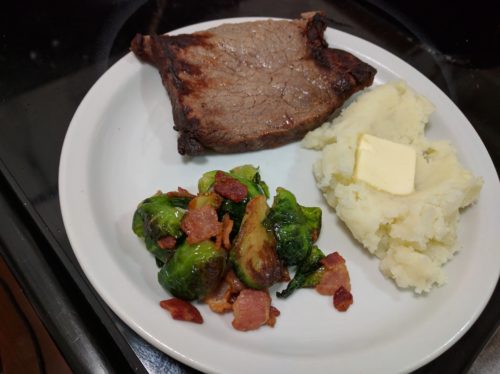 And that's it.