The pickled eggs have had enough time in the fridge. It was time to bust them out and try them.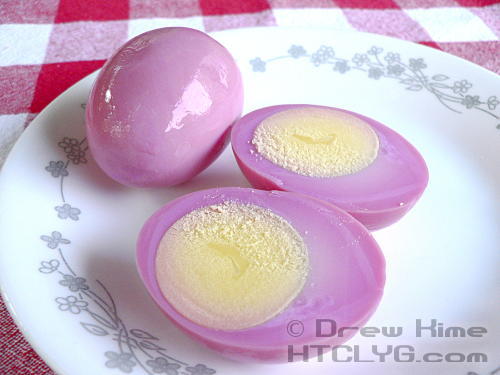 Damn, that's pretty. And tasty. A little sweet, but not too much. A little firmer texture than a regular boiled egg. I'm thinking a deviled version of these might be nice. I haven't decided if I should go with a spicy filling for contrast, or play up the sweetness. Hmm … decisions, decisions.





Oh … I mentioned an announcement, didn't I. Well, if you haven't noticed yet I've been a bit scarce this summer. That's because I've been working on a second book.
Yes, a second book, yay me!
The first one — still handy and still available, by the way — has been out for over a year now. It's mostly recipes, but with more how-to on each one than most recipe books. Plus a couple of chapters of tips and suggestions at the end.
This new one is flipped around: Mostly tips, with just a couple of recipes for examples. It came about as a result of the free online class I offered, Starting From Scratch. (That's also still available, by the way. 🙂 Sign up at the top right of this page. If you're reading this in email, come sign up at the blog.)
I asked everyone when they finished if there was anything I left out that a beginner would need. Boy, did I get feedback. I realized if I put it all together, that would be a heck of a resource.
You asked for it, you got it
Only problem was, I didn't know enough about some of it to offer any good advice. So I reached out to several people I've found online, who have either been at this a lot longer than I have, or they've specialized in an area and are experts in it.
In a couple of weeks the end result of all this work is going to be available as Starting From Scratch: From Novice to Beginner in 20 (or so) Easy Steps. Over the next few days I'll be introducing my co-authors.
The first contributor I want you to meet is Kristin from Going Country. Say hi to Kristin, everyone. Hi, Kristin! Gosh, you guys are nice.
I asked Kristin if she could explain the basics of canning, since I know she has a garden that … well, it looks like it should have a farmers market in front of it. But she harvests it all herself, and what they don't eat fresh, she cans. Her pantry looks like a grocery store. (Yes, I'm jealous.)
That chapter is available for free, all you have to do is tell me where to send it. If you've ever wanted to do some canning but didn't know where to start, this is it. This is the resource I wish I had read a couple of years ago. I got lucky and didn't poison anybody. If you're going to do any canning, get this chapter and do it right.
I've got a couple of recipes I'm going to share, then we'll meet another contributor.