A while back I showed how to make a graham cracker crust. Down in the comments we got to discussing what other cookies would make a good crust. Of course I thought, "Snickerdoodles!"
So here's the crust. I'll fill it tomorrow.

Ingredients
12-18 Snickerdoodles (depending on size)
1 stick butter (1/4 pound, 1/2 cup)
Directions
Fill the bottom of your pie plate with cookies. There should be enough to completely cover the bottom, but not too much more.
Once you've got the right amount, put the cookies in a zip-top bag, squeeze the air out (so it doesn't pop like a baloon), and roll with a rolling pin until they are crushed.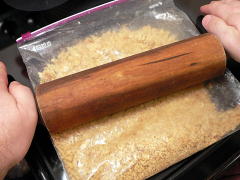 Yes, this is exactly the same thing I did with the crisped rice cereal.
Melt the butter in a large bowl in the microwave, then add the crumbs.
Stir to combine. If the crumbs are too dry to stick together, add more melted butter. Once they start clumping, pour them into the pie plate.
Press into the bottom with a fork. Come a little bit up the sides, depending on what you'll be filling it with.
Refrigerate until set.
And that's it.



Oh, one more thing. Straight from the fridge, this is likely to stick to the pie plate. If you want the pie to be cold, but still be able to get it out of the plate, warm up the bottom on the stovetop for a couple of seconds.
NOTE: After posting this, I got a note from Barb warning against that idea.
I would rather you rethought your suggestion on placing a cold Pyrex pie plate on a stovetop … even if the stovetop is cold and you turn on the burner … the possibility for an explosion is there … been there, done that! Pyrex explodes into a million shards … not fun … and is very dangerous …
Okay, so maybe that's not the best idea. I heard from another reader recommending lining the plate with parchment first. That would certainly make it release easier, but keeping the parchment in place while pressing the cookie crumbs in might be challenging.
I didn't have this problem when I did the graham cracker crust. Anyone have any ideas what was different this time?
Want more like this? For more recipes like this, that you can hold right in your hands, and write on, take notes, tear pages out if you want (Gosh, you're tough on books, aren't you?) you might be interested in How To Cook Like Your Grandmother, 2nd edition, Illustrated. Or to learn your way around the kitchen, check out Starting From Scratch: The Owner's Manual for Your Kitchen.