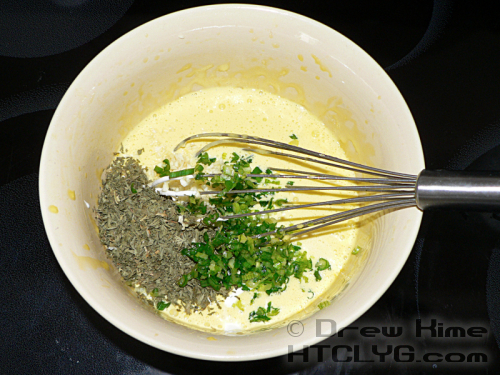 As much as I prefer cooking from scratch, there are a few things that require so many ingredients that I'll give in and just buy it. Worcestercire sauce is one of those. (But I'll be fixing that soon. Stay tuned.)
Ranch dressing used to be another thing that I'd just buy. Not any more. Now that I've got my technique for fresh mayonnaise down, I don't expect to ever have to buy ranch dressing again.

Mayonnaise
Ingredients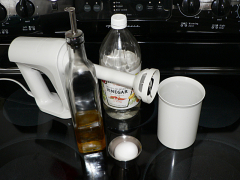 ½ cup olive pomace oil
1 egg plus one yolk
two teaspoons white vinegar or lemon juice or a mixture of both
Directions
You'll see that I included the immersion blender (AKA stick mixer) in the ingredients photo. You can do this by hand, but I don't recommend it unless you're looking for a good workout.
Start with the yolk and a couple of tablespoons of the oil in a the narrowest cup your mixer will fit in. (Mine came with a matching cup. Handy.) Blend for a couple of seconds. With the blender runing, drizzle the rest of the oil in very slowly. If the oil separates from the egg yolk you won't get a nice creamy mayo, you'll get a greasy lumpy mess.
As you get more practice you'll know just how fast you can add the oil. Unfortunately, you'll find out exactly where that point is by going over it and ruining the batch. If you do that, start with a fresh yolk and a couple teaspoons of oil, then start adding the "broken" batch in a spoonful at a time.
Once you've got all the oil added, add the second egg and the vinegar and/or lemon and hit it with the blender again. Poof, instant mayonnaise.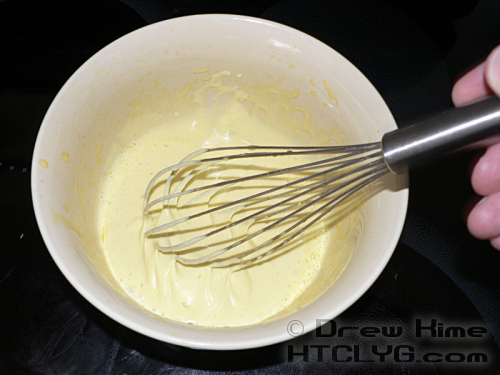 If you think that looks a little thin for mayonnaise, you're right. By leaving out the second egg white, you get a creamier texture and a richer egg flavor. I think it works better when using the mayo as a sauce or, like I'm doing here, as an ingredient in something more complex.
Dressing
Ingredients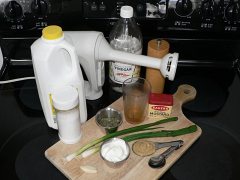 ½ cup mayonnaise (see above)
¼ cup buttermilk
3 tablespoons sour cream
2 tablespoons apple cider vinegar
2 teaspoons Dijon mustard
2 scallions
1 clove garlic
2 tablespoons parsley
¼ teaspoon kosher salt
1/8 teaspoon freshly ground black pepper
¼ teaspoon mustard powder
(Note: I left the white vinegar from the mayonnaise ingredients in the shot. Oops.)
Prep the scallions by cutting off the root end, including most of the white section …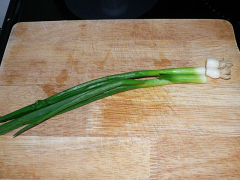 … then cutting off the papery part of the green end.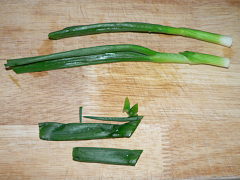 Then chop it thin all the way down its length …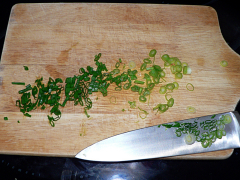 … and scoop everything back together for a second run through with the knife.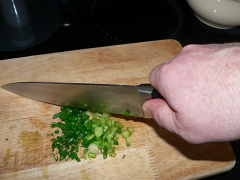 You want to end up with a pile of very finely chopped scallion.
Mince the garlic and add everything into the bowl.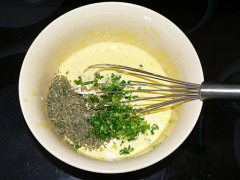 And mix well.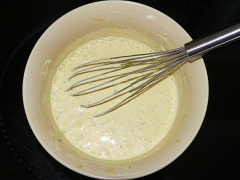 ---
I'd love to show a picture of this dressing on the broiled carrots I did that night. Unfortunately, I knocked my camera off the counter while working on the pork roast. It's in for repairs right now. If I can't find a loaner by this weekend, I may not have anything new to put up next week. I've got my fingers crossed that it's a quick fix … and inexpensive would be nice, but I'm not holding my breath.
Want more like this? For more recipes like this, that you can hold right in your hands, and write on, take notes, tear pages out if you want (Gosh, you're tough on books, aren't you?) you might be interested in How To Cook Like Your Grandmother, 2nd edition, Illustrated. Or to learn your way around the kitchen, check out Starting From Scratch: The Owner's Manual for Your Kitchen.