My daughter has been trying for weeks to make me something to eat. Which is really cool, especially considering the other thing she keeps doing is making books. Hmm, cooking and writing books … who else do I know who cooks and writes books? So yeah, it's really sweet.
Except she doesn't know how to make anything yet. So I get a piece of lettuce with salt and pepper — a lot of pepper — topped with pieces of Fruit Roll-up. Yum, salad.
I finally decided if she's going to making stuff I should teach her a recipe or two before she puts me in the hospital. I asked my wife for suggestions, and she pulled out this apple crisp recipe that really is so easy the kids can make it.

Ingredients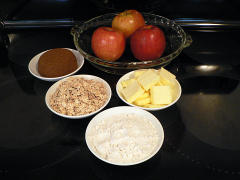 3 large apples
1 cup firmly packed brown sugar
3/4 cup quick-cook rolled oats
3/4 cup flour
1/2 cup softened butter
Directions
Here are the bakers that tested the recipe. Note the pink skull-and-bones with the tiara. Where does my wife find this stuff?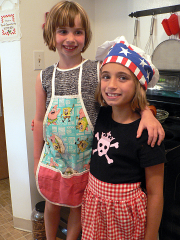 Add the oats, brown sugar and flour to a bowl.
I thought I said, "Now add the flour." Apparently it sounded like I said, "Smile for the camera."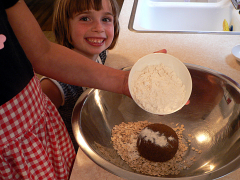 Using a pastry cutter, combine the dry ingredients until they are a uniform coarse meal.
Add the softened (but not melted) butter and cut in until there are no pieces larger than a pea.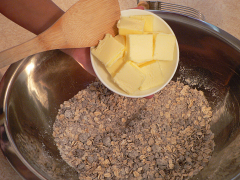 If the butter clumps up, use a spoon to scrape it off, not your hands. Your hands will melt the butter and make a mess.
If you've got one of these corers, you can let the kids chop the apples.
Or if you're in a hurry, have your wife do it.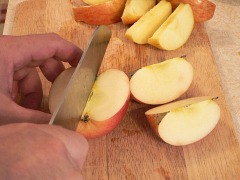 Oh, you are the wife? Then, umm … do it yourself? Just don't give the chef's knife to the kids and tell them, "Now hurry up, we're running late." That would be bad. So don't.
Slice the pieces pretty thin. Again, don't give this step to your kids.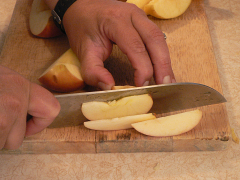 Lightly butter a 9-inch round pan. Metal works just fine, but I like the Pyrex because it cleans up easier.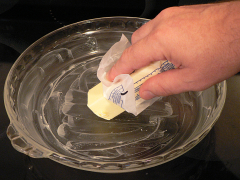 Now back to the kids. Have them add the apples to the pan and spread them out evenly.
Then add the topping and spread evenly.
Bake at 350° for 20-30 minutes.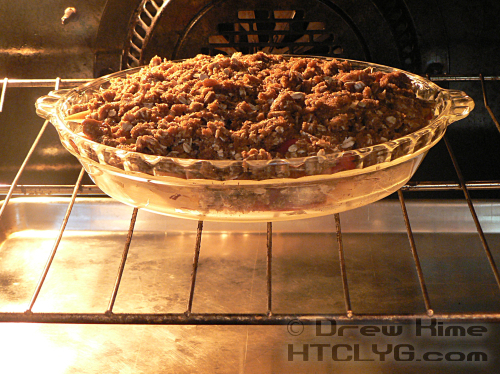 The top should be dark golden brown. (Now I'm going to apologize in advance for the multiple large photos here. They all just looked so delicious.)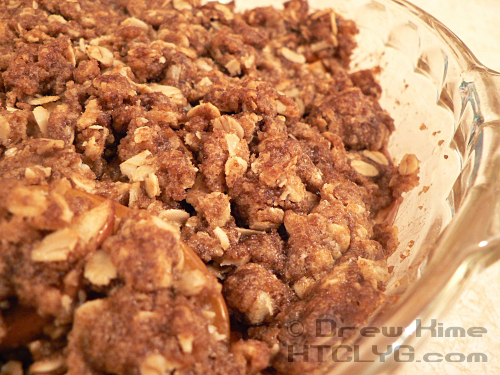 This can't be sliced and served like pie. Scoop it up with a big spoon. Make sure you get some of the juice and pour it over the top.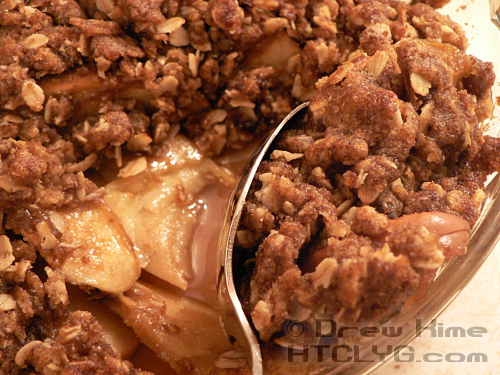 Same as with apple pie, this is perfect with vanilla ice cream. (Hey, we just made that. What a coincidence.)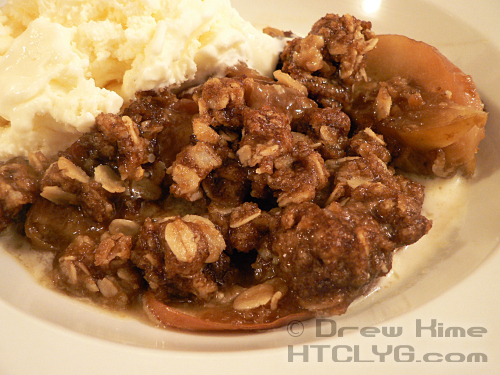 The baked apple juice mixing with the melted ice cream is so good … hmm, I'm going to try a baked apple smoothie. I bet that'll be pretty good.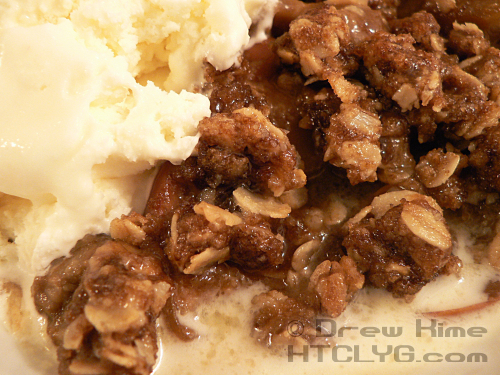 My daughter likes apple pie, just not the crust part. So when I told her we were going to make an apple pie without the crust, she couldn't wait to make it. I don't know if she pictured the finished product in her mind's eye, but I did. And this is what I saw.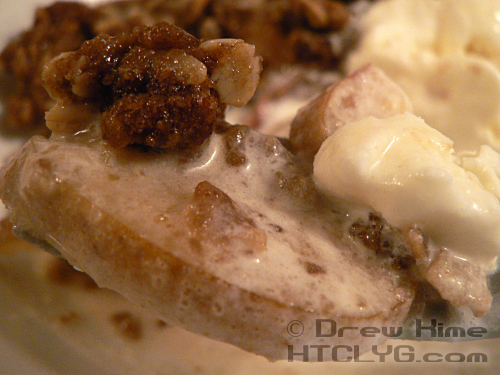 And that's it.
---
I've got a few variations on some of my previous stuff coming up. Sign up using the form to the right to make sure you see them as soon as they come out.