I'm trying something a little different today. I usually show individual dishes throughout the week, with the whole meal on Friday. This time I'm showing the finished product first. Call it an experiment in automaticity.

Ingredients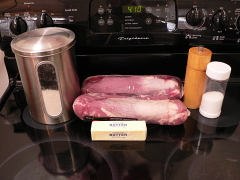 2-1/2 pound pork tenderloin
1 stick butter (1/2 cup)
kosher salt
fresh ground black pepper
flour for dredging, about 1-2 cups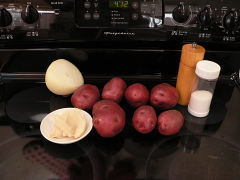 2 pounds redskin potatoes, about one per guest
1/4 cup rendered bacon fat
1 cup diced onion
kosher salt
fresh ground black pepper
Directions
There was a great discussion over on Jenni's Pastry Methods and Techniques blog a couple of weeks ago about cooking creativity. Jenni obviously knows a lot more about the psychology of it than I do. She's the one who taught me the word "automaticity".
The bottom line, though, is once you know the basic cooking techniques you can apply those techniques to lots of different ingredients. Eventually you reach a point where you don't even need the instructions for a recipe, just the list of ingredients.
Consider this post a test of that theory. Take a look at the pan fried chicken in butter recipe, and see if you can figure out what to do with the pork.
Then look at the ingredients for the potatoes, the name, and the finished product. Take a guess at the technique.
Finally, come back for the next couple of days and see how close you were.
UPDATE:
The two recipes are up now. Here's the fried smashed potatoes A couple people noticed these are pretty similar to Ree's crash hot potatoes.
And here are the pan fried pork tenderloin chops.