I thought it was going to be hard to keep up with the tomatoes from Lou's garden. Somehow I managed to not think about what was going to come from those mutant zucchini plants. But they started producing anyway. So of course I asked the baker of the house to make some zucchini bread.

Ingredients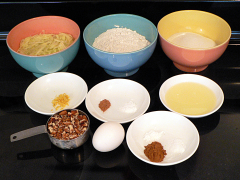 first bowl
1-1/2 cups all-purpose flour
1 teaspoon ground cinnamon
1/2 teaspoon baking soda
1/4 teaspoon salt
1/4 teaspoon baking powder
1/4 teaspoon ground nutmeg
second bowl
1 cup sugar
1 cup finely shredded unpeeled zucchini
1/4 cup olive pomace oil
1 egg
1/4 teaspoon finely shredded lemon peel
reserved
1/2 cup chopped walnuts
Directions
I'm so glad my wife likes to bake. Because I love baked goods but good grief that's a lot of ingredients. And 1/4 teaspoons? Man, that's precise. That's why doing a good mise en place is really useful when baking.
Once you've got everything set out, there's really not much to this process. Start by pre-heating the oven to 350°. Then combine the flour, cinnamon, baking soda, salt, baking powder and nutmeg in your second-largest bowl.
And stir to combine.
In your largest bowl, combine the sugar, zucchini, lemon, egg and oil, then stir to combine.
Add the dry ingredients to the wet, and stir until just incorporated.
Coat a loaf pan with butter (or lard) and dust with flour, and pour half the dough into the pan.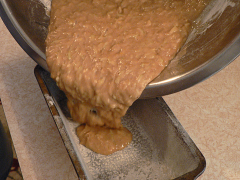 Now mix the walnuts into the remaining batter and pour into the pan.
The reason for adding the walnuts halfway through the pour is that the nuts will slowly settle through the batter until it starts to bake. Instead of trying to fight gravity, we just start the nuts higher up in the batter. So when they do sink, they end up evenly distributed through the loaf. (This trick is even more important when making blueberry muffins.)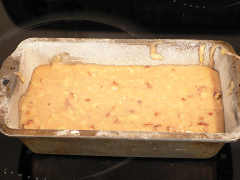 At this point, the batter is already surprisingly tasty.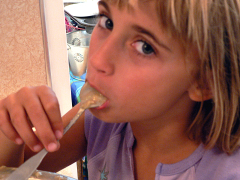 Try to get some of it into the oven — for 50-60 minutes, until a knife inserted in the middle comes out clean.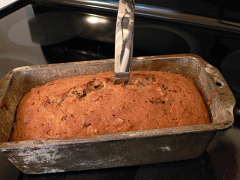 Let it cool for 10-15 minutes, then turn the pan over and rap gently to pop it out.
Slice some nice, thick pieces.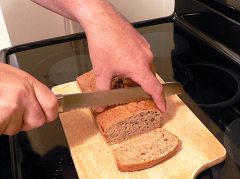 Check out how the nuts are not all sunk down to the bottom.
As is, still warm from the oven, is delicious.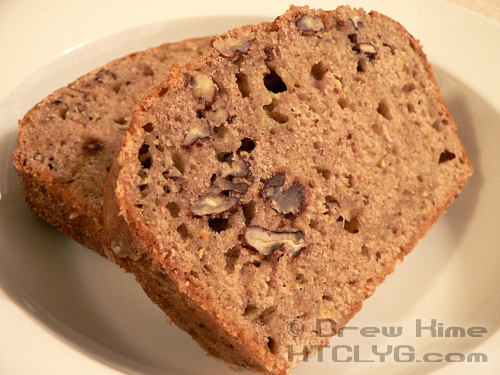 But of course, everything's better with butter.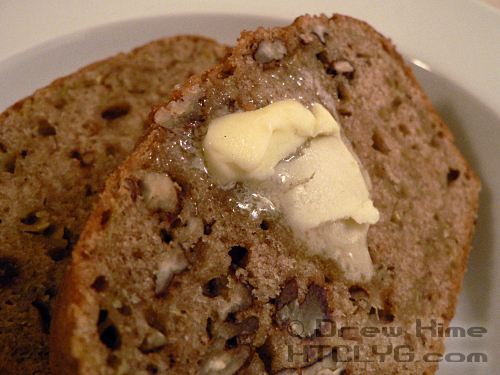 And that's it.
---
I'll have some shots of the mutant zucchini that went into this tomorrow. Sign up using the form in the column to the right to make sure you don't miss it.