I love omelets, but I prefer the onion and pepper cooked a little. Usually this means cooking the veggies first, scooping them back out of the pan, putting the eggs in and putting the veggies back. Last week I thought to myself, "Hey, self. Why don't you just pour the eggs over the veggies?" Why, that's a fine idea, self. Thanks for thinking of it.

Ingredients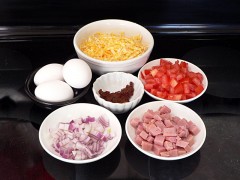 3 eggs
ham
onion
pepper
tomato
cheese
Directions
This is a perfect breakfast to use up leftovers the morning after taco night. I had the onion and tomato already diced and the cheese shredded, some chipotle peppers in adobo sauce (though you could use bell peppers), but there was no meat left. Good thing I had some ham. You can use just about any veggies and any meat you like. If you like them together, you'll like them in this. Just dice everything up nice and small before you start heating up the pan.
Heat a tablespoon or two of butter or bacon fat in a small pan over medium heat. Beat the eggs together in a small bowl.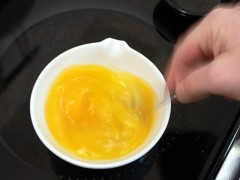 Put all the veggies (except the tomato) and meat in the pan.
Sauté until the veggies are soft and the meat is lightly browned around the edges, then spread everything out so it covers the bottom of the pan evenly.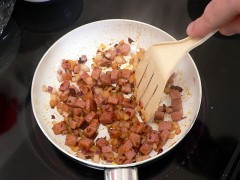 Top with plenty of cheese and the tomatoes. If you're using any fresh herbs, this is the time to add those.
Pour the eggs over and press everything down so it's covered by the egg.
Turn the heat down low, put on a lid, and let it go for five to ten minutes – depending on how thick it is – until the eggs are just set in the middle. Here you can see it's starting to bubble up through the middle but the top isn't set yet.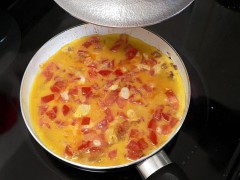 When the whole top is set, work a spatula around the edge to make sure it isn't sticking.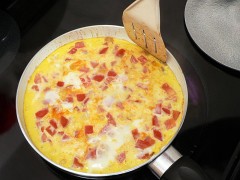 Put a plate over the top of the pan and flip it over.
Top with a little more cheese and give it a minute to melt before serving.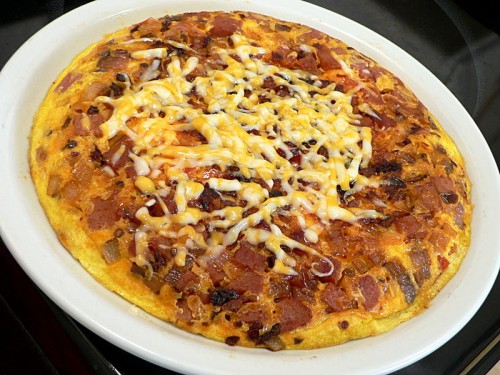 And that's it.