Quesadillas are one of my favorite ways to use up leftovers. They're basically an unwrapped wrap. Get the same tortillas you'd use for a wrap, add some meat, veggies and cheese, and toast for a couple of minutes.

Directions
You'll need a little special hardware. It might be possible to do quesadillas without one of these, but I don't have a year to practice. So I'll just say "you need one".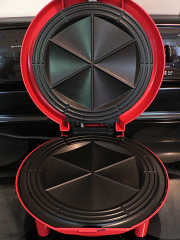 Even though it's got a non-stick surface, I always lube it up with some bacon fat. It adds a little flavor and makes the surface a little crisper.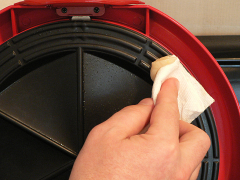 Put one tortilla shell in the bottom.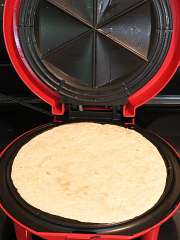 Add whatever fillings you want. Since it is divided into six pieces, you can even satisfy kids with different tastes at the same time. I'm doing two with leftover taco meat, two with tomato and onion, and two tomato and leftover chicken. (I said it was good for leftovers, didn't I?)
Next a layer of cheese. Or skip the meat and veggies and double up the cheese.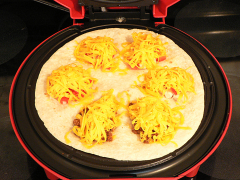 Another tortilla on top and close the lid tightly.
About two or three minutes later, as soon as the cheese or other fillings start bubbling out the side, pull it out.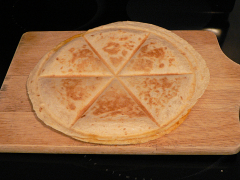 Cut along the lines, and serve with sour cream, salsa or guacamole.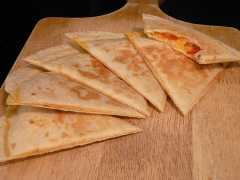 And that's it.
---
This isn't exactly the most complex recipe I've ever done. I was busy all week getting ready for my daughter's first communion party. When serving 50 people, sometimes the best thing you can make for dinner is a phone call. So that's what I did.
Stay tuned later this week for the first — wait, let me check … yup, the first desert I've posted here. (Unless you count the Irish Soda Bread.) Here's a hint: it includes apples and home-made pie crust. But I'll bet it's not quite what you think.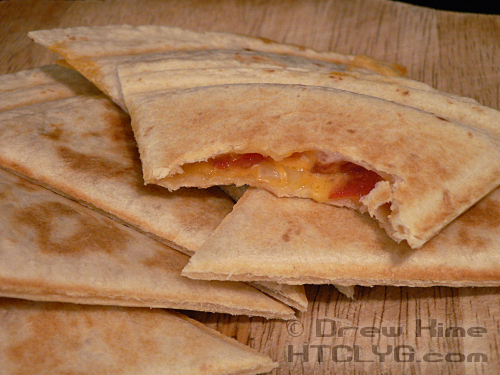 Ingredients
large flour tortillas
chicken or beef, cooked & finely diced
onions
peppers (mild or hot)
tomatoes
cheese
Instructions
Cook the chicken and/or beef with salt and pepper, then dice very fine. Remove the seeds from the peppers and tomatoes, and dice all vegetables very fine. Shred the cheese.
If you have a quesadilla press:
Brush the top and bottom of the press with bacon fat or olive oil. Place a tortilla on the bottom, and fill each segment with a small amount of toppings. Place a second tortilla on top and close the press. Cook for 2-3 minutes, or until cheese starts to ooze out. Cut along the lines from the press.
If you don't have a quesadilla press:
Place a tortilla in a hot pan lubed with bacon fat or olive oil. Top one side with fillings and fold the tortilla in half, like you would an omelet. Cook for a minute, flip over, and cook another minute. Cut into three or four wedges.
Recipes copyright Drew Kime