Yes, I've done pot roast before. But that was in a crock pot. (Oops, I mean a "slow cooker". Crock-Pot is a brand name.)
Now that I've got a Dutch oven*, I've got a new method. It's faster, easier, clean-up is easier, and the results are at least as good. Gotta love that.
* Technically Le Creuset call theirs a "French oven". Find me anyone outside their company who calls it that and maybe I'll be number 2. But until then … it's a Dutch oven. So let it be written, so let it be done.

Ingredients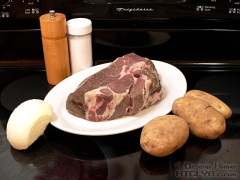 2½ pound chuck roast
3-4 potatoes
½ large onion
kosher salt
fresh-ground black pepper
2-3 tablespoons bacon fat (or other high-temperature oil — not butter)
Directions
Pre-heat the oven to 300°. While it's heating up, melt the bacon fat in the Dutch oven over high heat.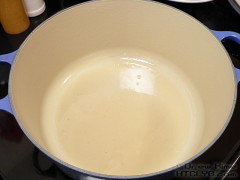 Nicola commented after the potted chicken recipe that Le Creuset says not to cook over high heat. What I found was that Le Creuset warns against pre-heating an empty pan over high heat, but high heat is fine for short applications:
Low to medium heat settings will provide the best results for a majority of cooking applications, including frying and searing. High heats should only be used to either boil water for vegetables or pasta or for reducing the consistency of stocks and sauces.
They have a bit more to say about grill pans:
Use only low to medium heat settings for all pre-heating and cooking. The efficiency of the material is such that searing temperatures are achieved on medium settings within a few minutes. Heating the surface a little more slowly will ensure a thoroughly and evenly heated surface.DO NOT pre-heat the grill on a high heat and then reduce to medium or low for cooking. Cast iron is a very efficient material and retains heat well. If over-heated it will retain that heat for a long time and this method of use may contribute to poor cooking results and the food sticking to the surface of the grill.
That's the official word. Check out this thread from Chow.com for lots of feedback from cooks who have used Le Creuset themselves.
What Le Cresuset is saying is that you don't need high heat to get good results. If you use high heat the pan will be okay, but since it retains heat so well it will keep cooking long after you take it off the heat. For this recipe, it's only on the heat for about 3 minutes before going into the oven.
I appreciate the reminder, though. It's always good to double-check the safety recommendations from our hardware makers.
Now that we've got that out of the way … coat the roast liberally with salt and pepper on both sides.
You should probably do this before putting it in the Dutch oven.
Brown the beef all around. It should only take a minute or so on each side.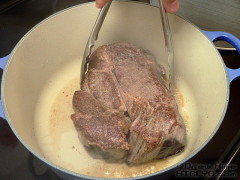 Cut the onion into quarters and place the sections around the roast. (Feel free to use a whole onion if you've got one.)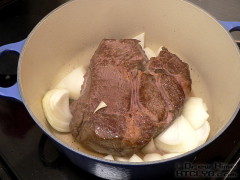 Scrub the potatoes, cut into bite-size pieces (or slightly larger) and arrange around the roast.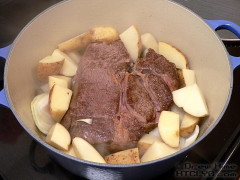 Add enough water to come about halfway up the roast.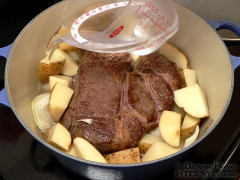 Put the lid on and place in the oven at 300° for an hour.
Lookin' good, huh?
Not quite done, though. You know how to check? Use two forks and see how easily you can pull it apart.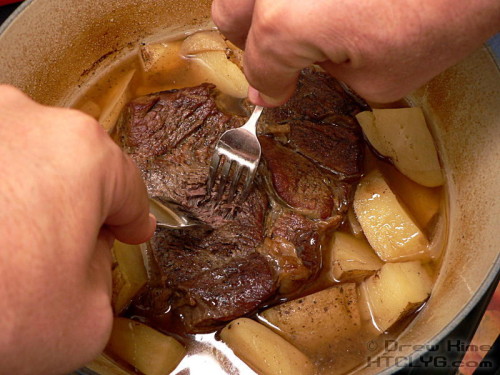 It should take almost no effort at all. If it's not there yet, put it back in for another 20 minutes. Depending on your specific cut of beef — how thick, how lean, what temperature when you start — you might need anywhere from an hour-and-a-half to nearly 3 hours. Keep checking every 20 minutes or so until it's falling-apart tender.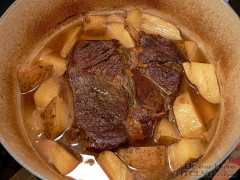 Carefully remove the roast to a cutting board.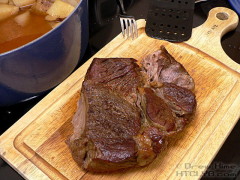 I had to use that spatula in the background, since I couldn't lift it with forks or tongs without it all falling apart.
While the beef rests, put the Dutch oven back over high heat. Mix a tablespoon of cornstarch with cold water. Stir it into the liquid in the pot, and add salt, pepper, cardamom and marjoram.
Bring to a boil and cook for one minute, stirring constantly. Poof, you've got gravy.
If you try to slice the beef, it will shred. Just push the knife straight down, cutting thick slices.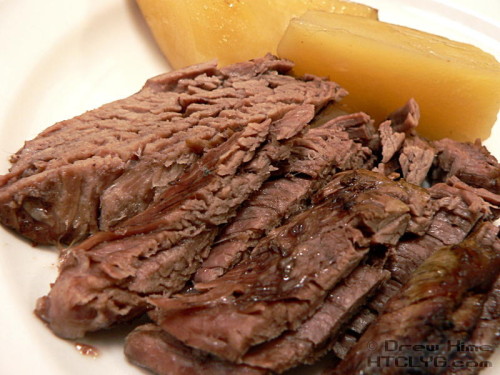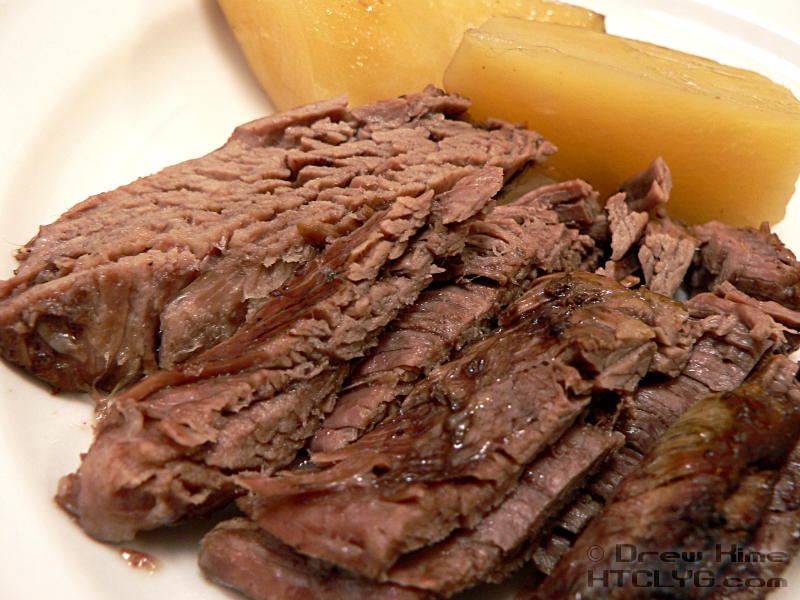 And that's it.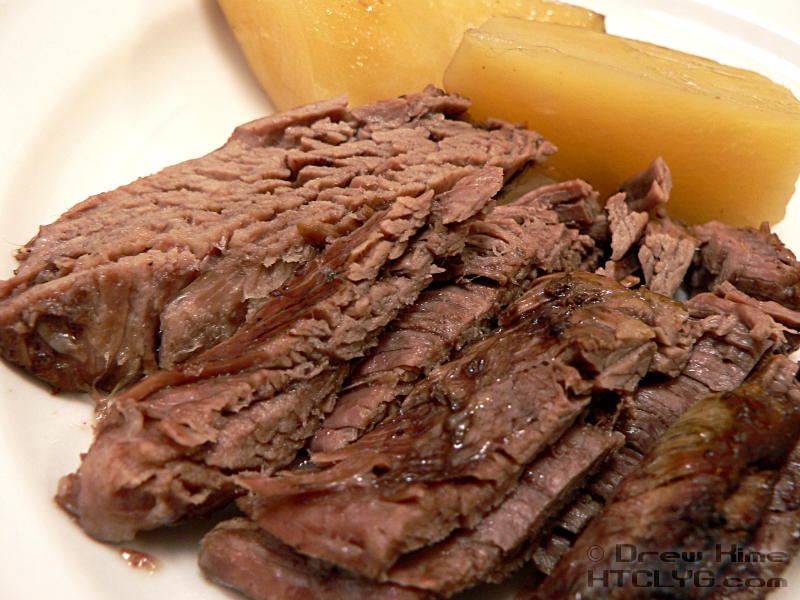 Ingredients
2½ pound chuck roast
3-4 potatoes
½ large onion
kosher salt
fresh-ground black pepper
2-3 tablespoons bacon fat (or other high-temperature oil)
Instructions
Coat the roast liberally with salt and pepper. Melt a few tablespoons of bacon fat over high heat in a Dutch oven. (Or use another high-heat oil -- not butter.) Brown the roast all over, then remove from heat.
Cut the onion into quarters and place around the roast. Scrub the potatoes and cut into bite-sized pieces. Place around the roast. Add water up to halfway up the roast.
Put the lid on and place in a 300° oven for at least an hour. Start checking every 20 minutes until the roast is falling-apart tender.
Recipes copyright Drew Kime