During the fall and winter, I eat pork chops, baked potatoes and salad. But in the summer, that just feels to "heavy" for a hot night. So instead I grill the pork chops, slice them thin and put them on top of the salad, which is bigger, and put the potato on the side.
And somehow this tells my brain, "You're actually eating a salad. Nice and light for a hot summer night.It just happens to have an entire pork chop sitting on top of it."
It doesn't have to make sense. It just works.

Ingredients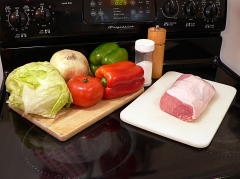 lettuce
tomato
green and red bell peppers
pork loin
salt and pepper
optional:
additional salad toppings
Directions
Not much to this one really. Chop up the lettuce into bite-size pieces. I find it easier to eat than having to cut everything up once it's in the salad bowl.
Peel and chop the cucumber into bite-size pieces. Use a fancy-shaped chopper if you have it.
Seed and chop the peppers into … you guessed it, bite-sized pieces. Note that my wife likes to cut them in half through the core. Not how I do it, but it works for her.
And if the stem is short, it's more stable to do it upside-down.
Chop the tomato into … oh, you know what's coming next.
And the onion, blah blah blah …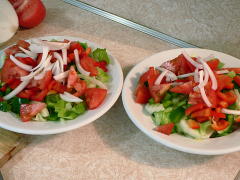 Okay, now for the pork. Start with a pork loin and slice 3/4-inch thick pieces.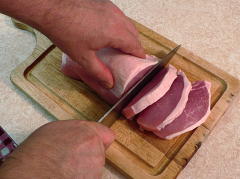 Lay them out on a hard, non-porous surface (yay, linoleum) with some space between them. Sprinkle a little water on top so they don't stick, and top with plastic wrap to prevent splattering. Then pound them as flat as you can get. Yes, a they do make meat mallets for this. But until my next trip to the restaurant supply store, a heavy frying pan works just as well.
Lay them out on a plate.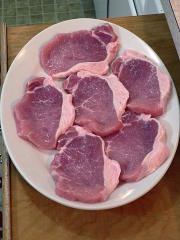 Season generously with salt and pepper.
Grill over high heat until all the pink is gone, and the edges are starting to get a little brown and crispy.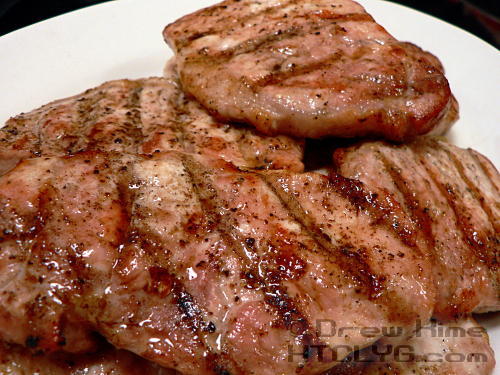 Slice very thin across the grain, and transfer to the top of your salad.
Some people will say you should never use a knife to move food like this. I do it all the time, and haven't cut myself yet. But officially, I'm telling you that you should probably use a spatula instead.
Now, once you've got the chop on top …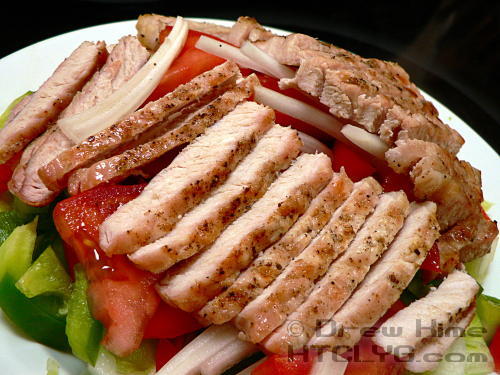 Add your dressing. In my case, grated Parmesan cheese, extra virgin olive oil and balsamic vinegar.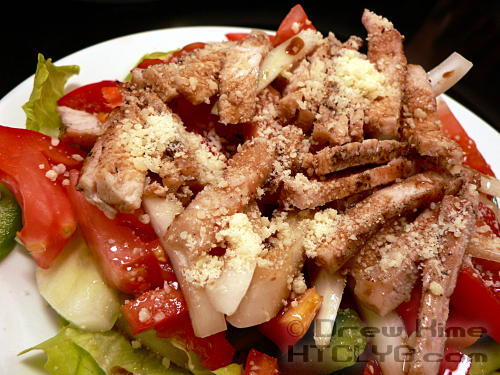 And that's it.
UPDATE: Ferretnick over at What's That Smell did his own version of this. He did some really interesting substitutions, all of which I like, except for the cucumber to zucchini. (Me likey the cukey.) I especially like the addition of nasturtium petals.
PS: I've been a little slow on the updates recently because of all the work on my big secret project. I'm just about ready to start telling people about it. If you absolutely have to hear it first, sign up for the free class at the top of the blog. I'll be announcing it there first.