I've tried French onion soup in a few restaurants but I never liked it. Probably because I tried it at chain places that used frozen or dehydrated. But from what's in it — beef broth and roasted onions — this is something I should just love.
So I decided to make some for myself and see. And, surprise, when made with real ingredients … this stuff is good.
(But I still need a good copycat recipe for onion soup mix to use in recipes, like dip. Oh, and while you're here, you might want to check out my Pizza Soup.)

Ingredients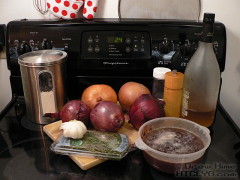 4-5 large onions, about 4 pounds, red and/or sweet
2-4 sprigs fresh thyme
3-5 bay leaves (oops, forgot them in the photo)
3-5 cloves garlic, minced
kosher salt
fresh ground black pepper
flour, about 1/4 cup (see note below)
1-2 cups wine
8 ounces beef broth
Directions
I decided to make this because I had a container of beef broth in the freezer. I had kept the drippings from the Christmas rib roast, the pot roast, every time I cooked beef for a month it went into the freezer. You can do it with canned beef broth, but try to find one with as few additives as possible.
Start by prepping the onions. Cut off both ends and cut them in half.
Peel the outer layer, then cut into thin strips.
Melt a few tablespoons of butter or fat (I'm using bacon fat) in a dutch oven over medium heat.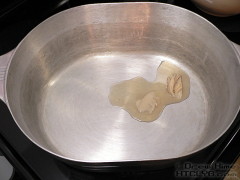 Add the onion, minced garlic, bay leaves and thyme and set heat to medium-low.
Cook until the onions start to turn translucent without mixing them.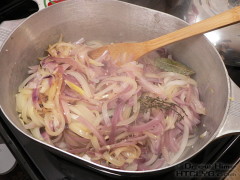 Oops, forgot to add salt and pepper.
Turn the onions a few times to make sure everything gets some time on the bottom to caramelize. Don't worry too much about burning the onions. All that burned on goodness is going to be pure flavor. That's what the wine is for. Use it to scrape up everything off the bottom, then cook the onions for several minutes, stirring frequently, until most of the wine is cooked off.
Some people insist it has to be white. Some insist it has to be red. Since I'm not a wine drinker, I don't really have a preference. So I used the bottle that was open.
The thyme and bay leaves should have given up all their flavor by now, so go ahead and fish them out.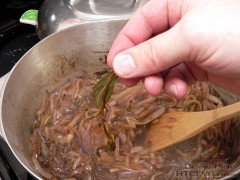 Add a little flour to the onions and cook for about 5-10 minutes, until the dry flour taste is cooked out.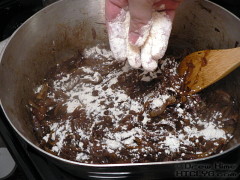 Start with just enough flour to just coat the onions lightly, only a couple of tablespoons. Hold the rest in reserve until you add the broth and see if it has thickened enough, or if it needs more.
Now add the beef broth. Since mine was very concentrated, I did four ounces of broth and four ounces of water.
Simmer for another 20 minutes to a half-hour to reduce the liquid and concentrate the flavor. Ladle into oven safe bowls and add croutons to the top.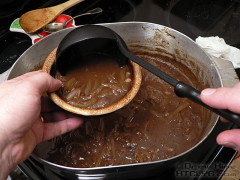 The croutons are to keep the cheese from sinking. Lots of recipes call for gruyere, which is crazy expensive. I like a slice of swiss and a slice of provolone.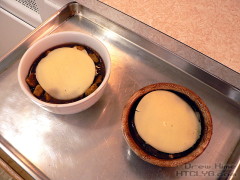 Put the baking sheet with the bowls on it under the broiler for a couple of minutes* until the cheese is bubbling and starting to brown on the edges.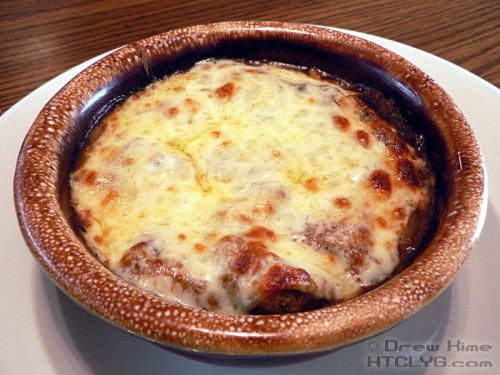 * NOTE: When I said "a couple of minutes" I forgot that not everyone has used the broiler before. MissFoxxy left hers in a little too long and discovered you can set cheese on fire. Don't walk away from it, and check frequently.
Be careful, the cheese will hold the heat in really well, so it's going to stay hot until you dig in.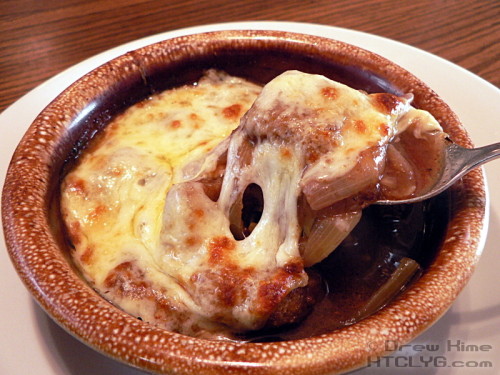 Try not to eat all the cheese in the first four bites.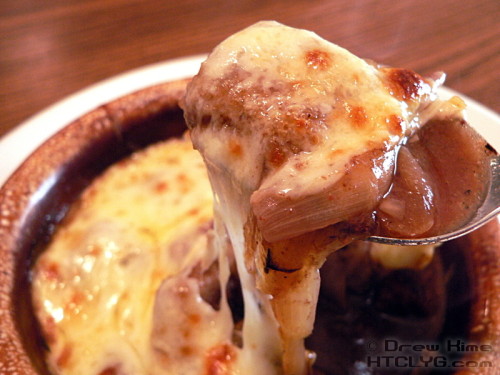 And that's it.
---
Like I said up top, I'm still looking for a good copycat recipe for dehydrated onion soup mix. There are a ton of great recipes that call for a packet of it, but have you seen the ingredients on that stuff? [shudder]
If you've got a recipe for it that doesn't include beef bouillon cubes, which are just as bad, please let me know in the comments.