I don't know why I waited so long to break out the crock pot this year. No wait, that's not true. The reason is I don't have enough room in the kitchen to keep it there year-round, so it goes in the basement. The pantry is in the basement, so it's not like I don't go downstairs to get stuff for dinner all the time. It's a mental block that makes no sense and I know it.
Ooh, but the ice cream maker is in the kitchen. I don't think I'll be using that for a while. I think I just made room in the kitchen for the crock pot.

Ingredients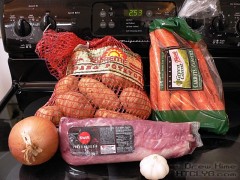 pork tenderloin
3 russet potatoes
3 large carrots
1 large onion
3-6 garlic cloves
Directions
Lots of slow cooker recipes just list the ingredients and tell you to put it all in the pot. That'll work, but it leaves out a huge amount of flavor. The secret is browning the meat before putting it in the pot. Season the tenderloins with salt and pepper.
Melt a few tablespoons of bacon fat in an uncoated pan over high heat. Brown the tenderloin all over.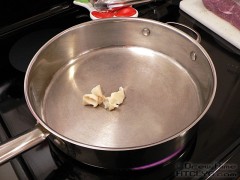 While it's browning, prep the veggies. Cut the onion into large pieces or they'll cook down to nothing and disappear.
Cut the carrots and potatoes into uniform size pieces, so they'll all be equally cooked at the same time.
When the tenderloin is finished browning, transfer it to the slow cooker. Return the pan to high heat until the drippings start to smoke, then deglaze it with about a cup of water. (My assistant told me the Tigger cup makes it taste better. If you don't have Tigger, I believe Pooh might work.) Scrape up everything from the bottom of the pan.
Add the water — with all that delicious flavor in it — into the pot with the tenderloin.
Tuck the onion and garlic in around the meat.
Then add the potatoes and carrots. Add enough water to come almost to the top of the vegetables.
Add some salt and pepper on top of the vegetables.
Put the lid on and turn the cooker on. If you're leaving it for the day, put the cooker on low for 6-8 hours. Don't stir. The meat will fall apart.
I started this in the afternoon, so I started the slow cooker on high.
NOTE: Older slow cookers had Lo and Hi (that's how they spelled them) settings of about 160° and 190°. Some newer ones run at 190° and 240°, so Lo on a new one can be the same as Hi on an old one. And the new ones might not have anything that matches the older Lo setting. I've never seen slow cookers that advertise what temperature they cook at, so make sure you know your slow cooker before leaving something on Hi for eight hours.
After about two hours I pulled the pork up on top of the vegetables. They need to get down into the water to finish cooking.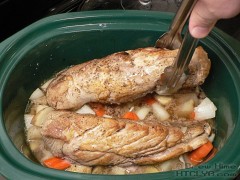 After another hour-and-a-half on high, I checked the meat with my digital thermometer.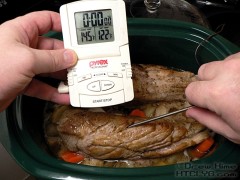 Now I'm not going to say government guidelines for cooking meat are too high. I'm not a doctor, so take everything you're about to read as my unqualified opinion. Whole cuts of pork — not ground pork — are safe to eat if you cook them to 140°. If you routinely go to 160°, which is what you'll see if you check federal guidelines, you'll end up with dried out pork. Have you always thought pork was dry? Guess why?
So that 145° you see there was plenty.
Set the meat aside. Not because it needs to rest, like it would if you roasted it. The slow cooker doesn't get so hot it makes the meat tighten up, so you can actually cut the tenderloin right now and not lose any moisture.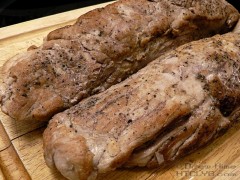 You won't have this lovely crust if you don't brown it up first.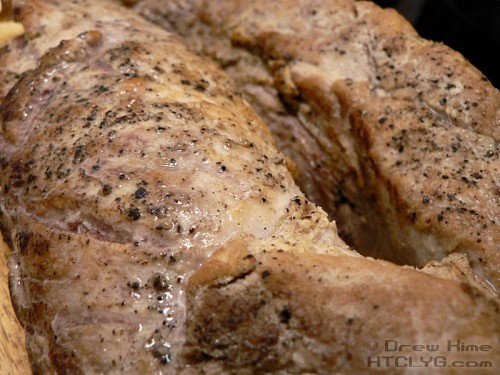 The reason you set the meat aside is to scoop all the veggies out of the water. Because my kids don't like onion I have to separate them out. That's loads of fun.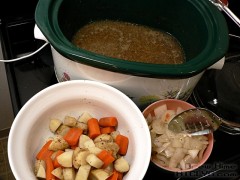 Slice the whole tenderloin into pieces about a quarter-inch thick. Place it in the middle of a platter, and surround it with the veg.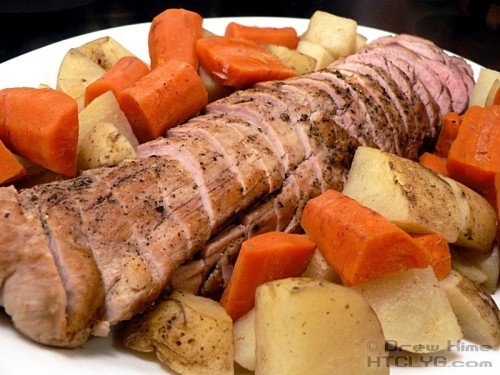 And that could be it. But that water in the pot has lots of flavor in it. So transfer it (that's what food writers say when the mean "dump it") to a sauce pan and add a couple of tablespoons of flour.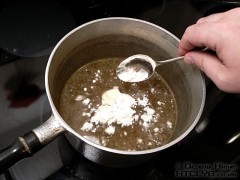 Whisk the daylights out of it so it doesn't get lumpy. If you want to make sure to avoid lumps, mix the flour into a quarter-cup of cold water first. Then slowly pour it into the hot liquid while stirring.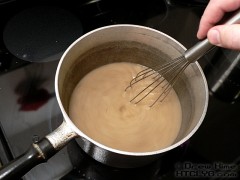 Add salt and pepper. Optionally add some marjoram, about two teaspoons.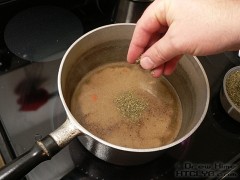 Bring it to a boil, stirring frequently. The flour won't thicken the gravy if you don't bring it to a boil.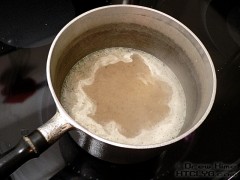 Keep it at a boil for two or three minutes. Strain it through cheesecloth if you're obsessive about having perfectly smooth gravy. Otherwise just pour it straight over the pork.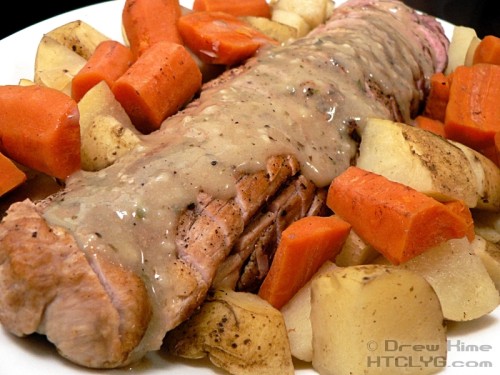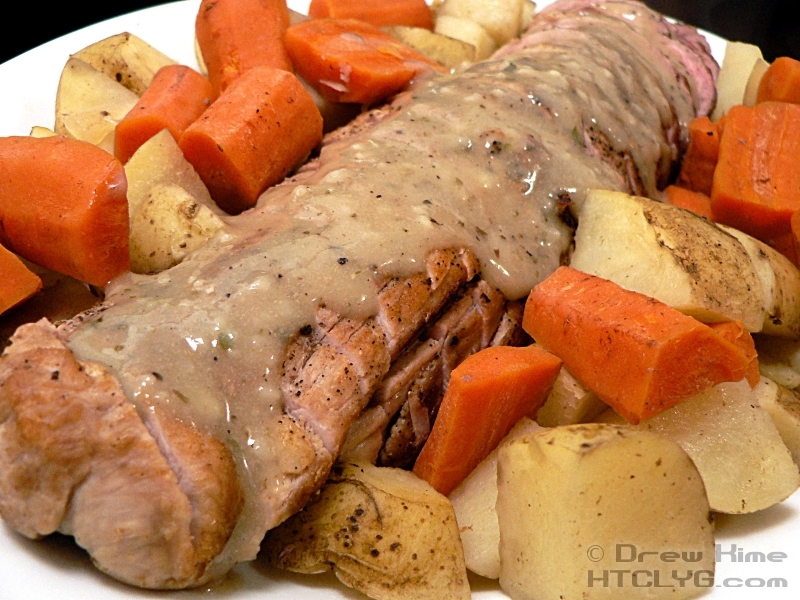 And now, that's it.
---
Yes, there were two hunks of pork up in the first couple of pictures, and only one at the end. The other was to go in the pork fried rice that I finally got right, after several failed attempts. Can't wait to finally show that one. Sign up below to make sure you don't miss it.
Crock Pot Pork Tenderloin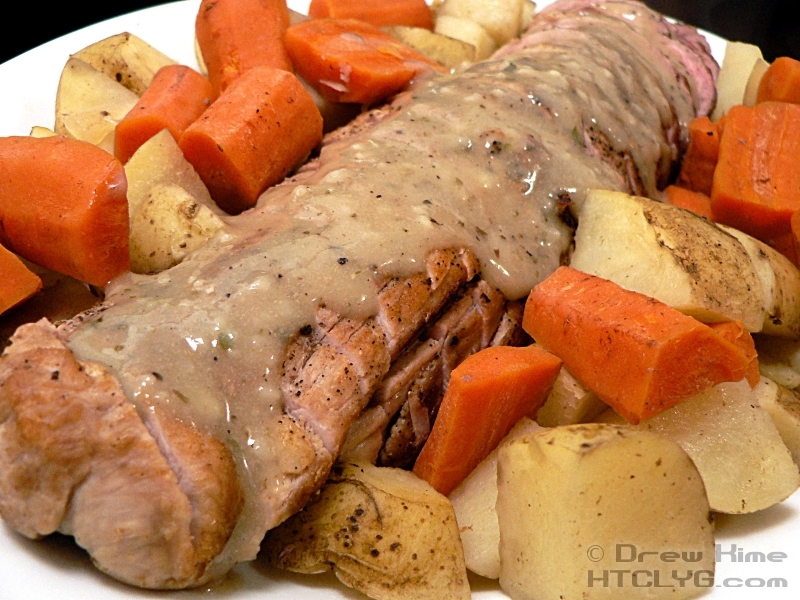 Ingredients
pork tenderloin (2-3 pounds)
3 russet potatoes
3 large carrots
1 large onion
3-6 garlic cloves
Instructions
Season the tenderloin(s) with salt and pepper. Melt some bacon fat or oil in an uncoated pan over high heat. Brown the tenderloin(s) on all sides. While it is browning, dice all vegetables. Make the potato and carrot uniform bite-sized, onions in large pieces.
Transfer browned pork to crock pot and deglaze pan with a cup of water or stock. Pour water and all drippings into crock pot.
Tuck onion and garlic around the meat, then add potatoes and carrots. Season with salt and pepper. Add enough water to almost cover the vegetables. Cover and turn to low for 8-12 hours, or high for 4-6 hours. (New crock pots run much hotter than older ones. Expect that your time will vary widely. You'll need to practice with yours to get used to it.)
DO NOT stir while it is cooking. The meat and vegetables will both get so soft they will fall apart. It is done when the internal temperature of the meat reaches 150°.
For gravy, transfer remaining liquid to a pan. Mix ¼ cup flour with ¼ cup cold water. Add to liquid and bring to a boil. Stir constantly while it boils for 2 minutes. Check seasoning, add salt, pepper and marjoram as needed.
Recipes copyright Drew Kime