I don't know when it started, but some food fashion slaves have decided that the dish isn't done until you've made three trips to the thesaurus to name it. Pan-seared … demi-glace … galette of foie gras …ballottine en papillote … truffled amuse bouche … Assiette of local Rabbit with a light mustard & girolle sauce … Cannon of English Lamb stuffed with Wild Woodland Mushrooms and Truffles, imprisoned in a pastry cage with a Sauce of Wild Rowan Berries. (No kidding, go follow those links.)
Call me old fashioned — on this site, who'd have guessed? — but I favor simple descriptions. Like "yeast breads" are breads made with yeast, and "quick breads" are breads that can be made quickly. (Usually with baking soda or baking powder.) No reference books needed to know what you're getting.
As I was considering my several recent rounds of yeast breads, it was time for a quick bread. And I went with banana bread. Bread made with … wait for it … bananas. I know, crazy isn't it?

Ingredients

1¾ cups all-purpose flour
2/3 cup sugar
2 teaspoons baking powder
½ teaspoon baking soda
¼ teaspoon salt
1 cup mashed ripe banana (2-3 medium bananas)
6 tablespoons butter, melted
1 teaspoon vanilla
2 tablespoons milk
2 eggs
½ cup chopped walnuts
Directions
Mixing
Combine one cup of the flour, plus the sugar, baking powder, baking soda and salt.
Mix until well combined. If you're using the bread hook on your mixer, make sure to scrape down the sides, or the bottom won't get mixed very well.
This bread is a great way to use up bananas that have gone a bit past ripe. They're too soft for anything else, and very sweet. And if you didn't really want the bread right away, wrap in plastic wrap and aluminum foil and freeze it. If you're using fresh bananas, mash them up a bit before adding to the dry ingredients.
Add the bananas and mix until the batter is fairly smooth, but don't worry if there are some lumps. We'll take care of that in a second.
Melt the butter. Add the butter and vanilla and mix.
Add the milk and beat on high speed for two minutes.
Yes, you could probably just add all the wet ingredients at once and mix. But using the stand mixer, it's just as easy to do one and hit the switch while I measure out the next.
Add the egg and the remaining flour and mix on low speed one last time.
Final assembly
Pre-heat the oven to 350° while assembling everything.
As far as I'm concerned, the chopped walnuts are not optional. I won't think you're a bad person if you don't use them … I just won't like your bread.
If you got whole walnuts, chop them into bite-size pieces, but don't mince them very fine. You want these to be chunky.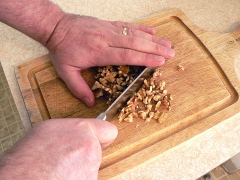 Grease and flour a loaf pan. (Follow that link for directions.)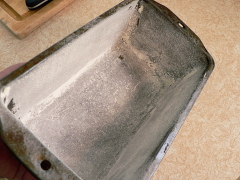 Do this before stirring the nuts into the batter so they don't all sink while you're working.
Add the chopped nuts and stir gently. You don't want to crush the walnuts.
Pour the batter into the loaf pan. Make sure you scrape out the bowl, unless you've got kids standing by ready to lick. Gandma hated waste.
Top the loaf with a generous tablespoon of raw sugar.
Press some un-chopped nuts into the top of the loaf.
Baking
Bake at 350° for up to an hour. Start checking at 45 minutes to see if it's still liquid in the center. Use a sharp knife, so if you hit a nut you go through it instead of pushing it down and creating a huge hole in the middle of the bread.
If there's batter on the knife when you pull it out (first picture) it's not done. Put it back in and check again in five or ten minutes. When the knife comes out clean (second picture) it's done.
The bread should have pulled away from the pan, but run the knife around the edges just to make sure. Turn the pan over and catch the bread in your other hand.
I used a clean dish towel to catch it because the bread was still pretty hot. Place the bread on a board to cool. Don't use a wire rack, or you'll get deep ridges in the bread, and it will stick to the rack.
Slice with a serrated knife, so you can go through the nuts easily.
Serve warm with plenty of real butter.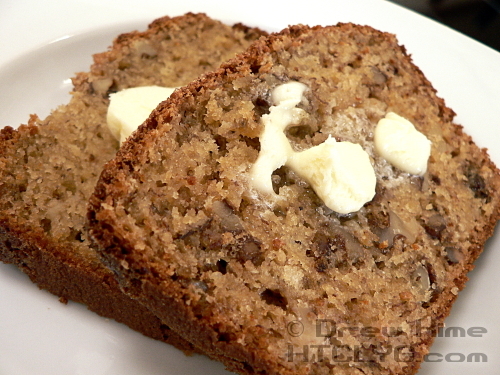 And that's it.
Oh, and speaking of pretentious menus … check out the greatest menu ever.