When you've got a grocery store nearby with aisles full of everything you could want, you don't really need to do much in the way of menu planning. Get a taste for something, go buy it, cook it, planning done.
But in times and places where you didn't know what was going to be available from day to day, you learned to make use of whatever was on hand. And one of the best ways to do that is soup. You can throw just about anything in a pot and make something edible. Wait a minute, "edible" … this is starting to sound like I'm making excuses for what I'm about to show you. Which is so totally wrong, because this soup is amazing.
The point I'm trying (badly) to make is that sometimes the ingredients come first, then the idea for what you're going to make with it. This is one of those times.

Ingredients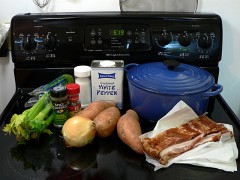 3 medium sweet potatoes
1 lb bacon
1 cup celery
½ cup onion
1 tsp dried basil
1 bay leaf
salt & white pepper
drippings from cooking 2 lb chicken (see below)
Adapted from Taste of Home
Directions
Lots of soup recipes call for chicken broth. It's a good idea, whenever you're making chicken, to keep the carcass and trimmings and make your own broth. (That link is for turkey broth, but it's the same process.)
If you plan ahead, you can save a bunch of time and mess by making the soup in the pot you just cooked the chicken in, like I did here. While Jenn was making a couple of pounds of chicken in the Dutch oven, I started peeling and dicing the sweet potatoes.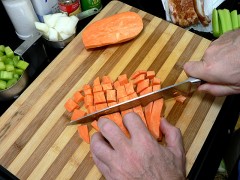 Whenever I need diced bacon in a recipe, I prefer to dice it before cooking. It's a lot easier to handle, and it cooks up more evenly, too.
When it's done, scoop it out of the pan but leave the grease behind.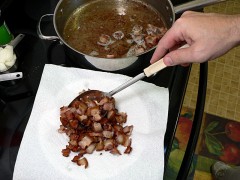 Toss the onion and celery in with the bacon drippings, season with a little salt, and cook until the onion is translucent.
Add about a half-cup of the chicken drippings to deglaze1 the pan, then transfer everything back into the Dutch oven.
Add the potatoes, bay leaf, basil and white pepper. (We're using white instead of black just because it will look better. Feel free to use black if that's what you've got.)
Cook for about a half-hour, until the potatoes are soft all the way through, then fish out the bay leaf.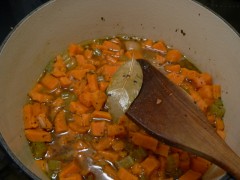 If you have an immersion blender (AKA stick blender) use that to process the soup right in the pot. Otherwise, do it in batches in a blender. (Careful, it's hot.)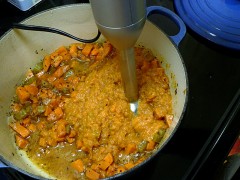 Check the seasoning and add more salt and pepper if needed.
If it's too thick, add some water and process again until smooth.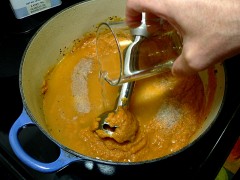 Add most of the bacon, warm everything back up …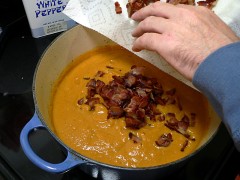 … and serve with extra bacon on top.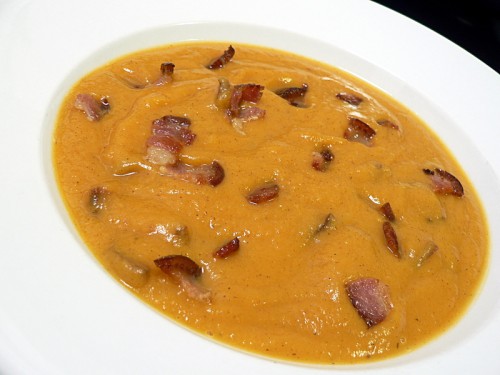 Or for a little crunch top with croûtons.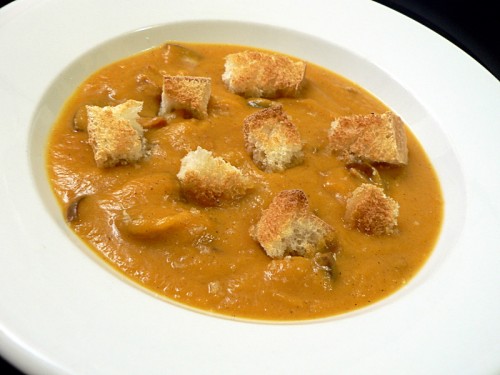 And that's it.
---
"Deglaze" means you add liquid to a frying pan over high heat and use a spatula to scrape up all the tasty bits from the bottom of the pan.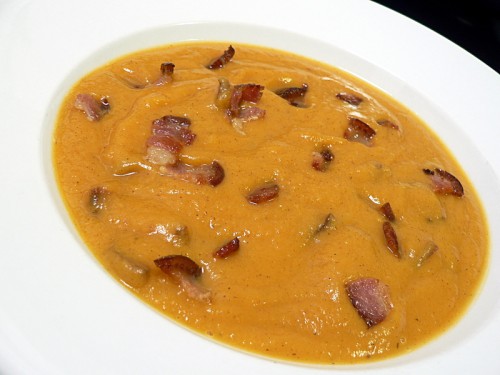 A hearty, savory soup, best made with fresh chicken broth.
Ingredients
3 medium sweet potatoes - peeled and diced
1 lb bacon - diced
1 cup celery - diced
½ cup onion - diced
1 tsp dried basil
1 bay leaf
salt & white pepper
drippings from cooking 2 lb chicken
Instructions
Cook the bacon in a frying pan. Scoop the bacon out, leaving the grease. Add the celery and onion and a little salt to the bacon drippings and cook until the onions are translucent. Add a half-cup of chicken drippings and deglaze the pan.
Transfer everything to the pot with the chicken drippings. Add the basil, bay leaf, and ½ teaspoon white pepper. Cook 30 minutes, until potatoes are soft. Remove the bay leaf and process with an immersion blender until smooth.
Taste and adjust salt and pepper as needed. Add water if needed to thin it to the right consistency and process again until smooth. Add the bacon and warm it back up.
Serve with extra bacon or croûtons on top.
Recipes copyright Drew Kime