One thing I haven't mentioned about how Grandma would have cooked is that frequently it wasn't a one-person job. When you were putting up your harvest to make it through the winter, it was all-hands-on-deck time.
Oh sure, I've talked about cooking in bulk and canning. But that was just because it takes about the same amount of time as doing a single batch. What I'm talking about here is doing one round of prep to last you through the whole year.
That's what we've got here. Three generations of a family that gets together every year for "applesauce day". You might remember Barb Gorman-Cool, who showed us Mom Gorman's Hot Rolls. She's back to show us the Gorman Family's annual ritual.
I'll let Barb take it from here.

The Gorman family is a close knit and large family and, therefore, it is not an oddity for us to all come together several times a year … one of the favorite times being Applesauce Day. The fact that it involves a lot of work, coordination, cooperation and commitment deters no one from showing up … because the camaraderie, the laughter, a little gossip, a little horseplay — all make for a very fun weekend.
Yes, I said weekend. This year we cut back on the production because last year's yield wasn't completely depleted yet. So this year we only needed 1½ days as opposed to 2 full days last year! As I said, we're a large family and we love applesauce!
Anna and Sheldon Gorman (my brother) hold the "day" at their place for several reasons. There's plenty of parking. There's plenty of room for the kids to run and play. They have a trailer that we use where running inside and outside carrying heavy hot pots isn't going to ruin anything if you have to set a pot down in a hurry! (And the kids don't get in trouble for tracking in dirt!) And they have a big garden to use the "compost" produced!
Making applesauce is really the simplest thing to do. One could make fresh applesauce everyday of the year with very little effort. But we like to get all the work over with and just open a jar everyday!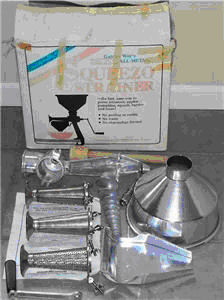 Let's start with our equipment. Anna has a "Squeezo Strainer" that separates the peels and seeds from the cooked apples and produces the sauce. The "waste" goes out the end of the cone and the sauce goes into a stainless steel bucket.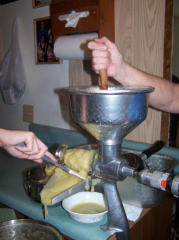 Ordinarily, a hand crank is used to turn the mill, but 2 days of cranking is just too much work, even with all the hands helping! So … Anna suggested using a hand drill (with several back-up batteries) to accomplish the task much less painfully and a whole lot faster!
Because the sauce is now coming through so quickly, it requires one person with a spatula keeping the sauce moving down the chute into the bucket while another person is feeding the cooked apples into the funnel, plunging and triggering the drill.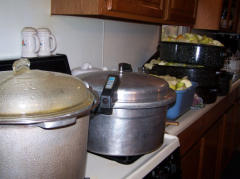 We use several pressure canners and several very large cooking pots.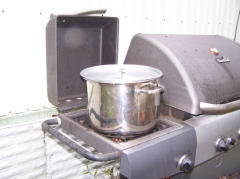 To keep those pots cooking, we use the gas stove in the kitchen (only 2 burners because the pots are too big for 4!), and out­side we use the gas grill's burner, a camp grill with 2 sides and a turkey fryer base.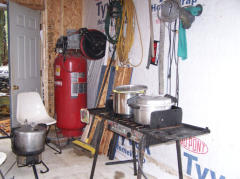 These were outside but it was drizzling rain that day, so we moved them into a well ventilated shed! The "outside crew" had to keep close watch on the pots, stirring frequently, monitor­ing the pressure gauges, and carrying heavy hot pots back into the kitchen. Yes, the men of the family are work­ing right along with the women folk!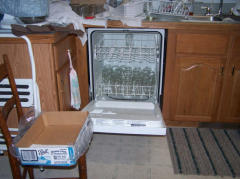 Jars! Every year we have to gather the jars, buy new lids, round up all the rings … and clean them. The boxes are never thrown away (until they're just plain worn out) and jars are put back into those boxes in prep for the next canning season. Then we pull out the boxes and start running the dishwasher, if you're lucky enough to have one! Two of my sisters must wash by hand and argue that it is much faster and more "green" efficient!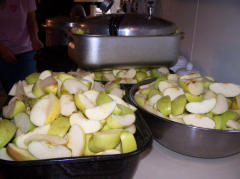 Then there's all the miscellaneous other hardware required for the task. We gather all our large bowls, roasting pans, paring knives, cutting boards (for the less experienced or young cutters!), long-handled stirring spoons, a dipper, a canning funnel, a jar lifter, and a stainless steel milk bucket (to catch the sauce from the mill). Buckets, too, are required for carrying the waste out to the compost.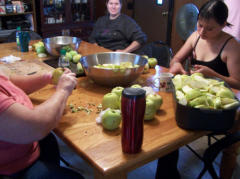 The software includes the apples, of course, sugar and salt. As the apples are cut, they're tossed into large bowls (or roasting pans) with salt water to prevent browning.
As the milk bucket is filled with sauce, it is tasted to determine "sweetness", sugar is stirred in and it is tasted again by several "tasters" to assure it is perfect.


Our family likes Golden Delicious apples (left) for their natural sweetness and juiciness. One sister, however, prefers Gala apples and the "pink" sauce they make.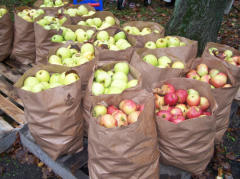 So, how many apples does it take to make applesauce? Depends on the yield you're looking for. This year, we made 314 quarts of sauce as opposed to last year's yield of 418 quarts! Each of the bags (pictured) contains a half bushel of apples … those aren't all the bags in the picture!
Anna bought 20 bushels of Golden Delicious and 2 bushels of Gala from Fifer's Orchard, our local farm in Wyoming, DE, producing apples, peaches … and everything else under the sun! Check out their website — it's fabulous! http://www.fiferorchards.com/
What does 314 quarts of applesauce look like? Here are several angles of the cooling (and sealing) jars … quarts and pints.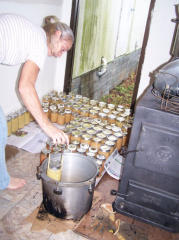 Here's Anna (right) removing jars from the cooker. Note the "black" from the propane burners!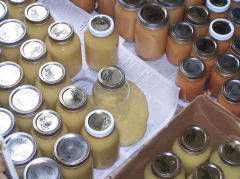 The pink sauce is from the Gala apples. Golden Delicious produces a light yellow sauce.
We did really well this year — only one mishap …
My family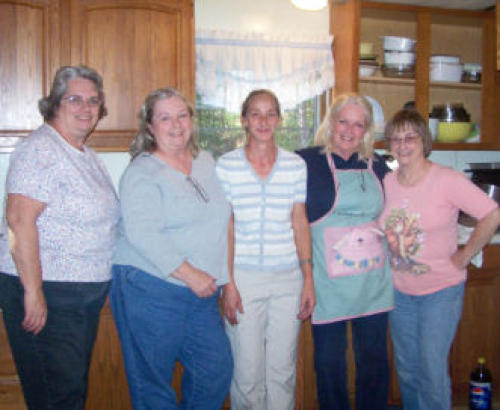 Left to Right:
Pat Gorman Tieman
Barbara Gorman Cool
Anna Mast Gorman
Ruth Gorman Simmers
Karen Gorman Whitaker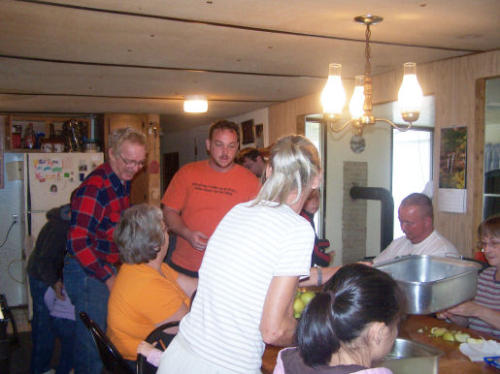 The 2 men standing:
Left — Sheldon Gorman (my brother)
Walter Gorman (his son) who must be given credit for "managing" the event. He coordinated everything splendidly. His momma raised him right!
(Her back is to camera.)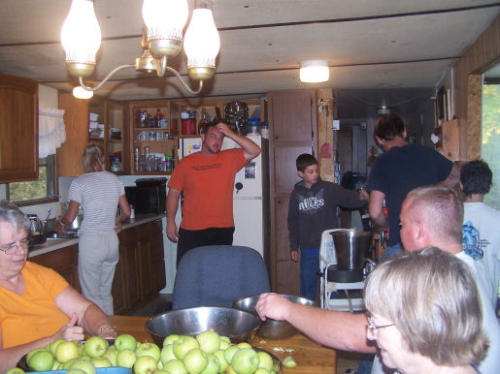 Even my great nephews worked; i.e. our grandchildren! There's Kyle Tieman (12) (center facing) and Kenny Tieman (10) (back to us on right).
Not pictured but also helping [from time to time]: Jayle Whitaker (7), Sara Zimmerman (7), Jonathan Zimmerman (12), Adam Tieman (12), Shelby Tieman (8).
Nieces and nephews included Walter's wife, Shaston, her sister Sam and her boyfriend Andy; Heath, a friend of the family, and his nephew, Harley, who at age 11 worked like a trooper; Jeni Tieman, Riley Tieman, Joanie Zimmerman, Nancy Zimmerman, Dani Goodnough, Jake Tieman (who will make Dani a Tieman next year).
---
Hi, Drew again. This looks like my wife's Nana and her great-aunts making raviolis every year. How about the rest of you? Who else has an annual family food prep day?