The Huffington Post had a great little slideshow about culinary pros' favorite tools and tricks. I'm totally with them on #4 — the huge roll of plastic wrap; # 7 — the microplane
; and #10 — adding pasta water to the sauce.
But I've got a few more favorite things.

Kitchenaid Stand Mixer
I don't think I've found anything that I use it for that you can't do by hand, or with a handheld mixer.
But there are things that I won't do by hand any more. Like rolling pasta. (Yes, that requires an attachment
.)
Pampered Chef Mix N Chop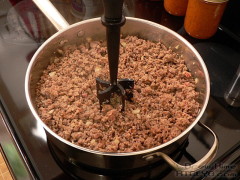 I didn't want to like this when Jenn bought it. We already had a potato masher, what did we need this for?
Turns out, it works just as well for potatoes, and does ground beef better than anything else for chili or meat sauce.
Ninja Master Prep Blender and Food Processor
Stupid name, great product. You can turn ice into snow, which I've never seen another non-commercial product do. It's worth it just for frozen drinks.
But then you use it for pesto, and soup, and salsa, and … you get the idea. It's 80% as good as the infomercial made it look.
Egg slicer for mushrooms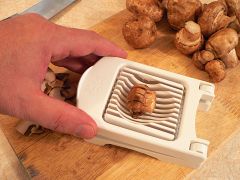 Quicker and safer than doing it with a knife, and does a better job of it, too.
How to core lettuce
Quick and easy. Picked this up working at the restaurant in college.
How to peel peaches
One peach? Use a knife or a peeler. A dozen? Do this. It will save your sanity.
Rolling pie crust in a zip-top bag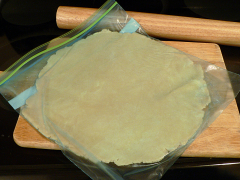 Keeps the counter and roller clean, and gives you a guide for how big to roll it.
And since you need to wrap the dough and put it in the fridge for an hour, might as well wrap it in the bag.
Corn off the cob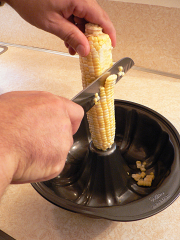 No special tools — assuming you already have the bundt pan — and keeps the corn all in one place instead of all over the counter.
If you don't have a bundt pan, put a small bowl upside-down inside a large bowl. Less stable, but still easier than doing it directly on the cutting board.
Remote probe digital thermometer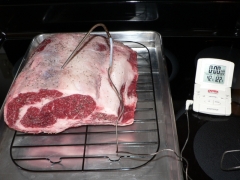 I won't do a large piece of meat without this one. Cooking by time is a guess at best. With the probe, you know when it's done.
What are your favorite tools and tips?
Let's hear about it down in the comments.
---
PS: I don't have the knife stand, but I want it.