I just noticed I never posted my photos from Bacon Camp. I am a total slacker.
What's that, you say? "What the heck is Bacon Camp?" Well I'll tell you. Officially:
BaconCamp is an ad-hoc gathering born from the desire for people to share and learn in an open environment about bacon. It is an intense event with discussions, demos and interaction from participants who are the main actors of the event. It is community driven and everyone is encouraged to participate by presenting (food, art, demo), judging, or volunteering. BaconCamp is not a spectator sport.
Short version? Lots of food. Bacon in everything. And bacon crafts. That's crafts about bacon, as well as crafts made of bacon. Awesome

Click any of the photos for larger versions. These are mostly in the order I took them, so don't look for any kind of narrative here.
Peanut butter and bacon cookies.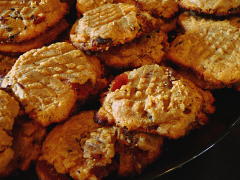 Chocolate cake with peanut-butter frosting, bananas and bacon.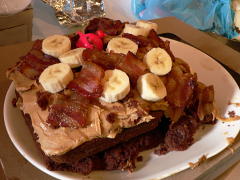 Creme-filled maple éclairs topped with bacon on the bottom, bacon scones on top, held up by a bacon-ranch Pringles can.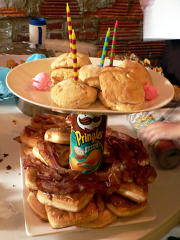 Then the chocolate cake goes on with it. Elvis would have loved this as a birthday cake.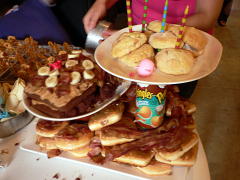 Apple pie, crust made with bacon fat instead of lard or butter, with a lattice-weave bacon top.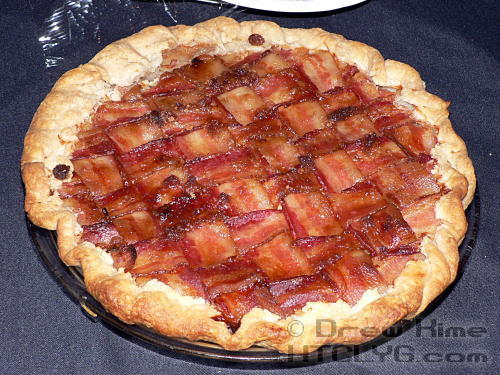 It was a little hard to slice it, since the bacon all fused together into one massive sheet of crispy deliciousness, but Oh My God was it good.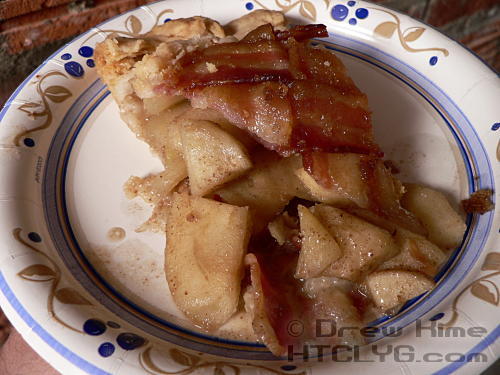 Bacon-mustard dip (with pretzel crackers).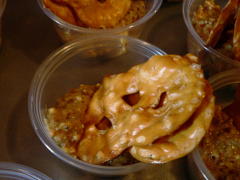 The winning entry being prepared.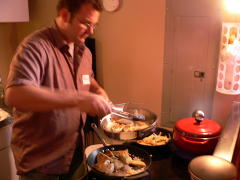 And here it is: Bacon and onion pirogies, with bacon-flavored sour cream. (Note the pig-shaped butter.)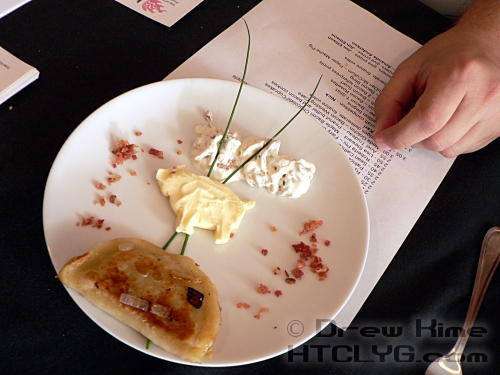 You could tell these were going to win as soon as you saw people's faces when they sampled it. It was an instant and universal "Holy cow!" eye-opener.
In the middle, we stopped for a bacon poetry slam. First up was a set of 10 bacon haiku. Then an absolutely hilarious riff on why you always choose bacon over sausage.
The judges were from the local food scene, including … oh, like you care, back to the bacon.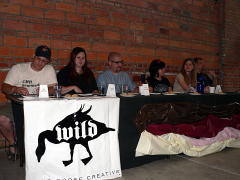 Bacon-pear-bleu cheese scones, and bacon-cheddar scones.
The bacon-cheddar were delish.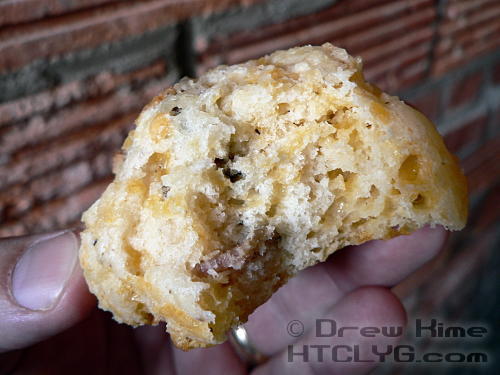 I mentioned crafts, right? How about a bacon bouquet. (Yes, it's edible.)
Here's Karl making the bacon soft tacos.
Bacontinis, made with bacon-infused vodka. (In the coolest bottle I've ever seen.)
Bleu cheese and bacon ice cream.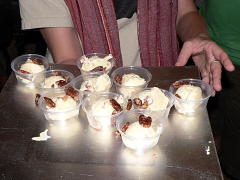 Chicken fried bacon. Yes … chicken fried bacon.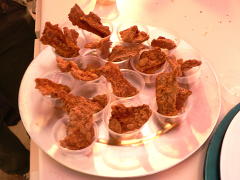 Pickles wrapped in bacon. (It doesn't have to be fancy to be good.)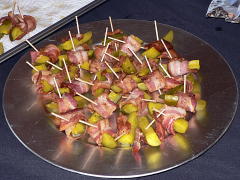 Strawberries dipped in chocolate, rolled in bacon bits and tobasco. Yeah, that was surprising.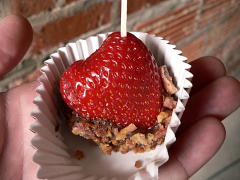 More crafts: bacon bling.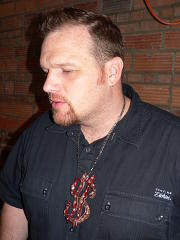 Free bacon out front for passers-by.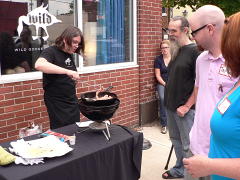 Oh yeah, the sign.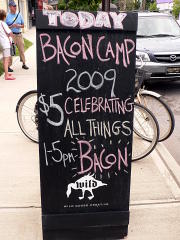 More crafts. From a pair of pre-teen siblings, a pig named Michael Jackson.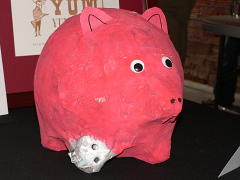 Final craft: The bacon scarf. Yeah, I want this.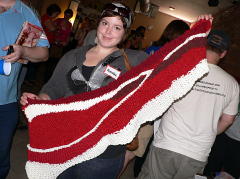 So that's it for my camera dump. Sorry there's not a better story weaving it all together, but I'm already nearly four weeks late posting this. If I told myself I had to write a story it would be even longer.
Thanks to all the folks at the Wild Goose for the hospitality. I look forward to Bacon Camp 2010.