The more home-made food we eat, the more we think modern recipes are way too sweet. Everything you buy at the grocery store is loaded with corn syrup — even the kielbasi. (I'm not kidding, check the ingredients.)
That's why our perfect brownie recipe is more chocolaty and less sweet. It's why we love the cocanes. (Great cookie, odd name.) And now the Mexican-style Polvorones de Canele — Cinnamon Cookies.

Ingredients
Dough
1 cup butter
½ cup confectioners' sugar (powdered sugar)
½ teaspoon ground cinnamon
¼ teaspoon salt
1 teaspoon vanilla extract
1½ cups bread flour (see below)
Coating
1 cup confectioners' sugar
1 teaspoon ground cinnamon
Directions
[A note for regular readers: No step-by-step photos this time. We weren't expecting to like these so much. They were for our daughter to take to school for a Cinqo de Mayo celebration. But they were so good -- and so easy -- that we wanted to share.]
Pre-heat the oven to 350° F.
Cream together the butter and the first measure of confectioners' sugar. (Click that link for more details on what "cream together" means. If you've never thought about it much, there's more to know than you might expect.) Stir in the vanilla.
In a separate bowl combine the first measure of cinnamon with the salt and bread flour. Jenn loves bread flour. It makes everything lighter and fluffier. Which I guess is bad if you want dense and chewy, but for these, light and crispy was perfect.
What's that? You want to know why bread flour makes everything lighter? Okay, here's a quick explanation of the difference between all-purpose flour, bread flour, and cake flour.
Stir the dry ingredients in with the butter/sugar mixture until it forms a stiff dough.
In a third bowl (sorry, I hate cleaning extra bowls, too) combine the second measures of confectioners' sugar and cinnamon. Scoop one-inch balls of dough and drop them in the sugar/cinnamon mix. Roll them around then place on an ungreased baking sheet. Don't crowd them, but they don't spread very much.
Bake for 15-20 minutes until a light golden brown. Remove to cool on wire racks.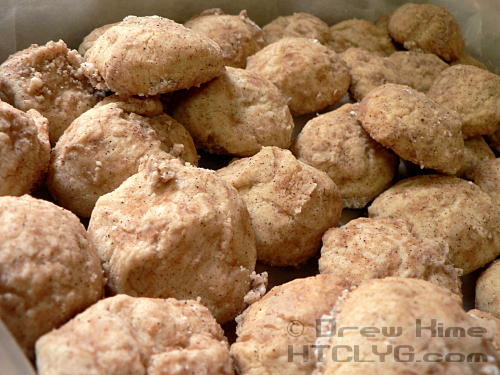 And that's it.
Want more like this? For more recipes like this, that you can hold right in your hands, and write on, take notes, tear pages out if you want (Gosh, you're tough on books, aren't you?) you might be interested in How To Cook Like Your Grandmother, 2nd edition, Illustrated. Or to learn your way around the kitchen, check out Starting From Scratch: The Owner's Manual for Your Kitchen.