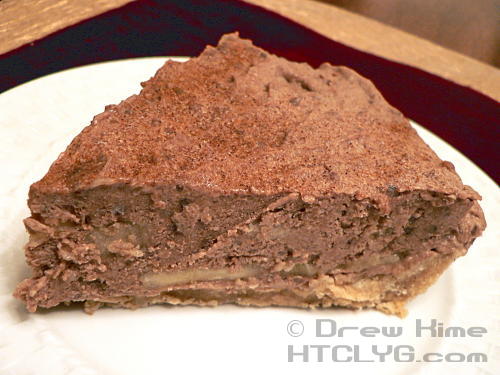 The idea for this pie came from some comments on my post about how to make a graham cracker crust. I knew I wanted to do a Snickerdoodle crust, but couldn't decide what to put in it.
Eventually it came down to either chocolate, or banana creme. Then I remembered I'm the kind of person who hates choosing which one I like best, so I just did both of them at the same time.

Ingredients

2 bananas
1/3 cup sugar
pinch of salt
3 Tablespoons cocoa
3 Tablespoons tapioca
3 cups milk
1 egg, beaten
1 teaspoon vanilla
1 pint heavy cream
cinnamon and sugar for sprinkling
cookie crumb pie crust
Directions
Combine the sugar, salt, cocoa and tapioca in a pan and whisk together.
Add the milk and egg and stir to combine.
No, I didn't beat the egg first. I'm a rebel.
Cook over medium heat, stirring constantly, until it comes to a boil.
Set aside to cool. Congratulations, you've got chocolate tapioca pudding.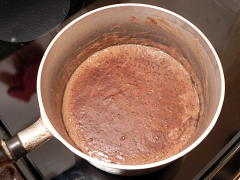 Some people don't like the skin that forms on real pudding. If that's you, and you plan on stopping here and eating the pudding, then press a piece of plastic wrap against the top of it before letting it cool.
Since we're going to be mixing this again, you shouldn't need to worry about it for the pie.
Oh by the way, I just love this shot of how it pulls away from the edge when you tip the pot up.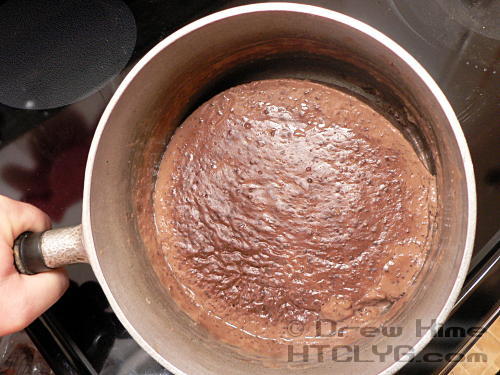 Stir in the vanilla.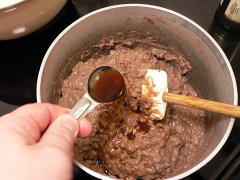 Now turn the cream into whipped cream. By, you know, whipping it.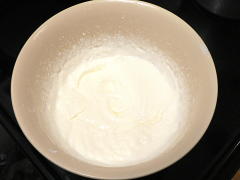 Add in the pudding and fold it in carefully, trying not to deflate the whipped cream.
Arrange your pie crust, filling and bananas all in one place.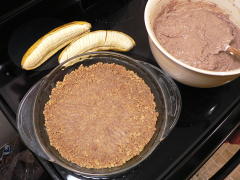 I know that seems obvious, but it's amazing how often I have ingredients spread out all over the place before I realize, "Oh yeah, put them next to each other. Duh."
Start with a layer of pudding.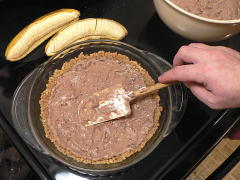 Then a layer of bananas.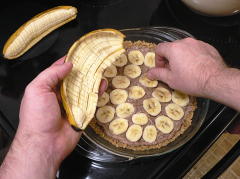 Then another layer of pudding.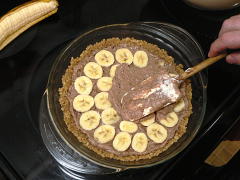 Keep going until you're out of both bananas and pudding.
Smooth out the top, or get fancy and put a pattern in the top of the pudding.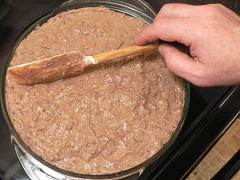 Refrigerate until set.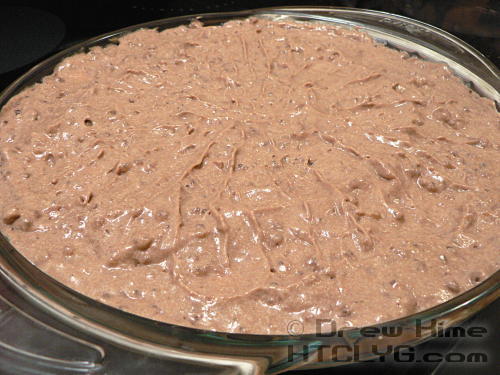 Sprinkle with sugar and cinnamon.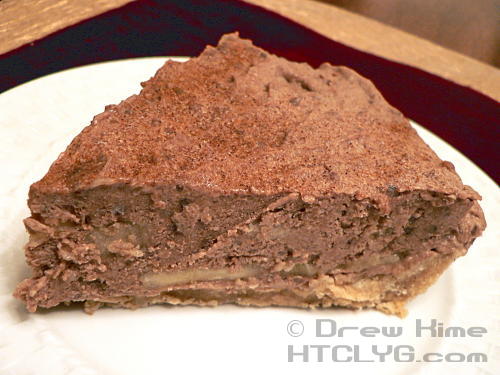 And that's it.
Want more like this? For more recipes like this, that you can hold right in your hands, and write on, take notes, tear pages out if you want (Gosh, you're tough on books, aren't you?) you might be interested in How To Cook Like Your Grandmother, 2nd edition, Illustrated. Or to learn your way around the kitchen, check out Starting From Scratch: The Owner's Manual for Your Kitchen.