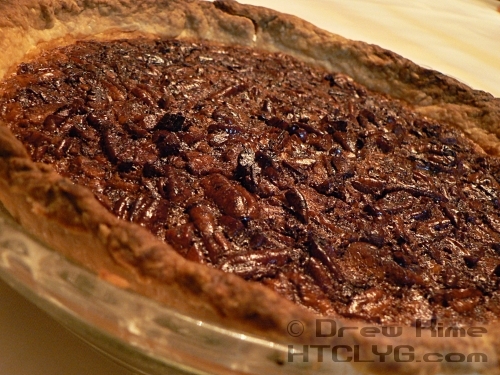 I hate pecan pie. It's like eating a big chunk of peanut brittle in a pie crust. It's sickeningly sweet with a mealy texture. Gross.
Oh … wait a second. Apparently I hate commercial pecan pie, like you find in restaurants and the freezer section of the grocery store. This one, made with sorghum molasses,1 just might be my new favorite pie. Instead of a candy-sweet pie that has some nuts, it's a nutty, chunky pie, almost savory but with just enough sweetness.
I'm going to have to do a side-by-side with the tarte tatin, a batch of vanilla ice cream and a bowl of fresh whipped cream to know for sure which is best.

Ingredients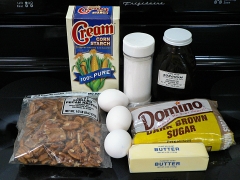 1 sweet pie crust1/3 cup tightly packed dark brown sugar
3 large eggs, beaten
4 tablespoons butter, melted
1 tablespoon cornstarch
1/4 teaspoon kosher salt
3/4 cup pure sorghum molasses2
1-1/2 cups chopped pecans
Directions
Pre-heat the oven to 375°.
Oh, wait. Before I start, I have to point out how ridiculous it's gotten in this country with preventative legal strategies.
If you can't quite make it out, the back of the pecan bag reads:
ALLERGEN INFORMATION: THIS PRODUCT IS PACKAGED ON EQUIPMENT THAT PROCESSES PEANUTS AND OTHER TREE NUTS
Umm, fellas … It's a bag of freaking nuts!
Okay, now that I've got that off my chest …
Get a bag of shelled halves. The already-chopped ones are chopped too fine for my taste. Measure out a cup and a half and chop very roughly. If a few halves make it through, that's okay.
Measure again after they're chopped. The smaller pieces will pack down a little tighter. Add a bit more to make up the difference.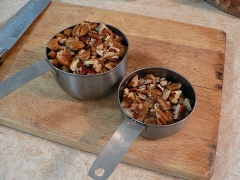 (These were both full before I chopped the pecans.)
Combine the brown sugar and the eggs in a large mixing bowl and stir to combine. Don't bother with an electric mixer, a fork will work just fine for this one.
Add the cornstarch and salt.
Melt the butter — yes, the microwave is fine, don't get all "old-school" on me and tell me Grandma didn't have a microwave — and stir it in.
Add the nuts …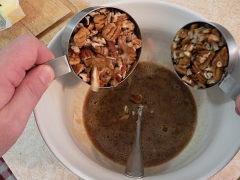 … and the sorghum. Notice how it sinks to the bottom. Neat. (I couldn't help thinking about those commercials for Liquid-Plumr.)
Get every last drop of surghum, then mix one more time.
Pour everything into the prepared pie crust and tilt the dish around to make sure it's evenly distributed. Don't worry if the pecans float to the top. Remember how heavy the sorghum is?
Bake for 35-40 minutes, until the center is firmed up bit still a bit jiggly. (Yes, that's the official cooking term: "jiggly".)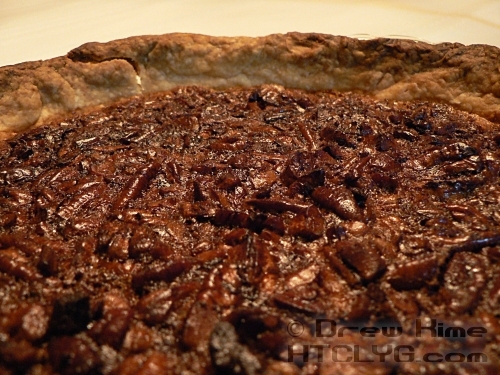 Let the pie sit for 15 minutes before cutting. Serve on nice plates, this pie deserves it. And some vanilla ice cream or whipped cream wouldn't hurt.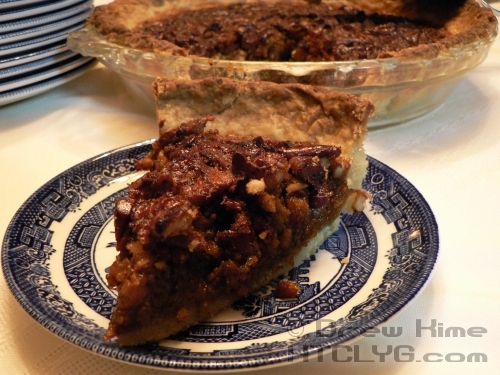 And that's it.
---
[1] Now technically, sorghum isn't really molasses. Molasses is a byproduct from the process of refining sugar cane or sugar beet, while sorghum syrup comes from the sorghum plant. Most sorghum today is grown for forage or silage (that's livestock feed) or for sugar, except in Alabama, Arkansas, Georgia, Iowa, Kentucky, Mississippi, North Carolina, and Tennessee, where they still grow it for sorghum syrup.
Sharing a recipe for pecan pie, and then getting all picky with someone from Alabama about whether sorghum is really molasses or not … well that would just be rude. So like I said up in the ingredients list, "sorghum molasses".
[2] If you can't get sorghum molasses go with cane syrup, known as golden syrup in the UK. If you can't get cane syrup, go with molasses.
PS: Is it "PEE-can" or "pee-CAHN"? Vote in the comments. And if you vote, where are you from?
Want more like this? For more recipes like this, that you can hold right in your hands, and write on, take notes, tear pages out if you want (Gosh, you're tough on books, aren't you?) you might be interested in How To Cook Like Your Grandmother, 2nd edition, Illustrated. Or to learn your way around the kitchen, check out Starting From Scratch: The Owner's Manual for Your Kitchen.