You don't have to be a complete idiot to need help making cheese. But it helps. (Ba-dump-tish … thank you, I'll be here all week.)
Seriously though, cheese making isn't something most of us learned growing up. Frankly, I wonder if this was ever a common skill, or if there were always people who specialized in it. How about it, any food anthropologists out there got some insight?
What I do know is that when I was growing up cheese meant one of four things: white American slices we got at the deli for our sandwiches — including our grilled cheese; Velveeta, which was a special treat — especially when you used it for grilled cheese; Parmesan in the green can for spaghetti; or port wine cheese in a plastic tub that we'd get around the Christmas holidays each year and spread on Ritz crackers.
It never occurred to me to try making my own cheese. In fairness, it never occurred to me to try making my own bread, or ice cream, or barbecue sauce either.

Now, though — now that I know more about the junk that goes into so much processed food — the idea of making my own cheese is pretty cool. The Complete Idiot's Guide to Cheese Making
is the perfect starter.
I know some people can't get past the name of the books in this series, but it's catchier than the more accurate "The Cheese Making Guide for People Who Can Follow Clear Directions but Don't Know Anything About the Subject and Need Very Explicit Directions".
Basic … no, I mean basic
It was really interesting to read something written the way I try to do my recipes: Not assuming any special knowledge and spelling it all out. There were times while reading it that I thought, "Come on guys, isn't that a bit simplistic?" But for every time I caught myself thinking that, there were pages and pages of answers to basic questions I didn't even know to ask.
How basic? Things like the different kinds of milk: skim, whole, cream, raw, pasteurized and ultra-pasteurized, goat or buffalo milk. Categories and classifications of cheese: specialty, artisan, farmstead, fresh, semi-soft, soft-ripened, hard, blue, pasta filata, natural and washed rind, processed.
You're four chapters in before you see the first recipe. And there's a warning in the introduction to not try to skip the early chapters and jump right in. Take it seriously. By the time you get to the recipes, the writing assumes you've already read and understood everything that leads up to it.
Not for everyone
There's a pretty good chance this book isn't for you. If you're anywhere near a good-sized city you can find cheese shops with plenty of good cheeses to choose from. They may be more expensive than what's at the deli counter in the grocery store, but you'll save a bunch of time and (possibly) frustration.
But if you do want to try making your own cheese — for health reasons, or as a hobby, or because you've got a good supply of raw milk and can't drink it all* — then The Complete Idiot's Guide to Cheese Making
will show you everything you need to get started.
Click the book cover below to get it from Amazon.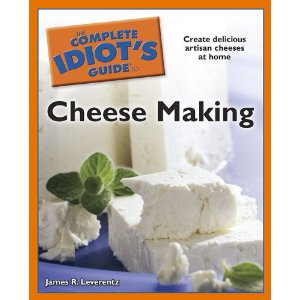 * If you've got more raw milk than you can drink, and you live anywhere near Cleveland, OH, let me know. I can take some of it off your hands.