I'm back from vacation and have some shots I took along the way. First is the farm market that I wish I lived near, Bergman Orchards. No, they don't seem to have a website of their own. How old-fashioned.

It starts, of course, with the fruit and veggies. Like the huge, gorgeous peaches. A peck should do, right honey?
And maybe some strawberries? Nah, we'll take the cherries.
And Ana insisted on a watermelon …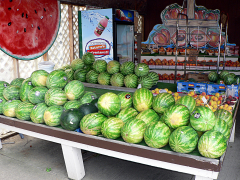 … while Nancy picked out the corn.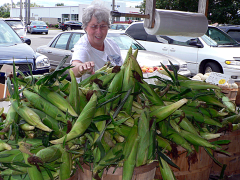 But this market has more than just raw produce. Lots of it goes into the jams and preserves.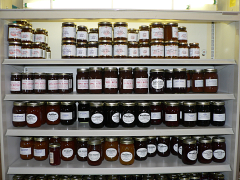 Or if you want to dress up your veg a little bit, there's the huge selection of spices.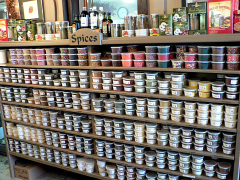 Then of course there's the candy.
And the cookies.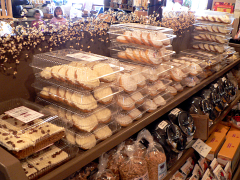 And the cakes.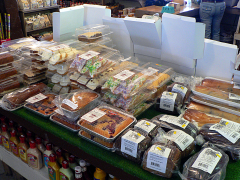 All made on-site, of course.
But the thing that makes Bergman unique is the selection of breads.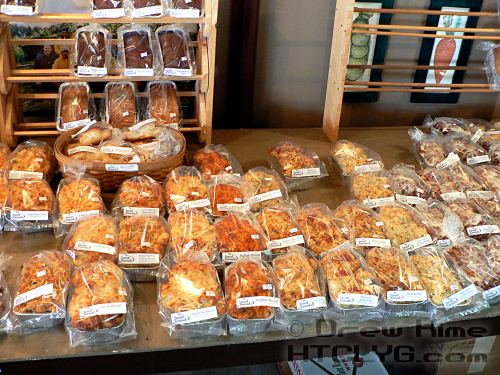 If you can't make it out on the labels, that's: banana bread, zucchini bread, garlic bread, cheese bread, garlic cheese bread, Italian herb and cheese bread, butter herb bread, jalapeño cheese bread, pepperoni cheese roll, pepperoni pizza bread, pizza bread, Parmesan bread, summer tomato bread, Buffalo bread, sour cream and chive bread … and then you get into the sweet ones.
I don't have a shot of all the different sweet, fruity varieties. Just the ones we got.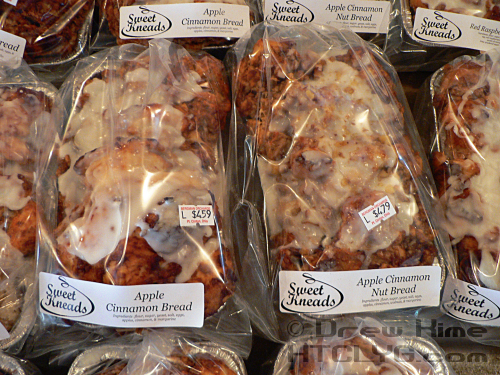 Yum.
I'll be back tomorrow with dinner on the island.