The guys as Jerky.com sent me a preview sample of some new fruit flavored jerky they're introducing: Orange Jerky and Mango Jerky.
I was expecting something like the pineapple jerky I tried a while back. (At the time I'm writing this, it looks like the pineapple jerky is no longer available. I've emailed the company to get an update.) That was a dried fruit slice, really tasty … I described it as a "fruit snack for grownups".
It turns out these two are traditional beef jerky, but with a fruit marinade. Sweet and spicy — like it says on the package — goes together just fine. But on beef? This I was going to have to try for myself.

I tried the mango first, because it sounded more unlikely.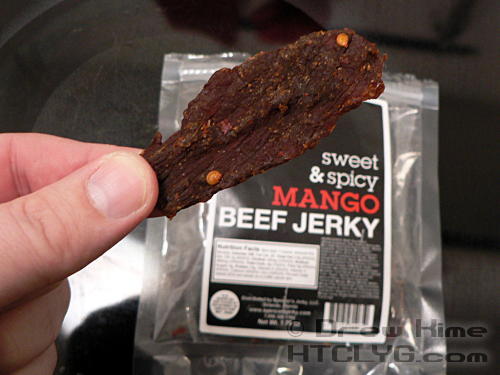 I really like it. It's got a subtle fruitiness to it, without completely covering up the flavor of the beef. And there's some heat as you keep chewing, but not too much. I've had some hot peppered jerky that you could only taste the first piece — after that your taste buds were so burned out that you could only taste the heat.
Some people will never like sweet with their beef jerky. But if you like teriyaki, these make a nice change of pace.
They should be available to order by tomorrow, the 16th.