This weekend we catered the desserts for the Life on the Lake fund-raiser for Our Lady of the Lake PTO. Regular readers would recognize about half of what was on that table, the rest is Coming Soon.

There were Cake Pops …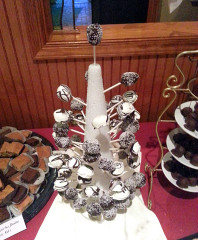 These were chocolate cake balls coated with either dark chocolate and nonpareils, or dark and white chocolate swirled.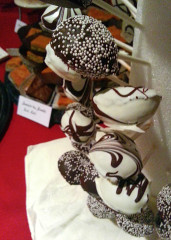 Then we had Leah's Skillet Cookies and Tom Thumbs with cherry preserves, orange marmalade, or lemon curd.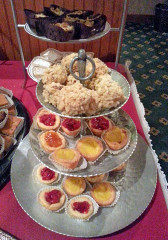 Also Lemon Bars, and Pumpkin Bars with Cream Cheese Frosting.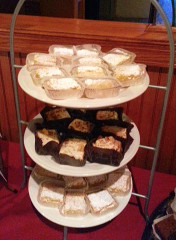 And plenty of Brownies, Blondies, Chocolate Biscotti with Walnuts, Pistachio and Date Biscotti, Sugar Cookies with Royal Icing, Chocolate Covered Cherries, Irish Soda Bread with Devonshire Cream, Polvorones de Canele, Macaroons, and Road Apples.
If you're in the Cleveland area and would like us to cater your event, click here to shoot us an email.