Look around and it's not hard to find people claiming to have the perfect lasagna recipe. The problem with that is we're all different. Some people like spicy sausage, some like mild. Some like a hint of garlic, others want to keep tasting it for three days after.
Saying you've got the "perfect lasagna" is like saying you've got the "perfect ice-cream". It just doesn't work that way. (Unless you're talking about Baskin Robbins' Rocky Road. That's the perfect ice-cream. But I'm ruining my point here.)
The secret to making the perfect anything is realizing that you can make it a little bit different every time, and every time it's perfect. I've never made the same chili twice, but it's always great. I've never made the same lasagna twice but, well … see for yourself.

Ingredients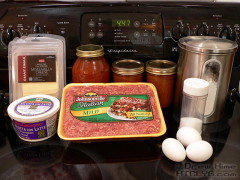 2 quarts tomato sauce
2 pounds bulk Italian sausage
1 pound ricotta cheese
1 pound sliced or shredded mozzarella cheese
Noodles
3 large eggs
1 1/2 cups all-purpose flour (plus some, see below)
Directions
You can see from the ingredients there's not a lot to this one. The sauce can be whatever kind you like. I had a quart of pizza sauce from the Italian market that we wanted to use, plus a couple of pints of the last batch I made.
For the sausage, use whatever kind you like: hot, mild, with fennel, without fennel. Even go half-and-half with ground beef if you like. Brown the meat over medium-high heat and break it up as much as you can.
I love the Pampered Chef Mix N Chop for this. A wooden spoon just doesn't compare. Oh, and yes, there's a little onion in there. I had some left over from the salad, so I diced it up and tossed it in. I might have minced a few cloves of garlic and tossed that in, too.
Remove it from heat, drain any grease, and set aside.
Making the noodles
Combine the flour, eggs and about a teaspoon or two of salt and mix on medium speed for 5-10 minutes.
You'll probably have to stop a few times to get the dry bits incorporated by hand.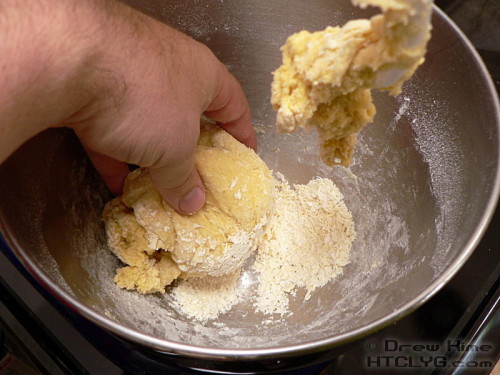 Mix until all the flour is incorporated. If it's still sticky, add a little more flour and keep going. This probably took nearly two full cups. The amount of humidity in the kitchen can make a big difference in how much flour the pasta will absorb.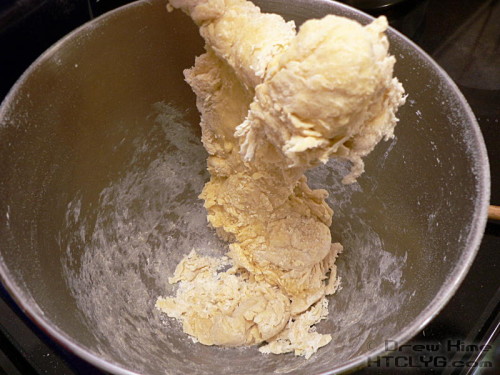 When everything is holding together, turn it out onto a floured surface and knead by hand until it's smooth and satiny.
Then cut the dough into four equal parts, for the four layers of noodles we're going to use.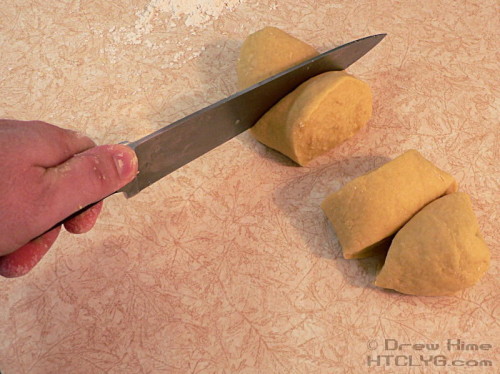 Assembly
Start with a layer of sauce in the pan.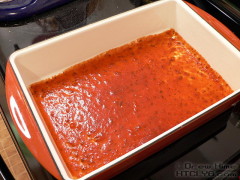 By the way, that's the Mario Batali 13 x 9 extra-deep lasagna pan
. Enameled cast iron and heavy as hell. (Thirteen pounds empty.) You'll probably have a bit of leftovers if you use a more normal size pan.
Roll the pasta out into long strips.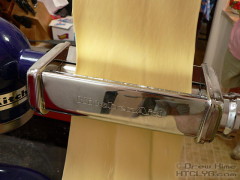 Fortunately my finger span is almost exactly nine inches, so I use that to measure out my noodles and cut them to length.
Put the first layer of noodles in, making sure to overlap the edges a bit. Just like … oops, I forgot to take a picture of it. Here, go look at my last lasagna recipe to see what it should look like. Except this time I'm laying the noodles in the short way instead of the long way.
Mix the ricotta cheese into the sausage.
Most people layer the meat and the cheese in separately. I find this method gets the cheese more evenly distributed. The heat left in the sausage melts the cheese a little and lets you really spread it out. Put half of it in the first layer.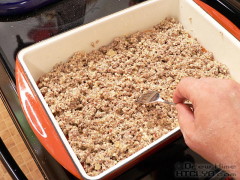 Add a layer of sauce, noodles, sauce again, and a layer of mozzarella.
Then more noodles, more sauce, the rest of the meat / ricotta mixture, sauce, noodles, and sauce on top.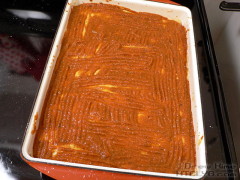 Okay, those layers again:
—
—
—
—
—
remaining sausage / ricotta mix
—
See? Not so bad when you see it that way. Just remember, its meat, then cheese, then meat again. Each layer is sandwiched by a layer of noodles. And each layer of noodles has sauce on both sides.
Wipe off any sauce you splashed on the edges, cover the pan with foil, and bake at 350° for about an hour.
Take it out and … it won't look like you've even cooked it. Have faith, it'll work out. Add a layer of shredded mozzarella, and maybe some grated parmesan. Some people like to add a shake of garlic powder, too.
Put under the broiler, without the foil now, for about five minutes, or until the cheese is bubbling and starting to brown a little.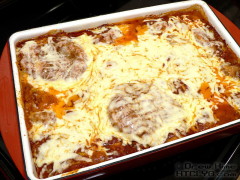 And that's it.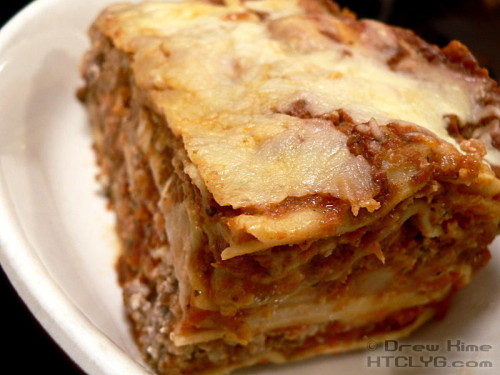 Remember, use the sausage you like, the sauce you like, and the cheese you like. Don't make my perfect lasagna. Make your perfect lasagna.
---
Oh, by the way … Those two pint jars of sauce I had were sealed really well. Instead of getting a can opener, I tried to be all manly and just pry the lids off with my thumbs.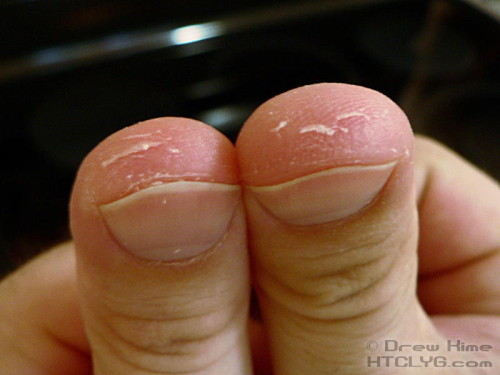 Bad idea.