I've heard some people use the phrase "tomato pie" to talk about pizza. Makes sense, but that's not what I'm talking about here. This is a pie crust filled with tomatoes, the way you'd do an apple pie. But it's got a topping sort of like a quiche. And you won't believe what it's made of.

Ingredients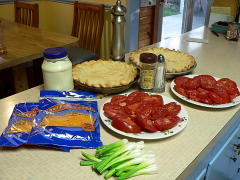 9-inch pre-baked pie crust
4-5 large tomatoes
6 green onions
8 ounces shredded cheddar cheese
1 cup mayonnaise (yes, home-made if you can)
basil
salt and pepper
Directions
While the crusts are baking, core and slice the tomatoes, then season with salt and pepper. (Lou already had this step done before I showed up to take the pictures.)
Chop the green onions, sticking mostly to the lighter end.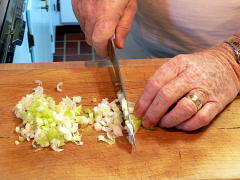 Mix a little bit of the cheese into the mayonnaise.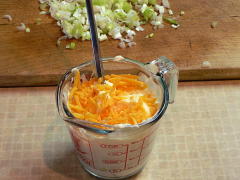 Arrange the tomatoes in the crust so they come almost to the top.
Top with the onion, and enough basil to just cover the pie.
Add the mayo, and spread evenly. The tomatoes should be mostly covered. If they're not, add a little more mayo, but you don't want it really thick.
Top with the cheese.
Once you decide to make one of these, might as well make a second. It won't take much longer than just doing the one.
Bake at 350° until the cheese is melted and bubbling, 15-20 minutes.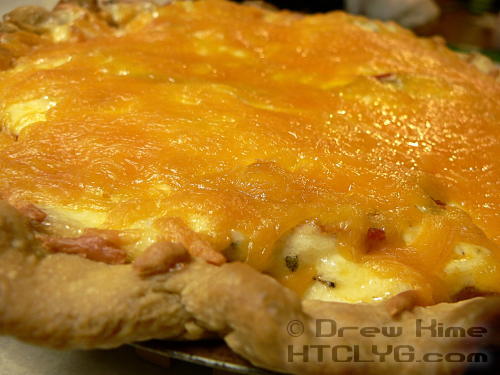 The mayo ends up the consistency of scrambled eggs. I was totally surprised by that. It gives me ideas for several other things I want to try.
Serve with a little Italian sausage.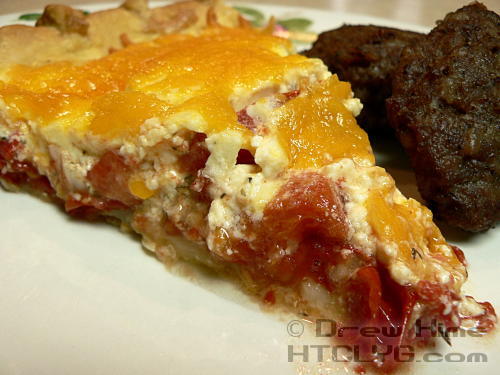 And that's it.