You go to all the trouble to make your own sliders from scratch, then you want to put them on store-bought buns? I don't think so.

Ingredients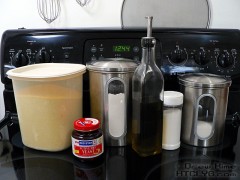 1 package (~2 teaspoons) active dry yeast
1¼ cups warm water (105°-115°)
3 cups unbleached flour or all-purpose flour
2 teaspoons sugar
1 teaspoon salt
1 tablespoon olive oil
cornmeal for dusting (optional)
Directions
This is my basic Italian bread recipe. You can see all the step-by-step on the original post. Click that link and follow the directions right to the point after the first rise where you start dividing the dough, then come back here.




You're back? Okay. Instead of dividing the dough, roll/stretch it out flat to the size of a baking sheet.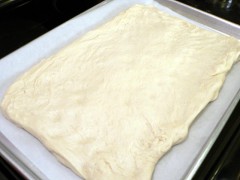 In the original recipe (and in the ingredients above) I say to use cornmeal to keep it from sticking. I've since learned that parchment is about a million times better for this. Do yourself a favor and go get some. It's in the same aisle with aluminum foil and plastic wrap. If you can't find it, it's probably be on the bottom shelf.
Let it rise the second time in the baking sheet until doubled in volume. Then, using a pizza cutter, cut into about 2-inch squares.
Pre-heat the oven to 425°. During this time the dough will keep rising.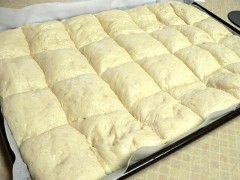 Don't worry about the cuts growing back together. That won't be a problem.
Bake for 10 minutes at 425°, then turn the oven down to 400° and bake another 25-30 minutes.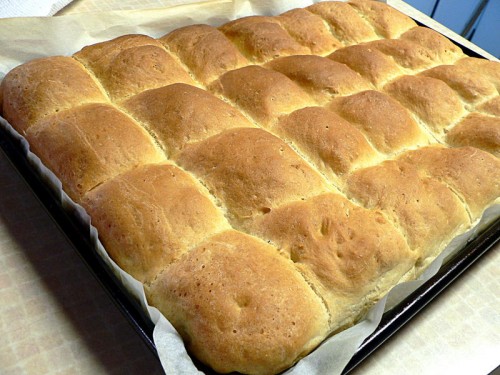 And that's it.
PS: Remember when I said not to worry about the cuts sealing back up? Take a look at the bottom.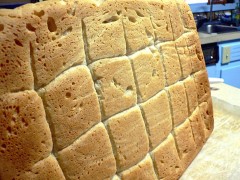 They pop apart real easy.