I normally don't do ingredient substitutions for dietary reasons. If I don't want wheat flour – and I mostly avoid carbs during the week – I don't eat bread, pastries or pasta. But sometimes you have friends who have allergies or other issues and you still want to have cake.
This recipe, originally from Yum Food & Fun For Kids magazine, is designed to work with almond flour. We've tried it with almond flour, cake flour, all-purpose flour and bread flour. It actually is best with the almond flour. I'll explain why below.

Ingredients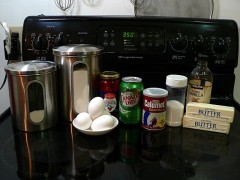 1½ cups plus one tablespoon almond flour (or white flour)
1 teaspoon baking powder
½ teaspoon kosher salt
½ cup (1 stick) butter at room temperature
1 cup sugar
2 large eggs
½ cup ginger ale
1 teaspoon vanilla
1 tablespoon maraschino cherry juice
red food coloring
Directions
(The pictures below show a double recipe.)
Combine the butter and sugar and cream together, scraping down the sides of the bowl to make sure you get it all.
Beat the eggs in one at a time.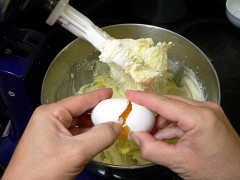 Beat in the salt and baking powder.
Beat in half the flour, the ginger ale, the rest of the flour and the vanilla.
Scoop out one cup of the batter into a small bowl. Add the last tablespoon of flour, the cherry juice, and a few drops of food color and mix.
Fill a cupcake pan with cups. Divide the colored batter into the bottoms of your cupcake cups, then fill the rest of the way with plain batter.
A note on flour: Wheat flour has gluten, the protein that makes pizza dough so stretchy. Bread flour has more gluten, cake flour has less, all-purpose flour is in-between. (Click here for more detail.) Almond flour has no gluten. That's the whole point of it.
You would think, then, that the lowest-gluten wheat flour would be closest to almond flour, but for this recipe you would prefer all-purpose flour. The carbonation in the ginger ale provides some lift, and cake flour is too soft. The red batter mixes with the plain and you get even, pink cupcakes. They look and taste just fine, but you don't get that cool two-tone look.
Almond flour or all-purpose flour provide the best combination of texture and appearance.
Bake at 350° for 15-20 minutes, until a toothpick inserted in the center comes out clean.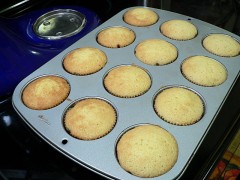 Pop them out, frost with the cherry lemon buttercream (click that link for recipe) and top with a cherry.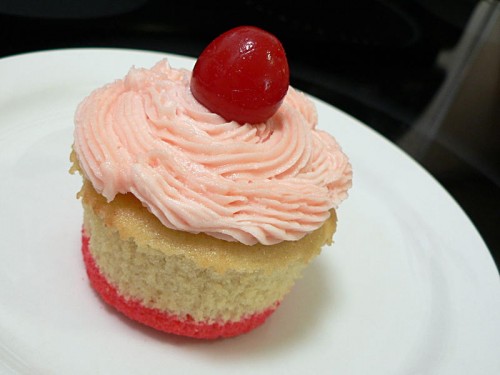 And that's it.