Now that fall is back, it's time to start doing soup again. This one is thick and creamy, great by itself, or as an ingredient in casseroles — anywhere you'd normally do a can of cream of celery soup. Because canned soup is usually nasty. Oh sure, it tastes good, but have you ever read the ingredients? Ick.
This one only has five ingredients, not counting the salt and pepper. Oh wait, and not counting the butter for sautéing the veggies. Okay, so it's got eight ingredients, but if you don't already have butter, salt and pepper in your kitchen, you're not reading this blog, you're calling for take-out.

Ingredients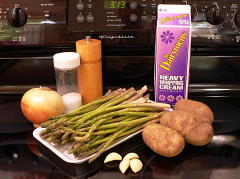 1 pound each asparagus, onion, russet potato
one cup heavy cream
4 cloves garlic (about 1-2 tablespoons minced)
salt and pepper to taste
2-3 tablespoons butter
Directions
Peel and dice the onion, and mince the garlic.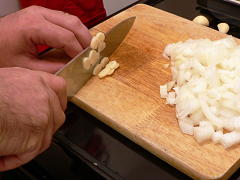 You might notice in that link that last time I did the garlic I slice lengthwise first. I've decided it really doesn't matter much.
Once the aromatics are prepped, melt the butter in a large pot or dutch oven over high heat.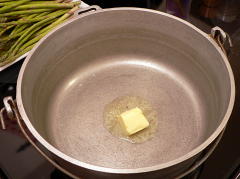 Add the onion, and stir to make sure it's all coated with butter.
Once the onion starts to look a little clear, add some salt and the garlic and turn the heat down low.
Now for the asparagus. Unless you just harvested it yourself, the cut end will have dried out. Snap one off by hand to see how much has dried, then cut that length off from all of them.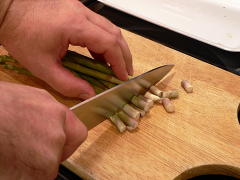 Now cut the rest into pieces an inch long or less. (You don't need to mince it, but the pieces will need to fit into your immersion blender.) Add the pieces to the pot.
Stir, add some pepper, and cook over low heat, stirring occasionally, until the asparagus is tender.
When you test it, don't worry if it's still a little stringy. You'll take care of that with the blender.
While the asparagus is cooking, dice the potatoes. You can peel them first if you want, or just wash them well and leave the skins on.
Add the potatoes, stir to make sure everything is mixed together nicely, and add enough water to just cover everything.
Cook over medium heat until the potatoes are soft. If you did a small dice like I did, this can take as little as 10 minutes.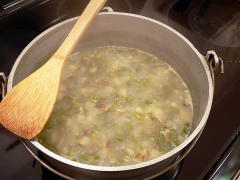 Now hit it with an immersion or "stick" blender until everything is smooth.
Check the seasoning and add salt and pepper if needed. (Don't be afraid of the salt. Canned soup may have way too much, but you do need some for it to taste good.)
Blend again and simmer a few more minutes to let the flavors blend.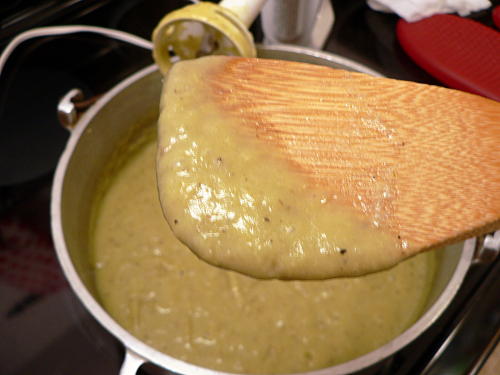 The dark specks you see are the pepper and the potato skins. If you want a "cleaner" look, use white pepper and peel the potatoes.
Remove from heat, and stir in the cup of heavy cream.
Here is where you can get a little bit fancy. Fill a shallow soup bowl, then add a few tablespoons of cream right in the center. Using the tip of a spoon, or a chopstick, trace lines from the center out toward the edge of the bowl. Then trace a circle around the edges.
Serve as is.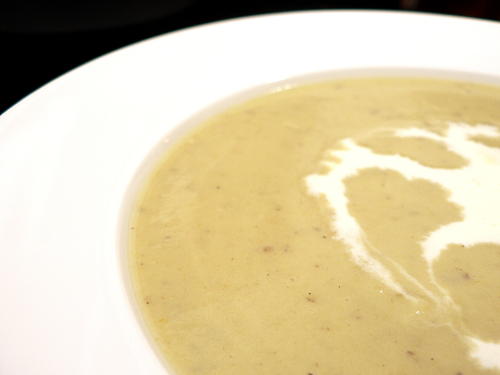 Or add fresh baked biscuits.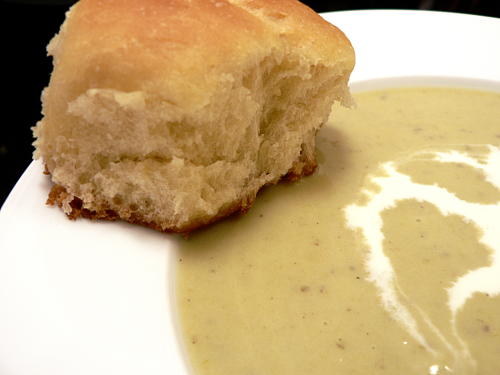 And that's it.
---
I'm going to do something similar for Halloween, with a dark topping on tomato soup, but I'm going to make it look like a spider. Then on another bowl, I'll do the cream but make it look like a spiderweb. I haven't figured out what I'll use for the dark topping. Any ideas? Let's hear them in the comments.