Today's post will be a little bit of a detour. Before cooking real food, you have to buy some real food. For me, that starts — and usually ends — with a trip to the West Side Market.
Anyone in the Cleveland area who doesn't love the West Side Market either has never been there, or isn't into food at all. While it doesn't compare to markets in New York or L.A., there is more variety in this one spot than in most of the rest of the state combined.
Even the best grocery stores tend to stock only the most common foods. Some of them have a pretty good international foods aisle, but that will be mostly prepared foods. You're just not going to find fresh buffalo steaks at the local Dave's.

A typical visit for me starts with a quick trip through the vegetables to see what looks good for a side dish.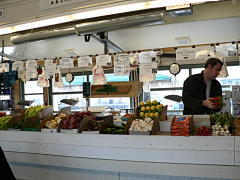 I don't usually buy on the first pass, because then I'd just have to carry everything for the rest of the trip. On a typical Saturday expect to see a pretty good crowd the entire day.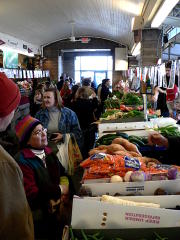 Maybe you can avoid the crowd by getting there earlier. I wouldn't know, I don't get up early weekends.
Some of the vendors have a little bit of everything. A one-stop-shop approach.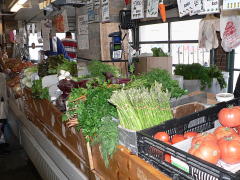 Others are more specialized, offering five varieties of onion, or eight varieties of apples.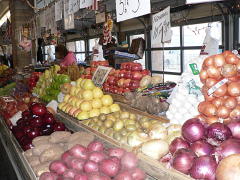 In the picture above you can see the doors behind the stalls. The outdoor market was seasonal until a couple of years ago when they enclosed all the stalls with garage doors. It's not heated, so it can still get chilly in the winter. During the summer they can open everything up and it's almost like an open-air market.
On to the inside market.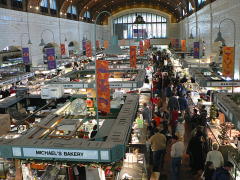 This is classic early 20th century construction you don't see any more. If you need to make your purchases and get out fast, make sure to get a map to the vendors. From ground level, everything looks the same and it's easy to lose track of where you are.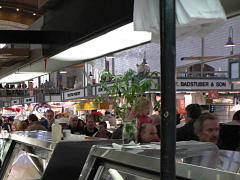 Like I said, I don't get up early weekends. So by the time I get to the market it's approaching lunch time. Fortunately, there are quite a few places that offer ready-to-eat food inside. This includes everything from pizza and subs …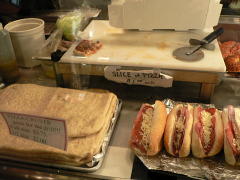 … to fresh-made crépes.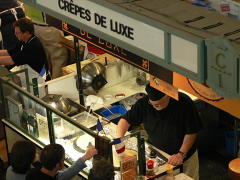 What you won't see advertised is that many other stalls that sell prepared food to take home will also warm it up for you. My daughters love the Pasties and Irish meat pies.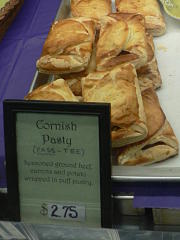 There isn't really a dining area, but up above the West end of the market is a balcony with a wide ledge that locals use as a mini-cafeteria.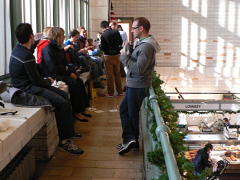 I set the girls up with their pasty while I have either a meatball sub or a gyro.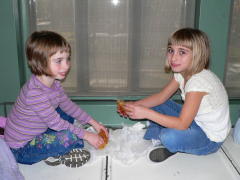 From the balcony you get a good view of the whole place including:
Interesting stall decorations …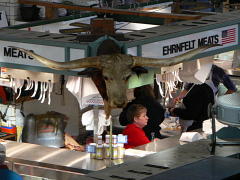 Ridiculous variety …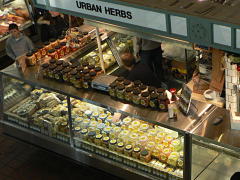 Personalized service …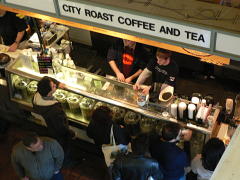 And of course more butchers than you've ever seen in one place.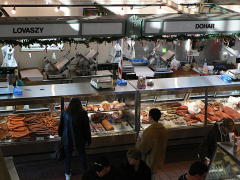 After lunch, we head down to find a main course. This day we went with the rib steak.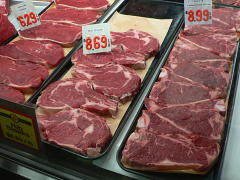 Until I started going to the West Side Market, I never realized there were butchers who specialized in one kind of meat. I got my steak at Wencer's, which only does beef. Other stalls have only pork, or poultry, or sausages.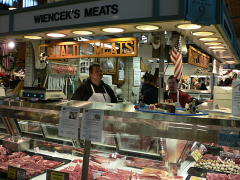 So, main dish in hand, I head back out to get the sides. Salad fixings …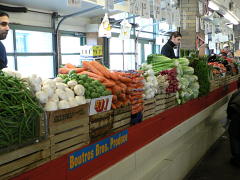 Asparagus …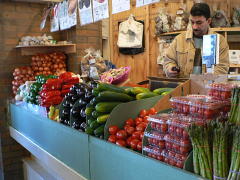 And fresh berries for desert.