I've seen lots of French toast recipes. Even a few that claim to be the best. But most of them are all about the ingredients you dip the bread in. How about the bread?
I promise, changing the bread makes much more of a difference than adding another teaspoon of vanilla.

Ingredients

1 loaf Irish soda bread
4 eggs
1 tablespoon vanilla
1 tablespoon cinnamon
1 heaping tablespoon raw sugar
1/3 cup milk
butter for frying
Directions
Combine all the ingredients (except the bread, of course) in a large bowl.
Beat well, but don't worry too much if it separates a little bit. You're going to have to keep stirring it as you work.
Slice the soda bread — and if you haven't seen it before, go follow that link … raisins, crispy raw sugar topping, yum — thicker than sandwich bread. If your loaf is more than about six inches wide, cut your slices in half so the pieces are no more than four or five inches long. Otherwise they'll break when you try to flip them over.
Melt several tablespoons of butter over medium heat in a non-stick or cast iron pan.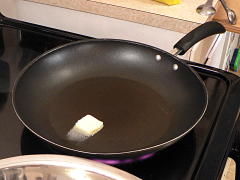 When the butter is starting to bubble, dip the bread one piece at a time in the batter. Let it soak for a count of ten, and flip it over.
Place several pieces in the pan. Leave enough space that they don't stick together when the egg cooks.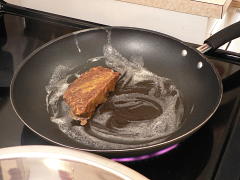 Flip them over when the first side is browned, about two minutes.
Go for another two minutes on the other side.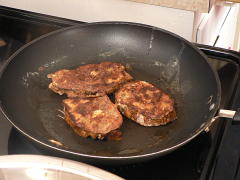 Dust with powdered sugar, and top with real maple syrup.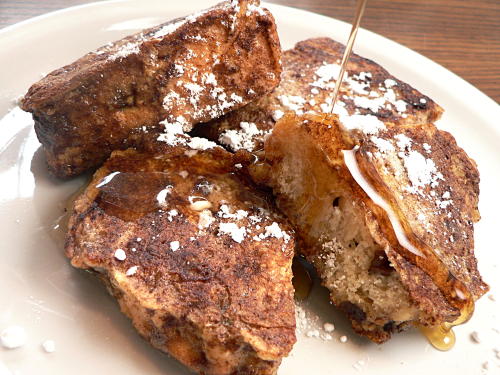 And that's it.