I got a really interesting email today. Someone asked why I didn't have a bio on my site. To tell you the truth it never occurred to me that someone would go looking for one. But someone did go looking, so I guess it's only fair that I put one up here.
Early days
If you watched the clip of my appearance on That's Life with Robin Swoboda …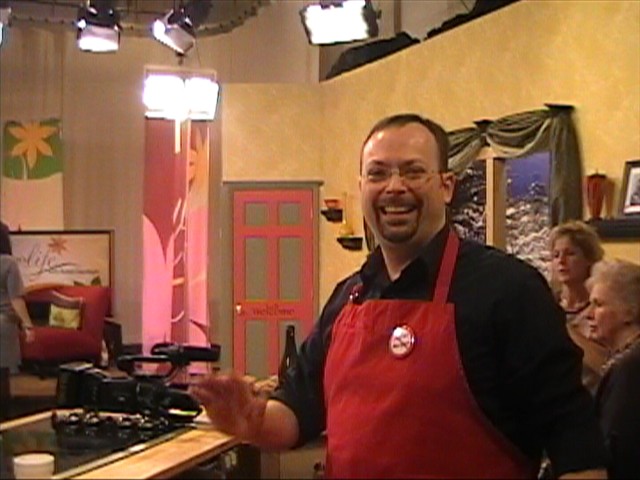 … you already know that I didn't learn to cook from my own grandmothers. One of them passed away when I was really little, and the other didn't think men belonged in the kitchen. As for my mother, she's more of an "eat to live" than a "live to eat" type of person.
That's why, when I went off to college, my mother was worried that I wouldn't be able to feed myself. She gave me a copy of Tough Guys Don't Dice: A Cookbook for Men Who Can't Cook
by James Thorson.
It's out of print now, but if you can get a copy it's great. What I love about it is that it doesn't just list a bunch of recipes, but rather teaches how to think about cooking. The author, a college professor, says he got the idea to write it when several of his contemporaries were divorced or widowed. They had gone from their mother's cooking to their wife's cooking, and never had to learn their way around the kitchen for themselves.
I don't think I kept any of the recipes from this book, but one lesson has always stuck with me:
Why shouldn't men like cooking? The kitchen is the only room in the house where you're allowed to play with power tools.
That attitude — that cooking isn't some complicated thing that you have to go to school and wear a funny hat to do — has served me well ever since.
First cooking job
While in college, I ended up getting a job as a short order cook at a restaurant/bar. Once again, it wasn't about the recipes I learned there but the attitude. I learned to cook quickly, with multiple dishes going at once, and time it so everything comes out together. More important, I learned to "work clean" so that when the last dish hits the table that's the only dish that still needs to be washed.
(Oh wait, one recipe I kept from those days: Chili. It took me several years to figure out how to cut my recipe down from "20 pounds of ground beef and four gallons of crushed tomatoes," but I finally got it.)
I ran out of money and discovered half a college degree didn't qualify me for much beyond what I was already doing. And that sure wasn't going to keep paying tuition. That's when I enlisted in the Marines.
Life without a kitchen
I spent the first three years playing drums in the Marine Band at Twentynine Palms, CA. (If you've ever been there you know the name is false advertising, just like Greenland.) I lived in the barracks, where you weren't allowed to have anything for cooking except a microwave. Yet somehow on Saturday evenings you could walk past my door and smell marinated London Broil. Not sure how that could have happened.
Two more years in California writing and editing the base newspaper, then I got sent to Cleveland to do PR for the recruiting station.
Back to the "real world"
One year after arriving here I met my wife. Two years later I returned to civilian life and got married. For the last 10 years I've been doing more and more of the cooking for my wife and our two girls.
About two years ago, I was in a rut. I didn't have the time or money to take cooking classes, but watched a lot of Food Network. Finally I decided to follow the saying that you can really learn a subject by teaching it. So I put together the first edition of the book, and started writing this blog. And it's worked.
I pay so much more attention to what I'm doing when I'm thinking about writing it up. I'm forced to clean up the kitchen and get everything together before I start. I notice how things look and concentrate on plating and presentation. I'm a better cook for doing this, so I'm getting as much out of it as you guys.
What now?
I've had my first taste of TV and I'm ready for more. I don't know why, but I wasn't nervous at all and had an absolute blast doing it. I've got a few ideas about how to get back in front of the camera, so stay tuned for an update. Oh, and if you are a producer or booker for a station in the midwest, I'd love to hear from you. Seriously: drew@cooklikeyourgrandmother.com