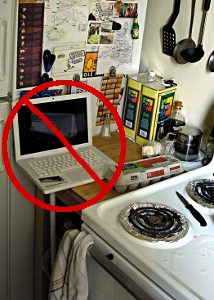 Photo by: Daquella manera
I try to "work clean" in the kitchen, wiping up spills as I go. But I still get flour and oil and blueberry juice where I don't want it. Which is why the idea of setting my laptop on the edge of the counter so I can read a recipe off the internet makes me really nervous.
That's why I usually print out the ingredient list and work from that instead. But then when I want to make it again, I can't find the original and I don't remember all the steps. I see you in the back there, nodding. Yeah, you've done it too. Frustrating, isn't it?
I even have to re-print my own recipes, because the only copy I have is what I've posted on my blog.
Then there's the boxes and boxes of hand written family recipes. Don't get me wrong, I love having them. But about half of them are chicken scratch so bad that I have to call up whoever gave them to me to ask what they said. Or they've got so many gravy stains on them that I can't read them any more.
We Can Do Better Than That
I decided it was time to print up my favorites a little nicer, so I wouldn't have to keep looking them up. But if I'm going to do them for myself anyway, I might as well offer them to you. So that's what I'm doing.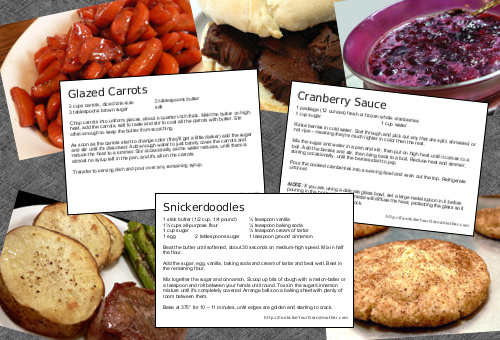 Ten recipes a month, on 4 x 6-inch card stock, full color photo on one side, recipe and instructions on the other side. Glossy finish on both sides so you can wipe up spills — not that us good cooks ever spill anything. (Ahem.)
Okay, I'm convinced! Can I please order them now?
Geeze, okay. Here's the order form.
What was that about "Lock in this rate"?
Everything in life changes, and that includes prices. I'm sure eventually it's going to cost more to make these and I'll have to raise the prices. But if you buy the full year subscription, then for as long as I'm making recipe cards you can keep getting them for the same price.