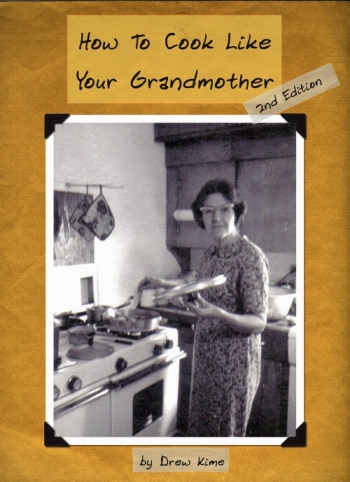 I like this blog. And, I like my readers. (That's you!) So, I thought I'd do
something special for you this Valentine's Day.
Let me back up. Did you know I've been slaving away creating an updated, illustrated version of my now famous cookbook?
Well, I'm done. And to celebrate, I'm giving away THREE copies of the all-new, illustrated, color e-book version of How To Cook Like Your Grandmother. It's my Valentine's Day treat for you.
Packed full of mouth-wateringly attractive photos, step-by-step instructions for the cooking newbie or pro, and the scrumptious cooking wisdom of Grandma, this is by far the best collection of my recipes I've ever produced.
Can you tell I'm excited?
The new illustrated cookbook won't be officially released until February 23rd, so the lucky winners will be getting a bona-fide sneak preview.
Each of the following actions is worth one entry:
1. Search through the archived recipes on this blog — more than a few of which made their way into the cookbook — pick your favorite, and write a comment on this post telling me what your favorite recipe is.
2. If you have a blog, spread the love! Write a post about this contest linking to this entry, then leave a link back to your post in the comments on this blog.
3. "Thumbs up" your favorite recipe on StumbleUpon, then leave a comment on this post telling me that you did so.
Could it be any easier? Three ways to enter = Three times likelier to win!
UPDATE: Winners have been selected!
Sorry if you didn't hear about this in time, but I had to pull the trigger at midnight like I promised. Winners will be announced just as soon as I finish processing some technical details. Thanks to everyone for your interest.
---
Want more like this? For more recipes like this, that you can hold right in your hands, and write on, take notes, tear pages out if you want (Gosh, you're tough on books, aren't you?) you might be interested in How To Cook Like Your Grandmother, 2nd edition, Illustrated. Or to learn your way around the kitchen, check out Starting From Scratch: The Owner's Manual for Your Kitchen.