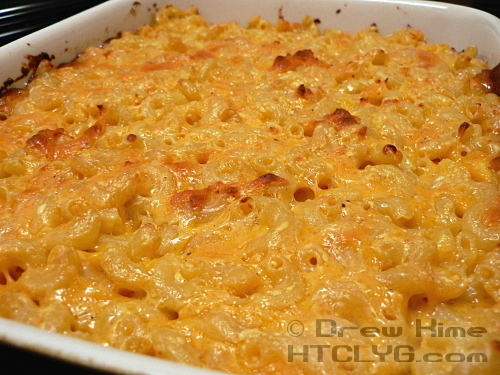 My usual baked mac and cheese is a version with eggs I learned in the Bahamas on my honeymoon. Since the first time I made that, I've never gone back and made the traditional style I used to do. Until now.
This is one of the first dishes I learned to do really well. And yes, it's still just as good as I remember. As good as my other version? I don't know. I'll have to do them both someday so I can compare.
(Oh, and see below for an important announcement.)

Ingredients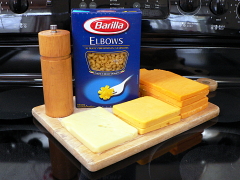 1 pound elbow macaroni
1¼ pounds extra sharp cheddar
½ pound yellow American
¼ pound Swiss
See note below about amounts
fresh ground black pepper
Directions
The amounts of cheese you see above were not some exact recipe. I just asked the guy at the deli counter to give me slices about as thick as your finger: four cheddar, two American, one Swiss. That's the rough proportions I was going for. The cheddar for the base, American for smooth meltiness, and Swiss for a little bite. (The cheddar was on the heavy side because the block was so much wider than the other cheeses.)
Slice all the cheese into cubes so it will melt faster.
Make a double boiler by bringing a half pan of water to a boil, turning the heat to low, and setting a large stainless bowl over it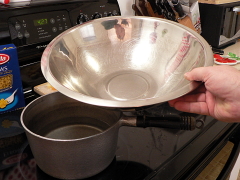 Even if you already have a double boiler, do it this way. You'll be able to mix everything in this one bowl and save on clean-up. (You might recognize this tip from the frozen chocolate truffle pie recipe.)
Add all the cheese and mix occasionally. You can speed up the process by covering the cheese with the lid from a large pot.
While the cheese is melting, cook the macaroni according to the directions on the package. Be sure to leave the noodles somewhat firm or they'll fall apart when you mix them into the cheese.
Once all the cheese is melted and well incorporated, add a generous amount of fresh ground black pepper. You can leave it out if you've used especially sharp cheese, but it really helps most of the time.
Add the cooked and drained macaroni to the cheese and mix gently. You don't want to mash the pasta.
Pour the mac and cheese mix into a baking dish and level out the top.
Bake at 350° until the top is bubbling and starting to brown on the edges.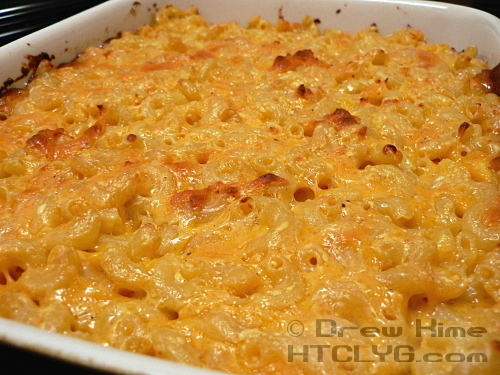 It's unanimous in my house: The browned edges are the best part.
This can be served as a side or as a main dish. This time it was the entrée, with a side of Ree's steak bites.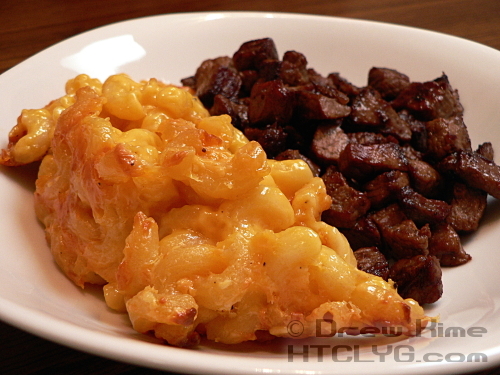 And that's it.
---
I'm going to be appearing on
That's Life with Robin Swoboda
today at 10, making the
frozen chocolate truffle pie
. I'll post a link tomorrow to the webcast of my segment. Thanks again to everyone who wrote to them asking to have me on.
Want more like this? For more recipes like this, that you can hold right in your hands, and write on, take notes, tear pages out if you want (Gosh, you're tough on books, aren't you?) you might be interested in How To Cook Like Your Grandmother, 2nd edition, Illustrated. Or to learn your way around the kitchen, check out Starting From Scratch: The Owner's Manual for Your Kitchen.