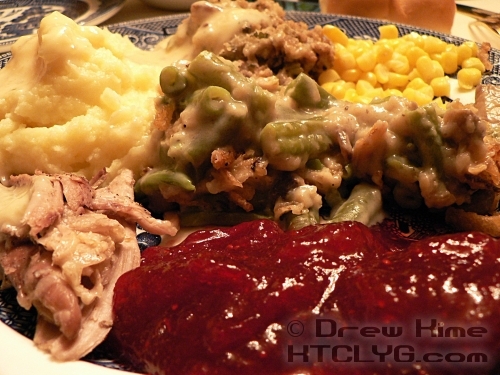 Sure, you can do classic cranberry sauce, with the whole berries still in it. It's just so very grown up.
But if you're like me, when someone says "cranberry sauce" the picture in your head has rings around it, left by the can you just opened. And you can almost hear that slurpy sound as it comes out.
I can't promise the rings or the slurpy sound, but if your wife won't let you serve the canned to guests, this will absolutely nail the taste you remember from your childhood.

Ingredients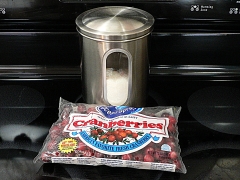 1 package (12 ounces) fresh or frozen whole cranberries
1 cup sugar
1 cup water
(yes, this is the exact same ingredients as the classic cranberry sauce)
Directions
A lot of this is going to look just like the last cranberry sauce recipe — see above for the link — except with different hands. If you just want to see the differences, feel free to scroll down past 13 photos and 2 videos. Or just click here and jump right to it.
Start by rinsing the berries under cold water. Fresh or frozen, you can get right in there with your hands and work them around.
Sort through and pick out any that are split, shriveled, or not ripe — meaning they're much lighter in color than the rest.
Mix the sugar and water in a pan and stir, then put on high heat until it comes to a boil.
Add the berries and stir, then bring back to a boil. If yours were frozen, like mine were, it will take several minutes.
Reduce heat and simmer, stirring occasionally, until the berries start to pop.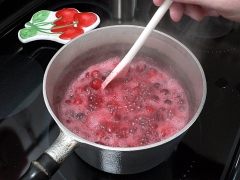 If you listen closely, you'll hear them popping like popcorn. That's when you know they're done.
Put your colander directly in — or if you're lucky, it will fit on top of — your serving bowl.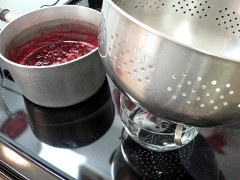 Pour the cooked berries into the colander. Make sure to scrape everything out. The pectin in the berries — that's what's going to make it gel up — will stick to the sides. You want to get it all into the bowl.
Press all the berries through the colander. You'll probably start with the spatula, like I did.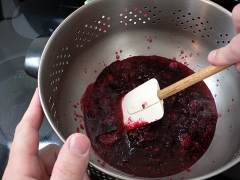 Don't waste your time with anything flexible. It's completely useless. Use something rigid. Like … oh … how about a glass.
Yeah, that's better. Keep mashing until all you've got left is the skins from the berries. Then scrape off everything that stuck to the bottom.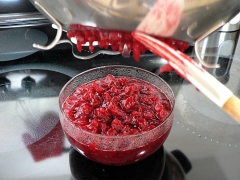 As cool as the top looks, with all those little peaks, you've got to stir it if you want an even consistency.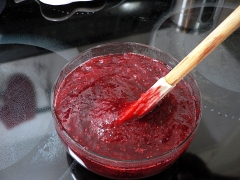 Then wipe the rim. You won't want to try cleaning it after it sets.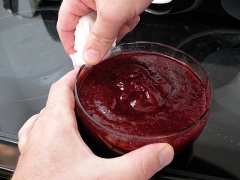 Don't taste it now. This is for dinner later. If you start snacking you're going to eat half the bowl.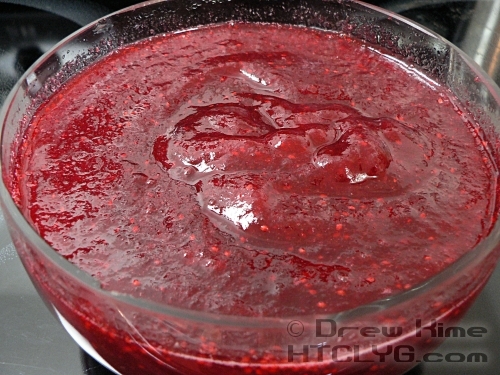 Instead, put it in the fridge for a couple of hours so it will set.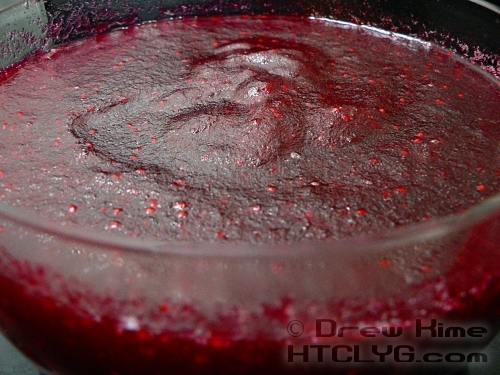 The final texture is somewhere between the jellied stuff in the can, and fruit preserves. Serve with turkey, stuffing, mashed potatoes, green bean casserole, gravy and corn.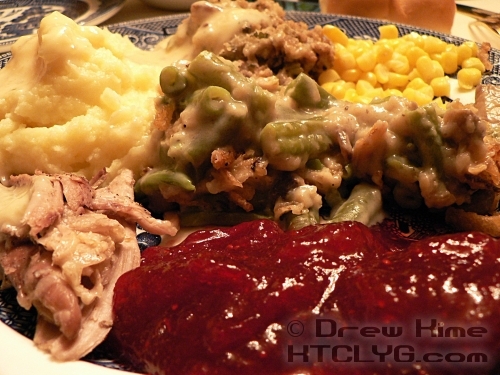 And that's it.
---
Some readers mentioned in the comments after the
other cranberry sauce recipe
that you can replace the water with orange juice. If that's too bold for you, try going half-and-half. Got any other suggestions? Share them below or
in the forum
.
Want more like this? For more recipes like this, that you can hold right in your hands, and write on, take notes, tear pages out if you want (Gosh, you're tough on books, aren't you?) you might be interested in How To Cook Like Your Grandmother, 2nd edition, Illustrated. Or to learn your way around the kitchen, check out Starting From Scratch: The Owner's Manual for Your Kitchen.