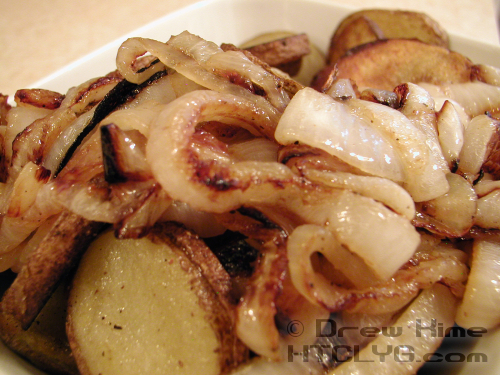 Ever since my wife did the green bean hash au gratin — yes, it's got a name now — I've wanted to do something similar. I still had half the sack of potatoes, but didn't have any green beans. And, as it turned out, I was out of cheddar cheese, too.
Well, that's going to make it hard.
So instead of the beans I did onions, and instead of the cheddar and bacon I did … well, nothing actually. Just frying everything in the bacon fat made these delicious. I think I'm doing more of the potatoes tonight, actually.

Ingredients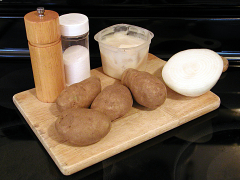 small russet potatoes, one per person
white or yellow onion, about the same weight as the potatoes
bacon fat (yes, has to be bacon fat)
kosher salt and fresh ground black pepper
Directions
I've done onions fast over high heat, but they take constant attention to keep from burning. Since I was doing two sides together, I decided to do the onion low and slow this time. So start by slicing the onion (use your leftovers) about a half-inch thick.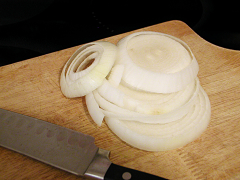 Melt a couple of tablespoons of bacon fat in a skillet. Don't use non-stick. You want the onions to caramelize, and that happens better in stainless steel.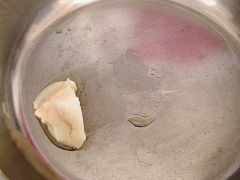 Add all the onion, along with a generous coating of salt and pepper.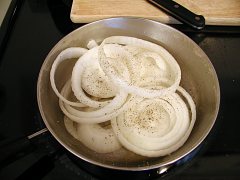 Leave the onions over low heat, and turn the onions every five minutes or so. Separate the rings as they get soft enough to come apart as you turn them.
Slice the potatoes about a quarter-inch thick. The more uniform they are, the better they'll cook, so try to be really consistent.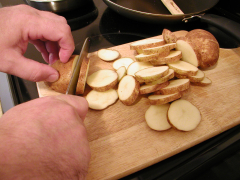 Melt a couple more tablespoons of bacon fat, this time in the largest non-stick pan you've got.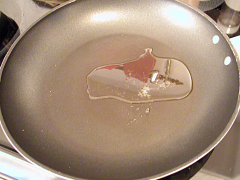 Put the potatoes in the pan, spread out in a single layer as much as possible. Add salt and pepper, more even than you did for the onions.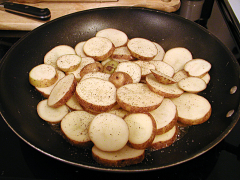 Cook over medium heat for three to four minutes and check if they're browning on the bottom. If they're getting too dark too fast, turn the heat down.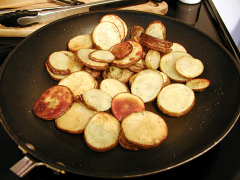 Keep pushing the less-cooked pieces into the center of the pan, and the more-cooked pieces out to the edge. When everything is lightly browned on both sides, test one to see if it's done. These are too thin to check with a thermometer, so you're just going to have to taste it.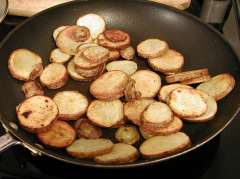 Transfer the potatoes to a serving dish and add more salt and pepper if necessary. Serve with ranch dressing. Okay, fine, use ketchup if you want.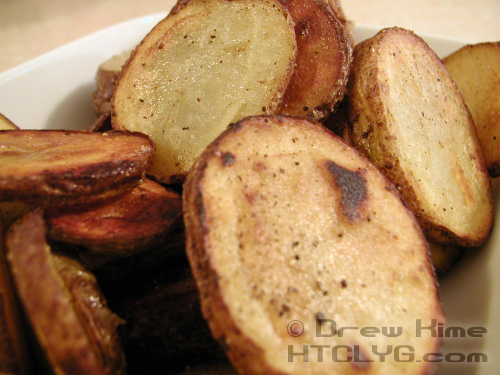 Take some of the onions and put them on your steak — you are having steak with this, aren't you? — and the rest right on top of the potatoes.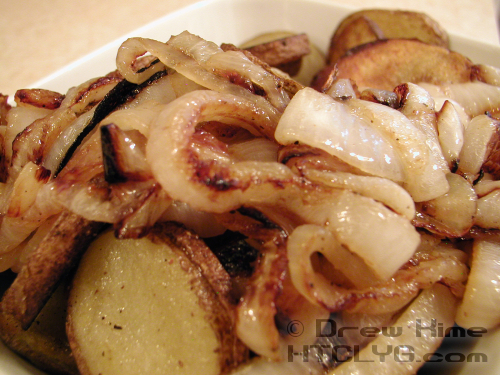 And that's it.
---
No, there won't be pictures of the steak. It would have looked just like this.
Up next will be part 1 of a months-long process. I'm really bad with delayed gratification, so it'll be interesting to see if I can make myself wait for it. Sign up using the form at the top of the column to the right to make sure you don't miss it.
Want more like this? For more recipes like this, that you can hold right in your hands, and write on, take notes, tear pages out if you want (Gosh, you're tough on books, aren't you?) you might be interested in How To Cook Like Your Grandmother, 2nd edition, Illustrated. Or to learn your way around the kitchen, check out Starting From Scratch: The Owner's Manual for Your Kitchen.